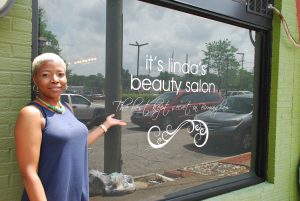 The owner of a long-standing Woodlawn salon is showing off a new look. If you've been to 55th Place South in Woodlawn for the Woodlawn Street Market, you've probably passed It's Linda's beauty salon. Next time, make sure to stop in! Or you can call Linda James to make an appointment, and you'll get to see the upgrades Linda has recently given her space.
Linda has been cutting, coloring and styling hair for more than twenty-five years, and she's graced Woodlawn with her skills since 2000. Linda tells us she loves her craft, because she gets to meet interesting people on the regular. And you know it's a sweet gig when you make your own schedule!
She also told us about how Woodlawn has improved over the past six years. According to Linda, before REV began renovating the block her salon calls home, the area was mostly vacant. Now there's more foot traffic, including the new customers she's had walk in from the Woodlawn Street Market.
So we asked her: Why Woodlawn? "Every neighborhood has its own issues. There are problems everywhere! But I love this area, so I stick with it here!"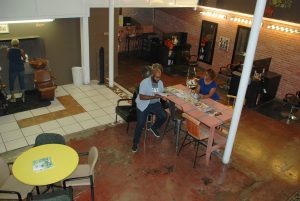 Linda recently knocked down walls in her space, creating an open atmosphere. She also added a work station. Now, she's looking for more talent to fill her space! Calling all barbers, aestheticians, hair stylists, and nail technicians! If you are highly-motivated, a self-starter, and you want to be part of Woodlawn's growth, It's Linda's wants you! For inquiries about appointments or partnerships, call Linda at (205) 591-4055.
Related News
Filed Under: Birmingham Food & Drink, Front Page, Small Business

Tim Hightower says that applying for Birmingham's Shared Spaces permit and building out an outdoor seating area has allowed The Lumbar to double capacity for less than $1,000.

Filed Under: Front Page, Small Business

Owner of Alchemy 213, Ace Graham, a passionate Birmingham advocate, has been pivoting his business since quarantine began in March. We caught up with him for an update one what he's been doing.