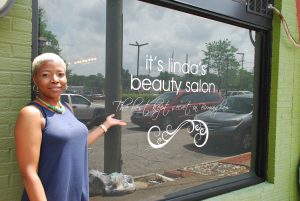 The owner of a long-standing Woodlawn salon is showing off a new look. If you've been to 55th Place South in Woodlawn for the Woodlawn Street Market, you've probably passed It's Linda's beauty salon. Next time, make sure to stop in! Or you can call Linda James to make an appointment, and you'll get to see the upgrades Linda has recently given her space.
Linda has been cutting, coloring and styling hair for more than twenty-five years, and she's graced Woodlawn with her skills since 2000. Linda tells us she loves her craft, because she gets to meet interesting people on the regular. And you know it's a sweet gig when you make your own schedule!
She also told us about how Woodlawn has improved over the past six years. According to Linda, before REV began renovating the block her salon calls home, the area was mostly vacant. Now there's more foot traffic, including the new customers she's had walk in from the Woodlawn Street Market.
So we asked her: Why Woodlawn? "Every neighborhood has its own issues. There are problems everywhere! But I love this area, so I stick with it here!"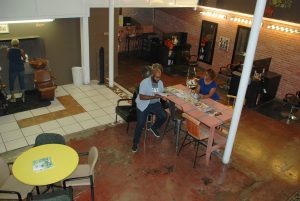 Linda recently knocked down walls in her space, creating an open atmosphere. She also added a work station. Now, she's looking for more talent to fill her space! Calling all barbers, aestheticians, hair stylists, and nail technicians! If you are highly-motivated, a self-starter, and you want to be part of Woodlawn's growth, It's Linda's wants you! For inquiries about appointments or partnerships, call Linda at (205) 591-4055.
Related News
Filed Under: Big Pitch, Front Page, Small Business, Uncategorized

If you've been following REV for a while, you probably remember The Big Pitch Competitions we used to hold back in the day. The Big Pitch presented by PNC was essentially our own little version of Shark Tank. And a lot of your favorite local businesses that participated in this competition now have active retail storefronts that you can go check out. Let's start with some of our finalists that are based in the City of Birmingham and see what they've been up to!

Filed Under: Front Page, Small Business, Uncategorized, Woodlawn

We're so excited to welcome yet another new business to the Woodlawn Community! Thrive Wellness Lounge is a plant-based health and wellness store in the heart of Woodlawn owned by Tish Fletcher (a veteran Woodlawn Street Market vendor – whoop whoop)! You can swing by and check out Woodlawn's newest addition on Tuesday – Saturday from 11:00 a.m. – 5:30 p.m. It's always a good time to support a female, black-owned local business! We talked to Tish a little bit more about her journey to opening her very own brick and mortar store. Keep reading to learn more!

Filed Under: Business-Proving, Front Page, Small Business, Uncategorized, Woodlawn, Woodlawn Street Market

It's our favorite time of the month again – Woodlawn Street Market time! Woohoo! This month's market will be held on August 13, 2022, from 5-9 p.m. and it's a night market – because we all know how bad that Alabama heat can get! Keep reading to check out the vendors that will be featured at this month's market.