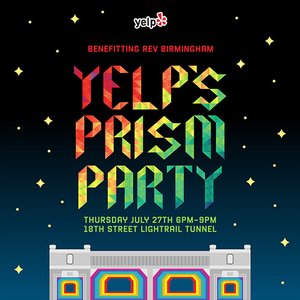 Join us for a night of FOOD, DRINKS, MUSIC, and GOOD TIMES for this year's big Yelp Event… The Yelp Prism Party. This year we will be under the colorful lights of the 18th Street Birmingham Lights Tunnel for a great tasting of amazing food and drinks with a whole lot of visually appealing fun!
This is a private event – you must RSVP and get a confirmation to attend. THERE ARE NO +1 FOR THIS EVENT. EVERYONE MUST RSVP SEPARATELY.
We encourage everyone to wear a white outfit (no, this isn't a white party) and add any kind of brightly colored or illuminated accessories as you can. Think white pants or a shirt with light up shoes, glowing glasses, neon sock, or glow stick jewelry… We think you get the picture.
This is a FREE event. But Yelp says they'd feel bad if we had all this fun and didn't help one of our local organizations. So a suggested $10 donation will be collected at the door and go to support REV Birmingham's work!
Here is a list of vendors you will see there:
Tasty Bites:
Eugene's Hot Chicken 
Devil Dawgs 
Rusty's BBQ 
Salsa Senorita 
Encore Rouge Street Food Truck 
Tot Spot Food Truck 
Grille 29 
Zoe's Kitchen 
Taco Morro Loco 
Cantina Tortilla Grill 
East 59 Vintage and Cafe 
Mis Rubin's Black Magic and White Magic Seasoning 
Pies & Pints 
Bud's Best Cookies 
Consider it Joy Baking 
Nothing Bundt Cakes 
Fannie and Ruby's Gourmet Dough

Tasty sips:
Good People Brewing 
Cathead Vodka 
John Emerald Whiskey, Gin, and Rum 
Alabama Crown Wines 
Buffalo Rock 
Siah's Lemonade

We will have our friends from the Oh Brother Radio Show broadcasting LIVE on site during the event. Our friends at Swag Design Studio are also setting up a swanky lounge for everyone to hang out. Music sponsored by Southside Bham and DJ PK.
HOW DO I GET IN?
– You must have or create a Yelp Profile (real name & photo are a must for our Yelpers).
– All guests must be 21 and up.
– You must RSVP AND receive a confirmation from Yelp.
– Putting an RSVP in the thread doesn't cut it.
WHY SHOULD I COME?
Free food, free booze, awesome entertainment, and gift prizes of plenty to give away. Need we say more?
Related News
Filed Under: Downtown Birmingham, Front Page, Uncategorized

We've talked about sports, but downtown has so much more to offer! Downtown Birmingham has so many experiences in store for you, which can also turn into life-long memories. And lucky for you, we've created a tool to make all that exploring so much easier!

Filed Under: Downtown Birmingham, Front Page, Potential-Proving

We are approaching the finish line for the 20th Street Refresh, which calls for a celebration – and you're invited! The City Center Business Improvement District (BID), funded by downtown property owners, is partnering with the City of Birmingham and REV Birmingham to celebrate a refreshed Birmingham Green. Come join the party on May 20th from 4 to 8 p.m (with a special celebration happening at 6 p.m.)!

Filed Under: Developer, Downtown Birmingham, Front Page, Potential-Proving, Uncategorized

If you've been paying close attention, you may have noticed that we've been hinting at a new Linn Park project coming soon – and we're finally ready to share it with you! A planning process to redesign and reactivate Linn Park kicked off recently when public and private organizational partners met on site with the nationally acclaimed park designers OJB Landscape Architecture (OJB) to begin an eight-month master plan development process to improve Linn Park.