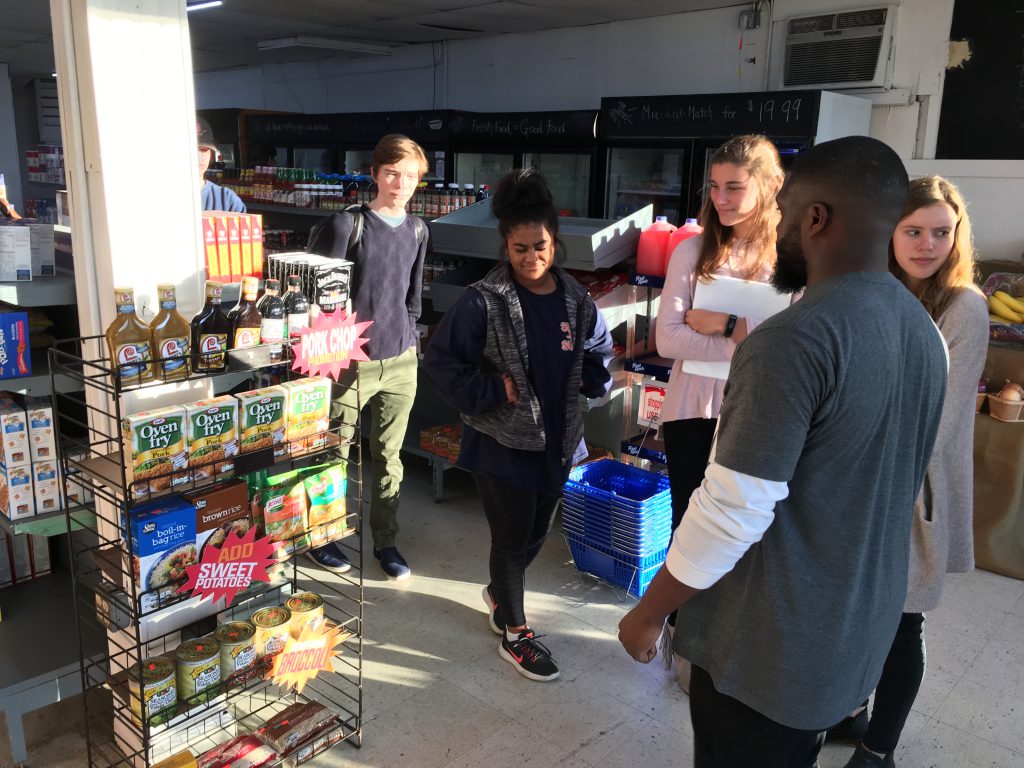 An impressive group of teens from YouthServe's Youth Philanthropy Council visited with Rod and Brianna Cowans of 3rd Street Market this week to take a tour of their store. They learned more about food deserts and how REV Birmingham's Business Growth team is working with small business owners like the Cowans to find sustainable models for community change.
The Cowans were the winners of REV's BIG PITCH 2017, an exciting showcase of Birmingham's up-and-coming entrepreneurs. They won the $20,000 grand prize and the $5,000 popular vote prize, the first time in BIG PITCH history that the 1st place winner was also the People's Choice winner.
They are using their winnings to convert their existing business, R&M Convenience Store, to 3rd Street Market, a family-owned and operated, full-service grocery store in Enon Ridge. They saw the need for this change when they realized the nearest grocery store was two miles away from their community, where many residents do not have access to reliable transportation.
The Cowans are known for being reliable, trustworthy helpers to the community, so it's no surprise that they wanted to go above and beyond to meet the food needs of their beloved Enon Ridge. 3rd Street Market's mission is to provide residents, visitors, and commuters of the community with quality products and services in a store with a safe and welcoming feel.
The members of the Philanthropy Council learned that philanthropy and community investment don't always look like direct aid. It can also be investment in systems and hyperlocal economies that sparks change. The teens are looking to invest in programs that make Birmingham a better place, and through their visit to 3rd Street Market, they caught a glimpse of how lives can be so different for people living in the same city.
YouthServe is a longtime partner of REV and exists to promote youth volunteerism and leadership while giving teens the tools to make positive impacts in their communities. The Youth Philanthropy Council is open to students in grades 10-12 and promotes civic engagement, leadership and community service.
Related News
Filed Under: Big Pitch, Front Page, Small Business, Uncategorized

If you've been following REV for a while, you probably remember The Big Pitch Competitions we used to hold back in the day. The Big Pitch presented by PNC was essentially our own little version of Shark Tank. And a lot of your favorite local businesses that participated in this competition now have active retail storefronts that you can go check out. Let's start with some of our finalists that are based in the City of Birmingham and see what they've been up to!

Filed Under: Front Page, Small Business, Uncategorized, Woodlawn

We're so excited to welcome yet another new business to the Woodlawn Community! Thrive Wellness Lounge is a plant-based health and wellness store in the heart of Woodlawn owned by Tish Fletcher (a veteran Woodlawn Street Market vendor – whoop whoop)! You can swing by and check out Woodlawn's newest addition on Tuesday – Saturday from 11:00 a.m. – 5:30 p.m. It's always a good time to support a female, black-owned local business! We talked to Tish a little bit more about her journey to opening her very own brick and mortar store. Keep reading to learn more!

Filed Under: Business-Proving, Front Page, Small Business, Uncategorized, Woodlawn, Woodlawn Street Market

It's our favorite time of the month again – Woodlawn Street Market time! Woohoo! This month's market will be held on August 13, 2022, from 5-9 p.m. and it's a night market – because we all know how bad that Alabama heat can get! Keep reading to check out the vendors that will be featured at this month's market.