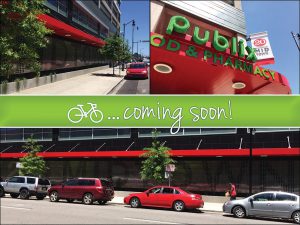 There's a new way to grab your groceries in the Magic City. Zyp BikeShare, an initiative of REV Birmingham launched in 2015 with support from community partners and sponsors, is preparing to open one of its most anticipated docking stations located along 3rd Avenue South – directly outside Publix at 20 Midtown. The new station will house 15 docking points, allowing Zyp users a convenient grab-and-go parking option for Publix, Starbucks, Chipotle and more!
Work is in progress, and Zyp expects to open the station to the public in the coming days. Stay up to date by checking out Zyp's Facebook page for the exciting details.
Related News
Filed Under: Downtown Birmingham, Front Page, Potential-Proving, Uncategorized, Yaysayers

This Friday, May 20th, we will be having a (20th) Street Party (which you can read more about here) to celebrate the end of our Birmingham Green Refresh! While this certainly calls for a celebration, the party doesn't stop there. We will still be adding some finishing touches to the street after the (20th) Street Party. These additional touches will help make Birmingham's main street more vibrant, interactive, and efficient! Additions will include smart trash cans, free libraries, street performers, and more!

Filed Under: Downtown Birmingham, Front Page, Uncategorized

We've talked about sports, but downtown has so much more to offer! Downtown Birmingham has so many experiences in store for you, which can also turn into life-long memories. And lucky for you, we've created a tool to make all that exploring so much easier!

Filed Under: Downtown Birmingham, Front Page, Potential-Proving

We are approaching the finish line for the 20th Street Refresh, which calls for a celebration – and you're invited! The City Center Business Improvement District (BID), funded by downtown property owners, is partnering with the City of Birmingham and REV Birmingham to celebrate a refreshed Birmingham Green. Come join the party on May 20th from 4 to 8 p.m (with a special celebration happening at 6 p.m.)!