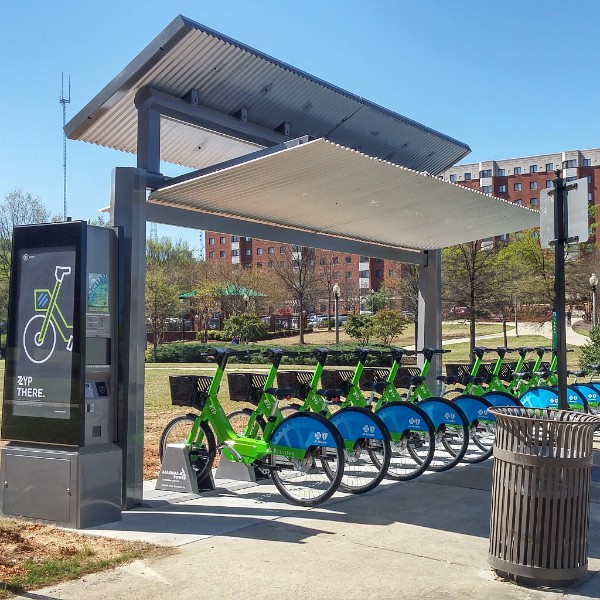 Birmingham's Zyp BikeShare, an initiative of REV Birmingham, is officially two years old! Since its launch on October 14, 2015, Zyp bikes have become a staple on the streets of the Magic City, already covering 157,000 miles of Birmingham terrain – a cool 6 times around the Earth.
While Zyp is celebrating two years of success, the team is also looking to the future with recent improvements and additions to the system. Zyp has converted nearly three dozen traditional eight-speed bikes to the popular "pedelec" electric assist model. Pedelecs now make up almost a third of the 400 bike fleet.
Last month, Zyp also opened a long-anticipated station next to Publix in the 20 Midtown development.
"We've had this station planned since our launch as the last piece of the initial downtown puzzle," says Zyp BikeShare Director Keith Rawls. "Now we have the chance to look further into the future and see new opportunities for system growth."
Around its birthday, Zyp introduced 2 new pricing options for walk-up users: a convenient 3-Day Pass ($12) and a more flexible Monthly Pass ($20) for seasonal riders. The most commonly purchased 1-Day Pass ($6) remains. All 3 options are available at the station kiosks and on Zyp's mobile app, while frequent riders can purchase a $75 Annual Membership at www.zypbikeshare.com. Each pass comes with unlimited 45-minute rides for the duration of the pass. Riders are reminded that the timer resets each time they dock and undock a bike.
Solar panels still provide the main source of power for the system, but Zyp has recently supplemented power by hardwiring some of the most popular stations. This helps with additional charging of the bikes and kiosks, a huge advantage with shorter, less sunny days approaching.
"Adding more pedelecs was an exciting and necessary response to demand, but they also require more charge from our docks. This added boost will ensure more bikes stay charged during peak riding months – providing a significant improvement to the user experience," explained Rawls.
A very happy birthday for Zyp indeed — we can't wait to see what the next few years hold for our favorite green bike fleet!
Related News
Filed Under: Downtown Birmingham, Front Page, Get Involved, Yaysayers

With winter approaching, most plants on 20th are entering dormancy. These plants provide more than just a pretty landscape they also support native wildlife. The plants chosen for the Birmingham Green refresh were strategically placed to offer low-maintenance options and add a sense of place. Plants play a much larger role than just looking attractive.

Filed Under: Birmingham Food & Drink, Downtown Birmingham, Front Page, Get Involved, Yaysayers

Downtown Birmingham has more — ways to celebrate the holidays! The Magic City is the heart of the community and offers many fun, unique, and family-friendly activities for all to enjoy. From the Alabama Theatre's Holiday Film Series to The Nutcracker – make your plans to experience the Birmingham Holiday Magic downtown! We created an interactive calendar of all the holiday events happening in downtown Birmingham. Choosing the Magic City to celebrate Christmas time has never been easier.

Filed Under: Business-Proving, Downtown Birmingham, Events, Front Page, Get Involved, Yaysayers

At REV Birmingham, we love the fact that downtown is the best place for large community-wide celebrations. One of the most vibrant places to celebrate Veterans Day is the city center of Birmingham! Visitors from all areas and backgrounds mingle with Birmingham's downtown workforce and neighbors at the greatest Veterans Day parade to honor those who have served. Which the 75th annual Veterans Day coming up, here's what you need to know about all the festivities!