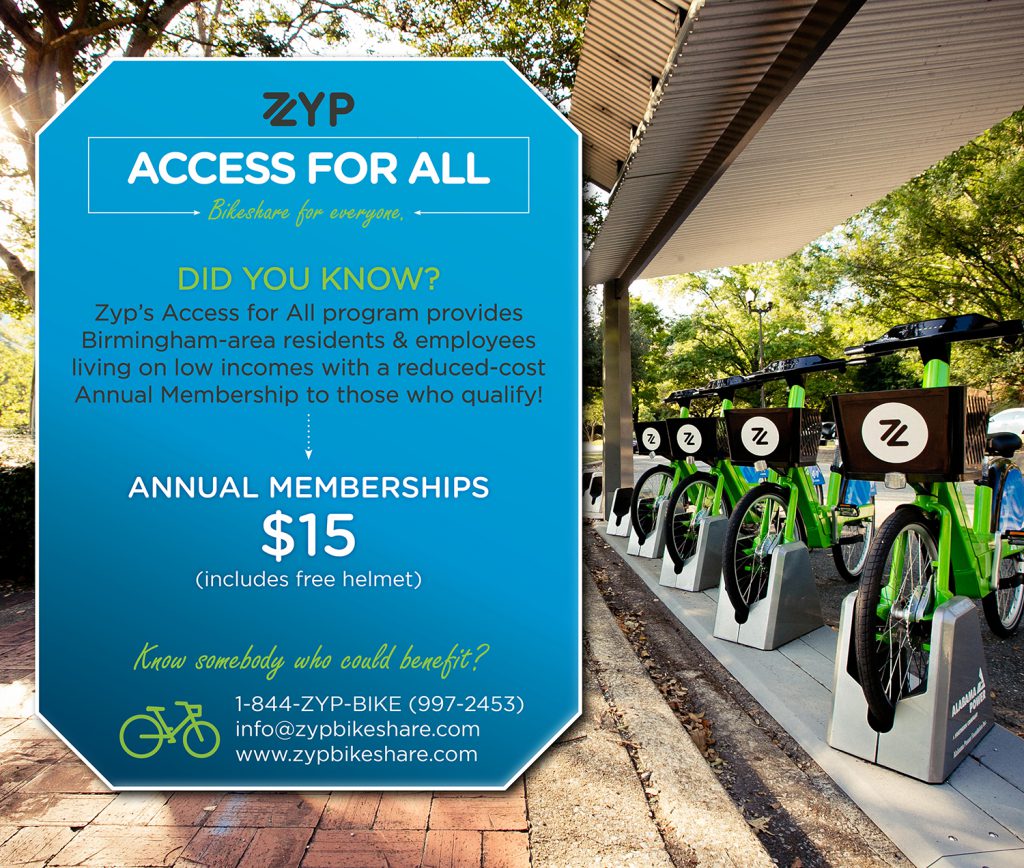 February marks the beginning of Year 3 for Zyp Bikeshare's Access For All program. The program provides reduced-price annual memberships for low-income users and individuals on government assistance. 
Through this program, transit dependent users cut upwards to two hours on their daily commute by using bikeshare.
In addition to unlimited access to Zyp's system (all rides up to 45 minutes), Access For All members also receive a free helmet upon registration. Registration can be completed over the phone or in person. Zyp will also work with individuals who do not have access to a credit or debit card by offering cash payments.  
Local individuals and organizations can sponsor an Access For All member by covering the initial $15 fee. A liability waiver must be signed by the receiving Access For All member. 
Bikeshare can be a valuable mobility option in Birmingham, especially for those who are dependent upon public transportation. Zyp wants to ensure this "grab and go" transit option is accessible to everyone who would benefit from it. 
For more information, contact 1-844-ZYP-BIKE (997-2453), info@zypbikeshare.com, or @ZYPBHAM on Facebook, Instagram, and Twitter. 
Related News
Filed Under: Downtown Birmingham, Filling Vacant Spaces, Front Page

Birmingham's city center is fortunate to have many of its iconic historic buildings restored and in daily use now. But where would Birmingham be without the buildings in between the landmarks? 

Filed Under: Downtown Birmingham, Front Page

Coming from a place where people did not necessarily receive the help they needed, Jessica is striving to be that person as CAP's Street Outreach Advocate in Birmingham's City Center. 

Filed Under: Downtown Birmingham, Front Page

Downtown Birmingham residents, workers and visitors will notice something new about CAP in early 2019. As part of its strategy to be more visible, approachable and helpful in the City Center, CAP is rolling out new helpful gadgets in downtown.