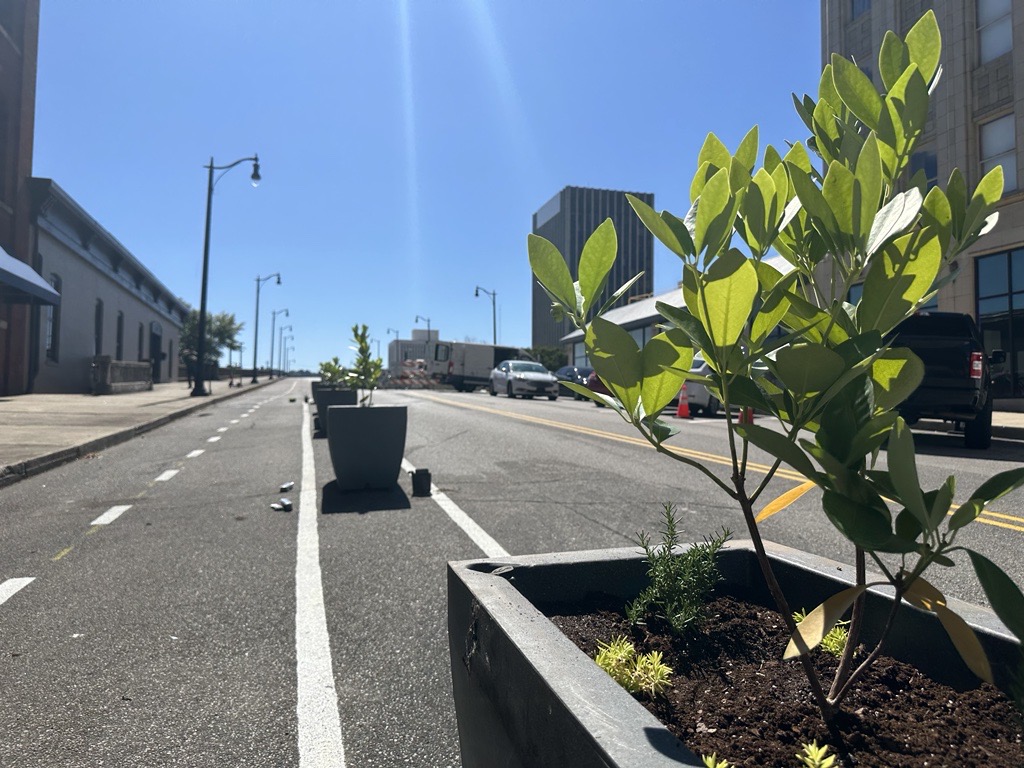 The Rainbow Viaduct, one of Birmingham's oldest bridges, has been transporting people between the south and north sides of downtown for more than 130 years! Now as we look toward its future, you'll see a pilot project on the bridge to make it more pedestrian and cyclist friendly while we determine the best next steps.
History of the bridge
The city built the bridge in 1891 to link the north and south ends of 21st Street (renamed Richard Arrington Jr. Boulevard in 1999 to honor Mayor Arrington at his retirement). Twenty years later, the Birmingham City Commission upgraded the viaduct to increase traffic. Those efforts were delayed by World War I, but construction began on the bridge in 1918 and cost $200,000. The bridge was formally dedicated on May 19, 1919, to the decorated veterans of the 167th Infantry Regiment who had been hosted in Birmingham and fought as part of the "Rainbow Division" during World War I. Colonel W. P. Screws formally accepted the dedication. At the apex of the bridge, a pair of memorial plaques, formerly topped with eagles, honor those veterans. Because the last structural update to the bridge was in 1918, it was not designed to handle modern traffic demands including 18-wheelers.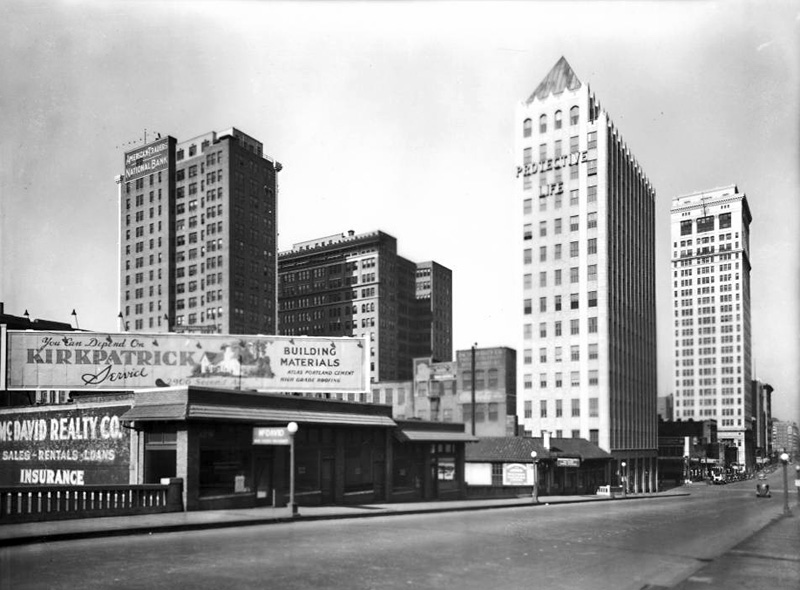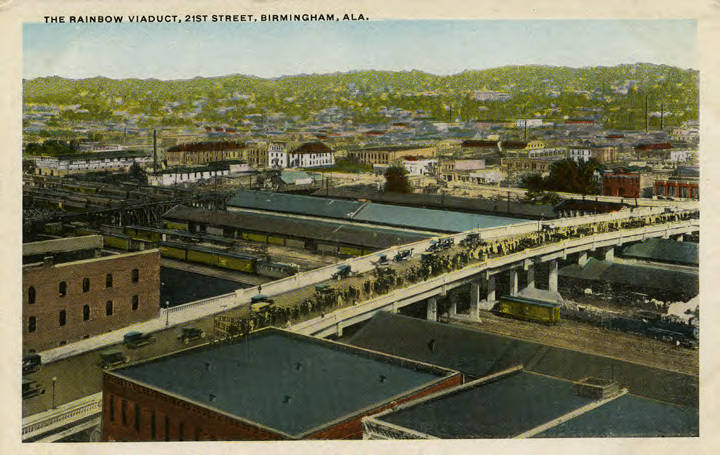 What's happening now
The bridge was closed in January 2022 because of structural concerns. Although safe for pedestrians, cyclists, and scooters, the bridge is not currently approved for vehicular traffic. The City of Birmingham is partnering with REV Birmingham to issue a request for proposals (RFP) for an engineering and feasibility study to identify viable options for the bridge's future. While that work is being done to determine the long-term, the City and REV have installed short-term measures to beautify the bridge and make it a more pleasant place for pedestrians and cyclists. The measures include temporary multi-use path, signage, traffic bollards, planters, and seating.
CAP Ambassadors
are keeping the plants watered and addressing litter and graffiti on the bridge. If you see any issues that need to be addressed on the Rainbow Viaduct, please call the CAP team at 205-251-0111. We will update this page with more details as the long-term work progresses. In the meantime, enjoy some time on the historic Rainbow Viaduct – and tag @downtownbhm on
Instagram
and
Facebook
in your photos. It's a top spot for beautiful views of the downtown we know and love!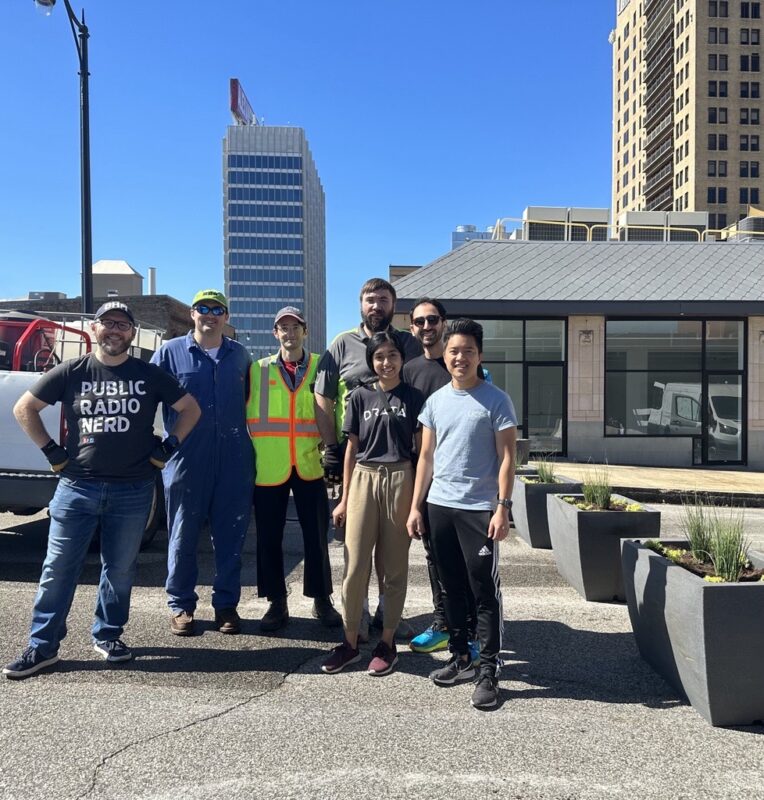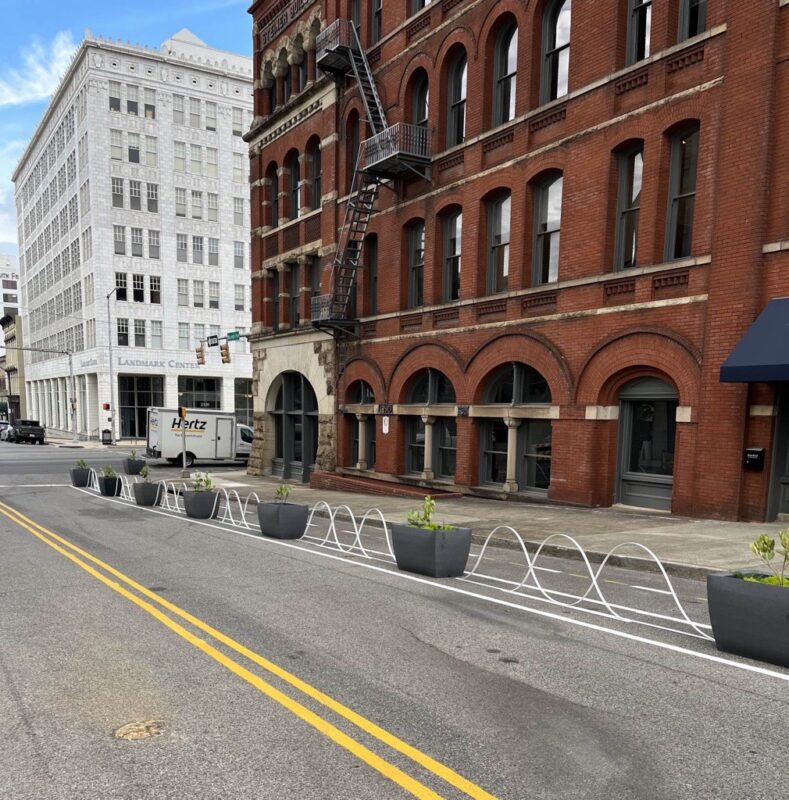 Related News
Filed Under: Filling Vacant Spaces, Front Page, Get Involved, Small Business

In less than a year after arriving in the United States, the Vyshyvanyuk family, who recently fled from Ukraine, is now launching NiEl' Bridal Atelier, a custom wedding dress and alterations business in Forest Park. Olena and Mykola Vyshyvanyuk, along with their three children – Viktoriia Vyshyvanyuk, Eva Vyshyvanyuk, and Loanna Vyshyvanyuk – made the courageous decision to leave Ukraine on November 7, 2022. This family's inspiring story serves as a testament to the boundless opportunities that small businesses can achieve in Birmingham.

Filed Under: Business-Proving, Downtown Birmingham, Filling Vacant Spaces, Front Page, Small Business

Are you a startup looking for a foot in the door? Did you know we have an accelerator program that helps founders begin their entrepreneurial journey right here in the Switch district? TechStars is a dynamic three-month program that empowers entrepreneurs in their quest to discover product-market fit, gain traction, and access both capital and global mentorship. Operating in more than 30 cities worldwide, Techstars added Birmingham as a host for their energy-focused cohort.

Filed Under: Front Page, Small Business, Woodlawn, Woodlawn Street Market

The Woodlawn Street Market is a platform for small businesses to showcase their talents and products. From handmade jewelry to locally sourced produce, you can find a wide variety of items that highlight the creativity and craftsmanship of the Birmingham community Among the talented individuals who have found a home in this vibrant marketplace is none other than Johnathan Westbrook, fondly known as Jon Jon, and the majority owner of the Broncho Food Truck. This new food truck made its debut back in August and will be back again for this week's market.