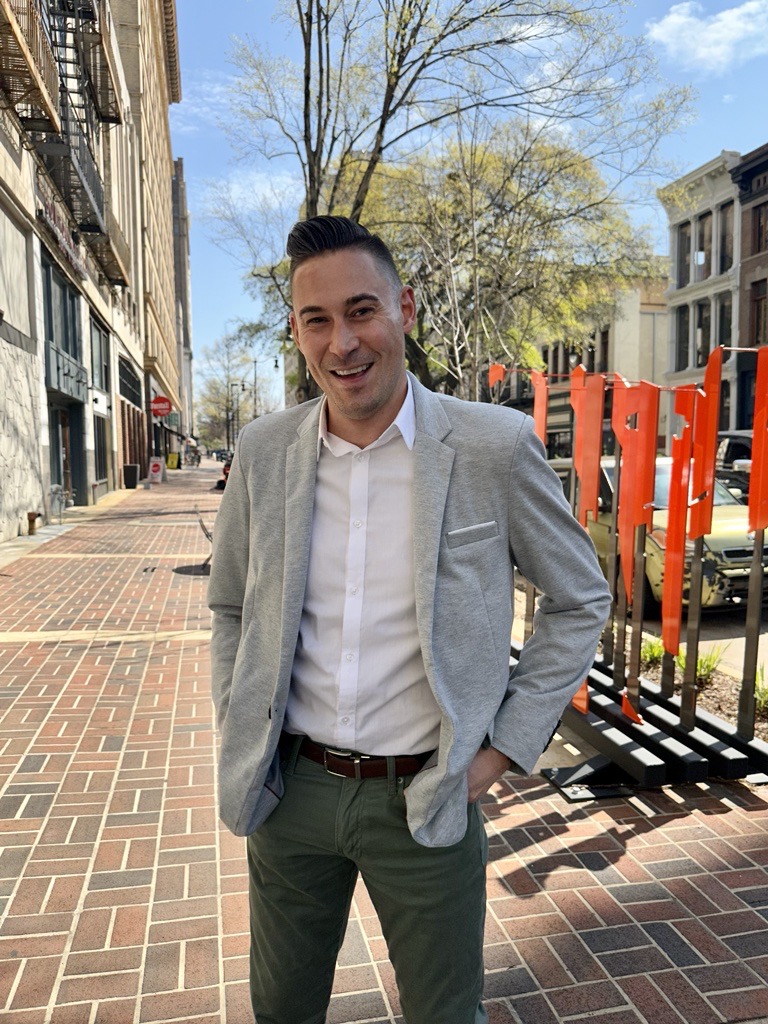 REV TEAM HIGHLIGHT:
Meet Michael Symes, the new City Center District Manager for the Business Improvement District (BID). As a long-time resident of Birmingham, Michael brings a wealth of knowledge and experience to the role. His passion for Birmingham and his "accidental roots" have made him the perfect candidate for this position.
Michael grew up as a military kid; he was born in Germany during his father's deployment but lived in Spanish Fort most of his childhood. Due to his love for sports, Michael chose The University of Alabama to study Sports Marketing. After graduating with honors, Michael began applying for jobs around the country.
Luckily, Birmingham was the first city that offered enough money to pay for rent… His career began working at a marketing company for sports sponsorships like Nascar, IndyCar Racing, and even bass fishing to promote specific brands. Through this line of work, he was able to travel all around the country, often for weeks in a row! For 22 weeks out of the year away from home, he felt like he was missing the rebirth of Birmingham. He heard about all the new developments happening downtown through his friends.
In 2010, the city was transforming "from Railroad Park to the new brewery scene; I wanted to be a part of the growth and a city redefining itself," said Michael Symes.
With an end to sports contracts and a sense of missing out, the stars aligned for Michael. He secured a Marketing and Sales Manager position with ZYP Bikeshare in 2015. ZYP Bikeshare was a program through REV Birmingham to connect communities with the first-ever electronic bike fleet in the US! Michael had a lot of work to do for something never seen before in the country. He would set up tents around the city and at festivals to advertise and teach others how these bikes add connectivity to downtown.
He also helped REV in projects like the Woodlawn Street Market and Urban Food Project. "I wanted to make an impact in a city that was finding its voice," said Michael.
After the ZYP Bikeshare ended, Michael left REV to work in sales. His job required him to drive all around the southeast, and he slowly began to feel disconnected from downtown. After spending four years on the road, Michael's heart was set on returning home to Birmingham. His wish was granted when the City Center District Manager (CCDM) position became available, and he eagerly seized the opportunity to work for the city he loved.
Now, Michael Symes has saddled up and taken the reins on his new career path. "I am excited to run the gamut of job responsibilities in this role. From doing the dirty work behind the scenes & solving issues for residents and property owners; to the fun, public projects that will add vibrancy and buzz downtown. And everything in between. For those of you living or working in the BID, don't hesitate to reach out or flag me down!" 
Michael knows what's happening in the Ham and is here to help you. You can catch him walking up 20th Street and all around the BID. You also might spot him around town rooting for the local sports teams or even at a brewery playing trivia!
Contact Information:
Email – Michael@revbirmingham.org
Phone – 251.421.2523
Related News
Filed Under: Filling Vacant Spaces, Front Page, Get Involved, Small Business

In less than a year after arriving in the United States, the Vyshyvanyuk family, who recently fled from Ukraine, is now launching NiEl' Bridal Atelier, a custom wedding dress and alterations business in Forest Park. Olena and Mykola Vyshyvanyuk, along with their three children – Viktoriia Vyshyvanyuk, Eva Vyshyvanyuk, and Loanna Vyshyvanyuk – made the courageous decision to leave Ukraine on November 7, 2022. This family's inspiring story serves as a testament to the boundless opportunities that small businesses can achieve in Birmingham.

Filed Under: Business-Proving, Downtown Birmingham, Filling Vacant Spaces, Front Page, Small Business

Are you a startup looking for a foot in the door? Did you know we have an accelerator program that helps founders begin their entrepreneurial journey right here in the Switch district? TechStars is a dynamic three-month program that empowers entrepreneurs in their quest to discover product-market fit, gain traction, and access both capital and global mentorship. Operating in more than 30 cities worldwide, Techstars added Birmingham as a host for their energy-focused cohort.