By David Fleming
CEO & President, REV Birmingham 
Jane Jacobs, an activist and writer who revolutionized the way the urban planners look at modern cities, has a great quote that I've always liked.   
"Cities have the capability of providing something for everybody, only because, and only when, they are created by everybody," she said in her influential book "The Death and Life of Great American Cities."   
It speaks to two important parts of building cities that I think apply here in Birmingham:  
The best cities are by and for everyone.  
We must be intentional about how we grow and work for the city we want.  
The Birmingham Planning Commission adopted a new Master Plan for our City Center yesterday that embodies Jacobs' principle.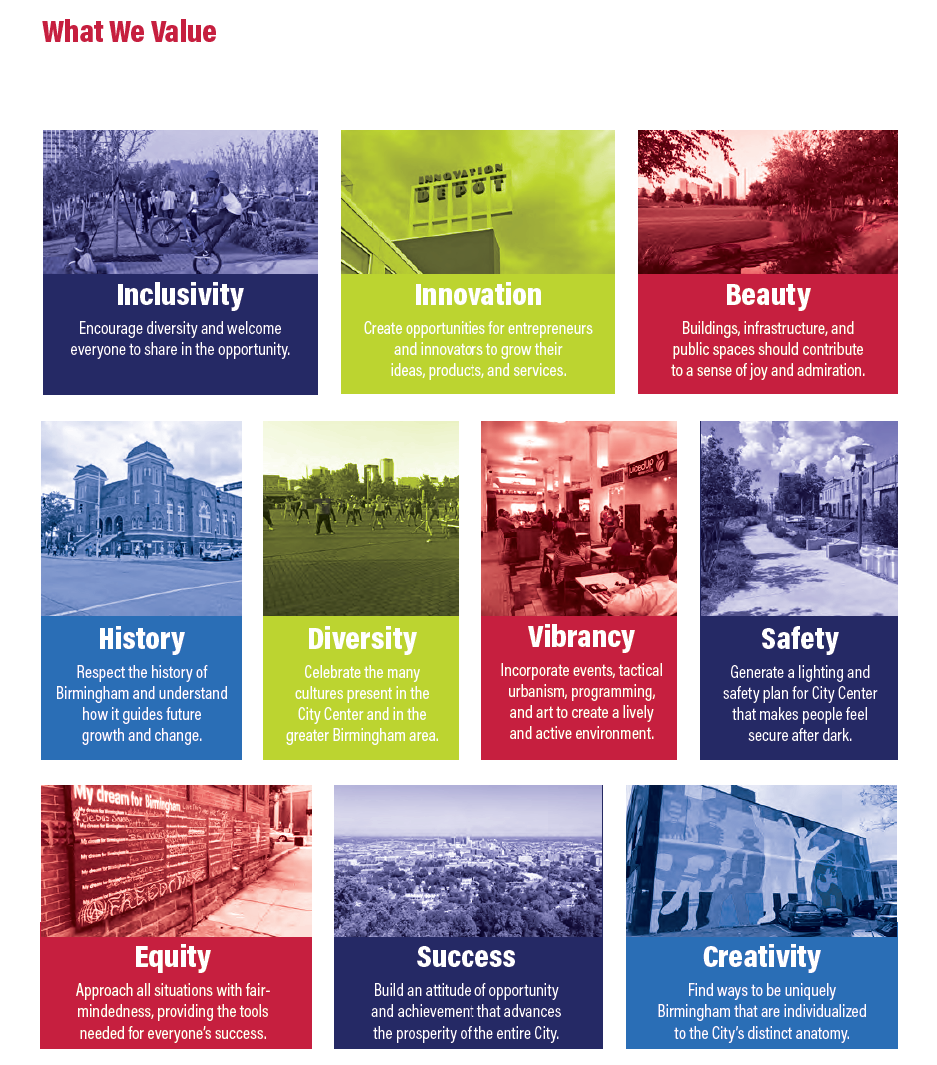 Over several months, a committee of urban planning and design experts gathered 1,100 online survey responses, conducted 120 stakeholder interviews and orchestrated four major public events.  
From all the community engagement efforts, shared values emerged – a commitment to history and historic preservation, innovation and economic growth, equity and inclusion, diversity, safety and beauty – and the team designed a plan that reflects those values. Then there was more feedback, edits, more feedback and more edits. The team went to great lengths to understand what the people who live here, work here and spend time here would want to see in a 10-year plan for Birmingham – and to get it right. 
So this should remain in everyone's mind: This is OUR vision and OUR plan. It belongs to all of us and reflects the City Center that we want and can have if we work for it.   
This is OUR vision and OUR plan. It belongs to all of us and reflects the City Center that we want and can have if we work for it.   
Downtown Birmingham has experienced unprecedented growth over the last decade, but we cannot rest on our laurels. We need this plan to UNITE and EXCITE all of Birmingham, because, when our City Center thrives, it helps the entire city. 
Something I admire about this new Master Plan is that it doesn't recommend big and expensive projects to stimulate the market or get attention. There are no suggestions like the 2004 Master Plan that called for the creation of Railroad Park (which was a gamechanger for downtown) and the rebuilding of the I-59/20 interchange.  
Instead, this plan directs us to focus on our strengths and build on our assets. It recognizes that Birmingham has a lot going for it already, but we need strategic investments to guide our growth. Because we can grow while still building on and reinvesting in what makes us unique.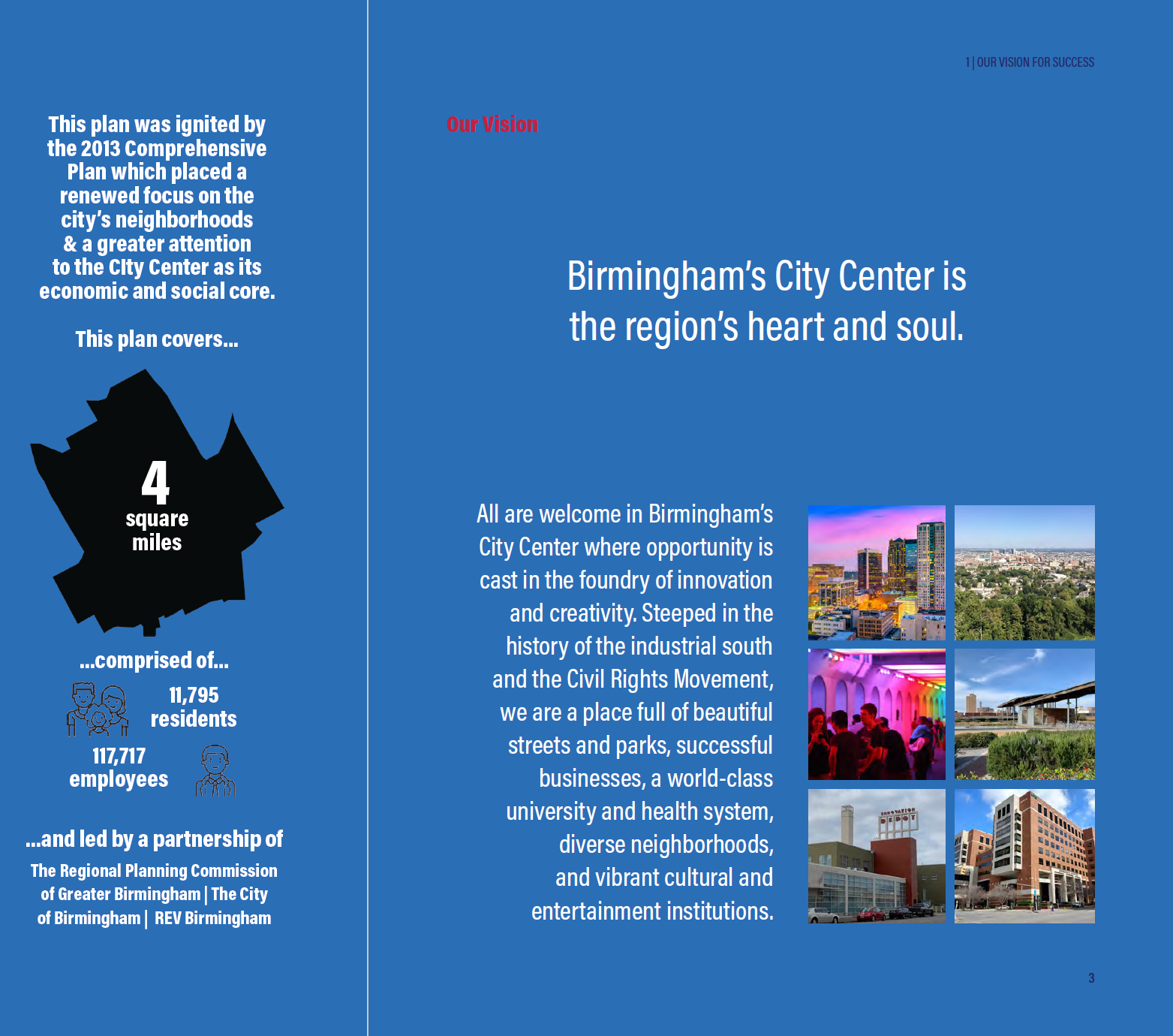 Birmingham needs to be Birmingham – not some other city. 
I'd like to say thank you to Mayor Woodfin, his team and the Regional Planning Commission for their leadership and funding resources that made the adoption of the plan possible. I'd also like to thank the steering committee and everyone in the community who took the time to participate and help shape this plan.   
Ultimately, this is a group effort. We, and many of you, are looking forward to implementing the ideas that came out of this process.  The REV Birmingham team and board have identified the areas of this plan that we are well equipped to lead over the next three years. 
We look forward to sharing that over the next few weeks. 
Stay tuned!  
Related News
Filed Under: Business-Proving, Downtown Birmingham, Events, Filling Vacant Spaces, Front Page, Get Involved, Magic City Match, Potential-Proving, Small Business

Magic City Match is a program that transforms lives and opens doors for Black entrepreneurs and business owners. Led by REV Birmingham and powered by Prosper, this initiative aims to create opportunities for Black-owned businesses by matching them with brick-and-mortar spaces where they can thrive. After a successful pilot program in 2022, Magic City Match is back in action and ready to empower a new wave of entrepreneurs.

Filed Under: Front Page, Historic Preservation, Small Business, Uncategorized, Woodlawn

One of the most legendary and storied neighborhoods of Birmingham is Woodlawn.  It is a community, anchored by one of the great public high schools of Birmingham, that has produced many citizens who contributed to the life of our city and has had an impact beyond the neighborhood itself.  In a short post like this true justice cannot be done to the rich heritage and legacy of Woodlawn.  However, we hope that this narrative brings together many of the diverse threads that make up the fabric of the community's historic arc in a concise piece. 

Filed Under: Downtown Birmingham, Family Friendly, Front Page, Why BHM

Woof, woof! I've been having an absolute blast visiting my sister in Downtown Birmingham. I can hardly wait to share all the details with you once you return from your vacation. In the meantime, I wanted to put paw to paper and tell you all about it, with the hope of convincing you that moving Downtown could be the most wonderful decision ever.