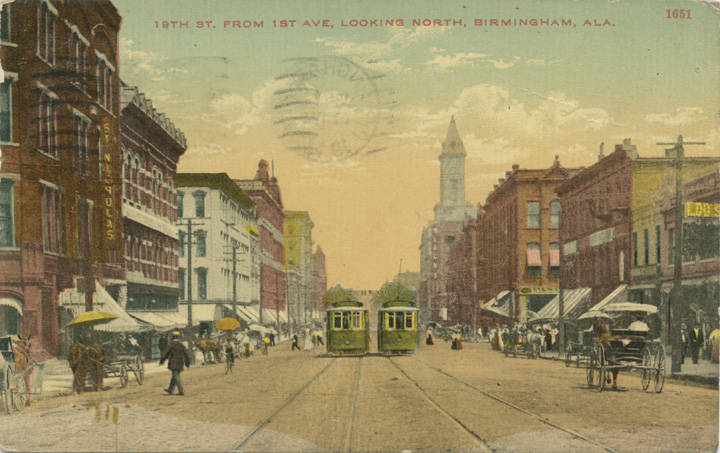 (Postcard image from Alabama Department of Archives and History)
By David Fleming 
REV Birmingham President & CEO 
Birmingham was founded in 1871 – well before the invention of cars and certainly before they were common. However, the city's core was built to support many different modes of transportation, including streetcars, horse and buggies, and trains.
Birmingham sits in Jones Valley, one of the few places in the world with all three ingredients needed to make iron and steel. This rare collection meant trains were in and out of Birmingham in its early days, and the city quickly boomed. In fact, the Magic City earned its nickname because it magically grew overnight in the late 1800s, and the burgeoning steel industry meant the city's new streets were designed to transport heavy material.
When the 20th century made automobiles plentiful and diminished the need for streetcars and trains, it meant more than changing cobble streets to pavement. In 1973, the City of Birmingham managed a massive undertaking converting multiple downtown streets to one-ways to help alleviate traffic congestion. The same year, the City's Parking Authority was established to build the first of several major parking decks to accommodate cars for commuters.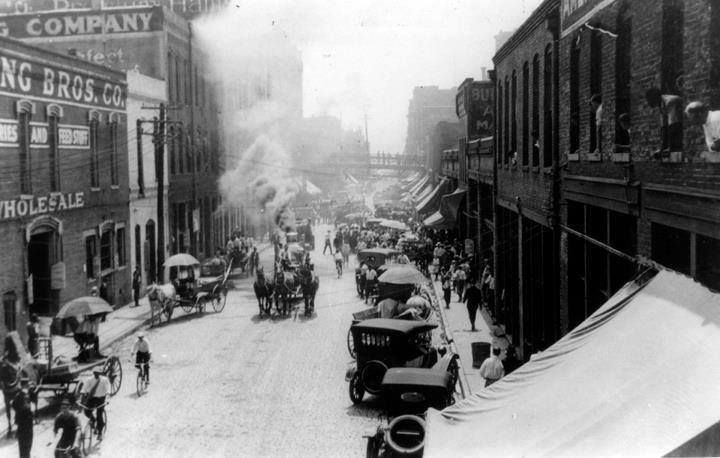 Advocates for this change were well-intentioned and were responding to demand. The city center was perceived to be congested and slow moving, and people clamored to move faster through and out of downtown. At the peak of the City of Birmingham's population of over 340,000 residents in 1960, cities across the country were building big roads and parking lots to accommodate cars. The need for larger streets to carry more cars faster, especially downtown, has decreased since then. Sixty years later, the population of Birmingham is 200,133, according to the U.S. Census.
However, at the same time Birmingham was creating its one-ways, the city was also converting downtown's main street, 20th Street, into the Birmingham Green. The linear park project with landscaped medians, larger sidewalks and two-way streets with no parking spaces reinforced the importance of 20th Street. Over the ensuing decades, 20th Street has retained the most overall vibrancy and pedestrian presence downtown.
REV supports a more vibrant and walkable downtown; that is what will stand the test of time. One way to encourage that is by creating more comfortable spaces for pedestrians and increasing accessibility to different modes of transportation. How? Imagine a transition into two-way streets in downtown's historic core:
Sidewalks could expand;
Driving speeds would naturally slow;
Additional space would allow for bike lanes, pocket parks and even more kinds of sidewalk cafes;
Downtown surface parking lots could have higher and better uses as mixed-use developments.
Talk about added vibrancy! And we wouldn't be the first to make such a change to increase vibrancy and safety.
Cedar Rapids, Iowa, is one of the many cities that have made the transition back to two-way streets. The city restored over 5 miles of streets to two-way travel. The reformation is a part of a much bigger effort to make the city center more friendly for pedestrians, motorists, bicyclists, and businesses.
"Crime fell by 23 percent on the restored streets—compared to a 3 percent rise on the streets that did not change. The researchers attribute the crime drop to better visibility from slower-moving, two-way traffic—one-way streets provide "shadow zones" between buildings where people can hide. The safer streets rose in value, providing more tax revenue to the city," according to CNU journal.
Raleigh, North Carolina, is also following the trend and is underway with a two-way conversion project to one of their busiest roads. Their Complete Streets project strives to create safe travel in the city to accommodate all modes of transportation.
More and more U.S. cities are remaking their downtown street networks with the goal of improving the experience and enhancing vibrancy, and Birmingham should be among them. Two-way streets in downtown Birmingham would boost economic growth, decrease crime, and enrich the downtown experience. Every master plan that has been completed in Birmingham since the early 2000s has recommended the change to two-way streets. Downtown Birmingham has more room for growth if we invest in our public realm now.
Related News
Filed Under: Business-Proving, Downtown Birmingham, Events, Filling Vacant Spaces, Front Page, Get Involved, Magic City Match, Potential-Proving, Small Business

Magic City Match is a program that transforms lives and opens doors for Black entrepreneurs and business owners. Led by REV Birmingham and powered by Prosper, this initiative aims to create opportunities for Black-owned businesses by matching them with brick-and-mortar spaces where they can thrive. After a successful pilot program in 2022, Magic City Match is back in action and ready to empower a new wave of entrepreneurs.

Filed Under: Front Page, Historic Preservation, Small Business, Uncategorized, Woodlawn

One of the most legendary and storied neighborhoods of Birmingham is Woodlawn.  It is a community, anchored by one of the great public high schools of Birmingham, that has produced many citizens who contributed to the life of our city and has had an impact beyond the neighborhood itself.  In a short post like this true justice cannot be done to the rich heritage and legacy of Woodlawn.  However, we hope that this narrative brings together many of the diverse threads that make up the fabric of the community's historic arc in a concise piece. 

Filed Under: Downtown Birmingham, Family Friendly, Front Page, Why BHM

Woof, woof! I've been having an absolute blast visiting my sister in Downtown Birmingham. I can hardly wait to share all the details with you once you return from your vacation. In the meantime, I wanted to put paw to paper and tell you all about it, with the hope of convincing you that moving Downtown could be the most wonderful decision ever.