By Jonathan Crain
Business Improvement Districts (BIDs) are a great tool for implementing impactful revitalization in urban areas. They're sort of like a homeowner's association for a commercial district.
A BID gives neighborhood stakeholders a way to fund and enact their vision for a specific area. In Birmingham, we have one BID that has done a ton of great stuff for our City Center. Read more below:
One of the great things about a BID is how flexible it can be. The most important legal function of a BID is to "undertake such other activities or initiatives within the district as the Board of Directors of the District Management Corporation deems appropriate It all comes together to make a vibrant urban place."
That's a fancy way of saying that a BID can reflect whatever priorities are important to the stakeholders in that district. While one district might want to focus on a clean and safe initiative to keep their doorstep spotless and inviting, another might want to focus on branding and giving their area a real sense of place.
A BID can also be a catalyst for improving the built environment in ways that far exceed its actual budget by doing things like commissioning traffic studies or piloting small versions of much larger projects. For example, this Milwaukee BID is creating a temporary parklet to advocate for more green space in their district.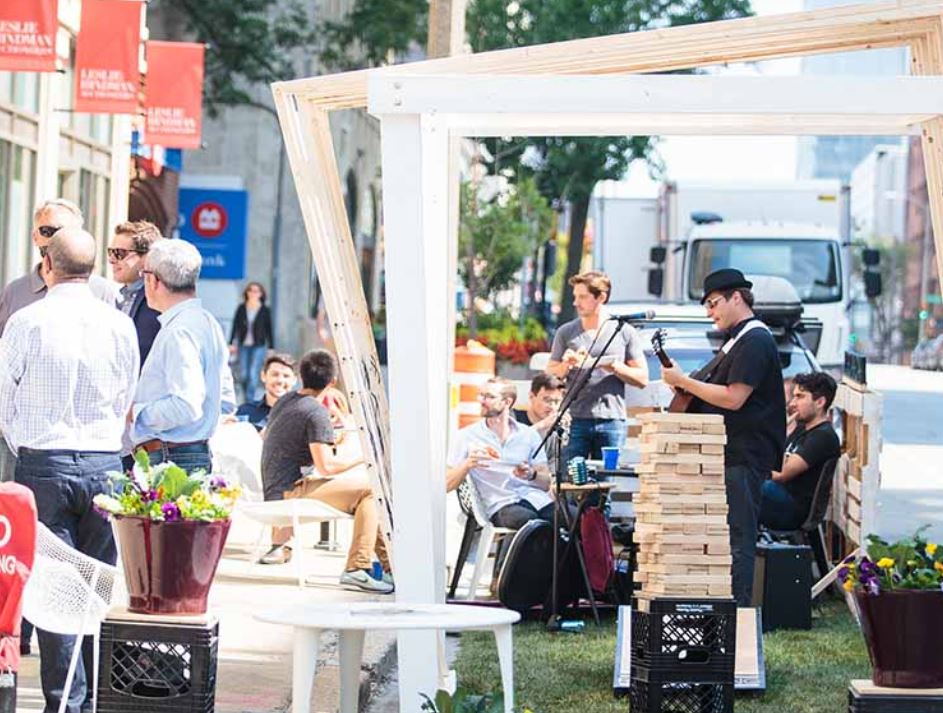 The Bluebird District in Colorado is doing the leg work on community engagement to plant the seeds for a new BUS Rapid Transit system.

Having an entity that knows the needs and wants of a particular district and can advocate for those needs is a powerful tool for improving the urban landscape.
Where am I?! A BID can answer the most basic question with some signage! A signage initiative could come in the form of wayfinding signs that show a visitor to the district where they are and what's close by. It can also tell visitors where they are in a more abstract sense by providing a sense of place with some neighborhood banners, or even standardizing existing signage.
The Golden Triangle BID in Washington DC uses banners on light poles to herald the neighborhood identity.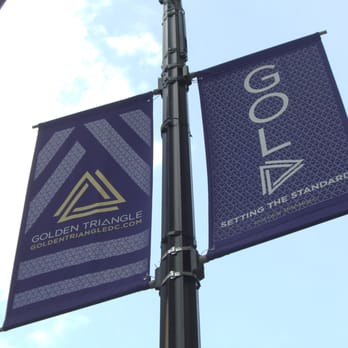 They also hold a local haiku competition in which winners' poems are made into inspiring signs that adorn the neighborhood's flower beds.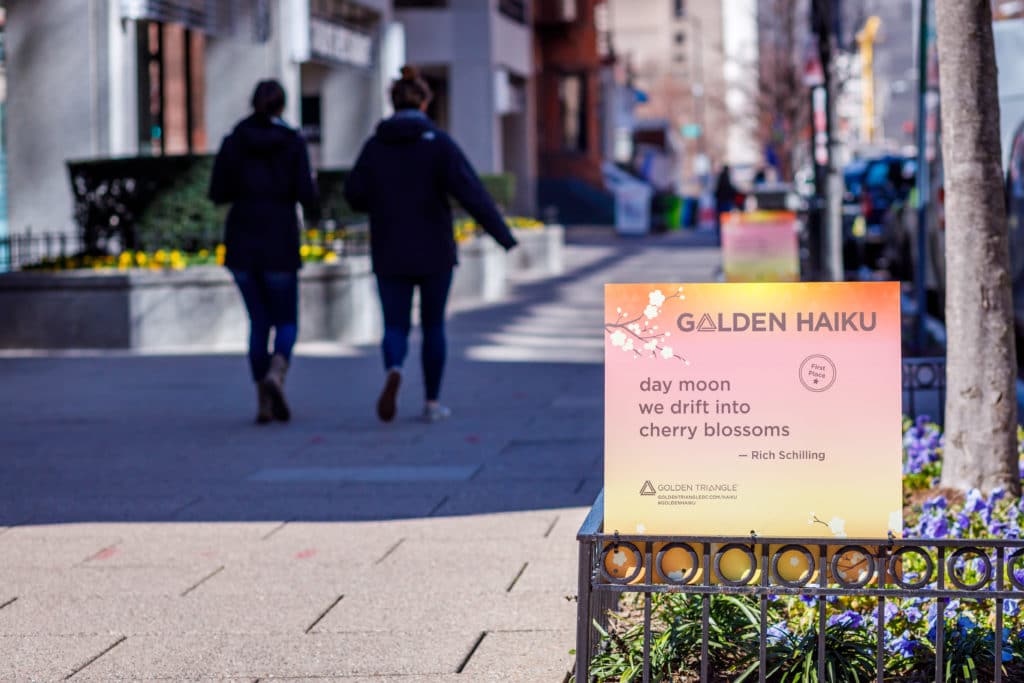 A lot of urban neighborhoods all over the country already have a great character and sense of place, but the missing piece is people. A BID can create vibrancy by hosting and promoting events that bring people in to experience what the district has to offer.
The North Park Main Street BID in San Diego focuses on events that keep the neighborhood active and thriving including multiple annual music events, food festivals and a weekly farmers market.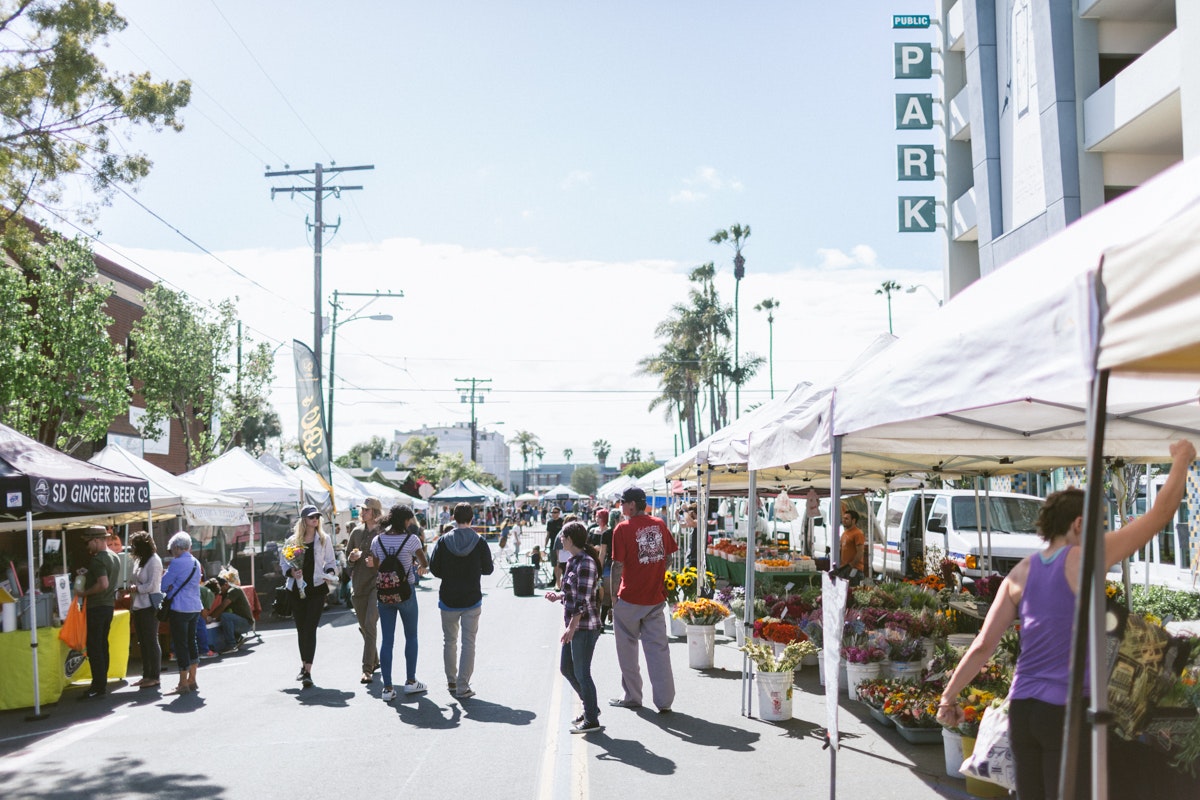 This focus on event promotion ensures that people always have a reason to visit and enjoy the district. Once a commercial business district has a clean, cohesive, inviting and active environment it needs to get the word out!
A BID can promote all of its programs, as well as everything the neighborhood has to offer by creating and maintaining a web presence. Most people look for events, activities, restaurants, directions…. almost everything actually… online.
So, a good website and social media presence can be the linchpin for a district's financial success.
The Arts District of LA BID does a great job of highlighting events and activities in their area. Their website includes interactive maps of all the parks, murals, bars, restaurants, and art galleries in the district so that visitors can easily find a reason to visit their district.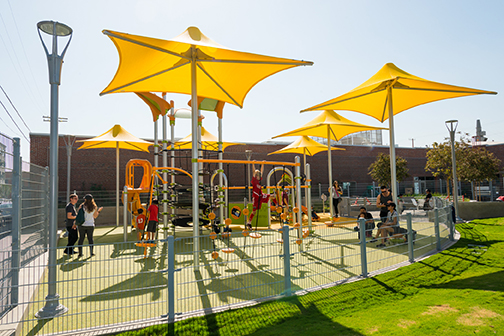 These are just a few examples of what a BID can do for a district. We're looking forward to a future where more BIDs are created in Birmingham that can give our districts stronger identities.
Related News
Filed Under: Business-Proving, Downtown Birmingham, Events, Filling Vacant Spaces, Front Page, Get Involved, Magic City Match, Potential-Proving, Small Business

Magic City Match is a program that transforms lives and opens doors for Black entrepreneurs and business owners. Led by REV Birmingham and powered by Prosper, this initiative aims to create opportunities for Black-owned businesses by matching them with brick-and-mortar spaces where they can thrive. After a successful pilot program in 2022, Magic City Match is back in action and ready to empower a new wave of entrepreneurs.

Filed Under: Front Page, Historic Preservation, Small Business, Uncategorized, Woodlawn

One of the most legendary and storied neighborhoods of Birmingham is Woodlawn.  It is a community, anchored by one of the great public high schools of Birmingham, that has produced many citizens who contributed to the life of our city and has had an impact beyond the neighborhood itself.  In a short post like this true justice cannot be done to the rich heritage and legacy of Woodlawn.  However, we hope that this narrative brings together many of the diverse threads that make up the fabric of the community's historic arc in a concise piece. 

Filed Under: Downtown Birmingham, Family Friendly, Front Page, Why BHM

Woof, woof! I've been having an absolute blast visiting my sister in Downtown Birmingham. I can hardly wait to share all the details with you once you return from your vacation. In the meantime, I wanted to put paw to paper and tell you all about it, with the hope of convincing you that moving Downtown could be the most wonderful decision ever.