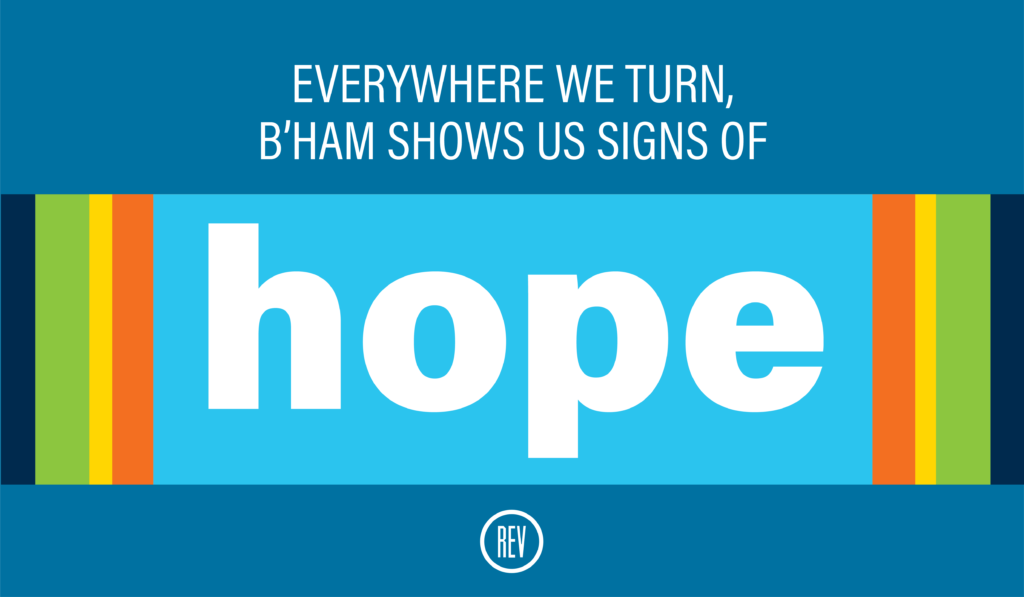 By Taylor Clark Jacobson
REV Birmingham Director of Business Recruitment & Growth
As we enter month two of what the Federal Government has declared a National Emergency, the headlines are thick. They swim and sway through my day—daring to unearth the foundation that grounds REV's team, the mission of creating vibrancy through the growth of sustainable businesses. The plight of our small business community could shake our confidence in our ability to achieve the mission, to penetrate the passion that fuels our every waking effort.
I won't sugar coat it: There are those moments. We are human and we adore our small business community, but those moments are just that. They are temporary.
And then there's a text, a phone call, a Zoom meeting, a virtual workshop—and we are filled with hope.
Going into month two and hope overshadows the angst, squelching the impending doubt—because everywhere we turn, our entrepreneurs are casting hope in the face of COVID-19. Together we are persevering through this unique moment in time and here's what we see.
We are a comeback city. It's who we were, who we are and who we will be.
Transparency + Urgency 
From City Hall to Main Street, COVID-19 has humbled and empowered unlikely leaders to meet the needs of the community we proudly call home. With a sense of transparency and urgency, leaders courageously embarked without a roadmap into the unknown. This is new territory. Questions are abundant and answers are not, but our community urgently searches for solutions and humbly acknowledges the journey of figuring it out—together.
Abundant Resources + Collaboration 
Nearly overnight, COVID-19 darkened the doors of our favorite restaurants and retail shops. In the days that followed, the small business support network we internally refer to as the entrepreneurial ecosystem convened to collaborate. Geographic and work plan boundaries dissolved to combine forces in the creation of more resources than our community can possibly consume. In the face of COVID-19, we've shifted the way our community will address the needs of Birmingham's small business community forever.
Community + Faith + a Comeback Spirit 
Collectively our team has already spent more than 500 hours engaging with Birmingham business owners since COVID-19's descent. We've absorbed hundreds of hours of uplifting conversations backed by a genuine love of Birmingham, a spirit of resiliency and faith that we will emerge from this stronger. Birmingham, know that your small business community is made of steel—literally and figuratively. We are a comeback city. It's who we were, who we are and who we will be. Collectively we embody a drive to not just survive but thrive and that spirit envelopes every, single conversation we have with our entrepreneurial community. 
We are all unexpected leaders. As a community we are responding with urgency, deploying countless resources and embracing one another in the process, extending hope as a reminder of what we are made of – individually and collectively. We are #BhamStrong.
How can REV help you?
REV has been engaged with our partners to ensure we are being as collaborative and clear as possible in messaging to our community the resources available to Birmingham entrepreneurs during the COVID-19 pandemic.
Related News
Filed Under: Business-Proving, Downtown Birmingham, Events, Filling Vacant Spaces, Front Page, Get Involved, Magic City Match, Potential-Proving, Small Business

Magic City Match is a program that transforms lives and opens doors for Black entrepreneurs and business owners. Led by REV Birmingham and powered by Prosper, this initiative aims to create opportunities for Black-owned businesses by matching them with brick-and-mortar spaces where they can thrive. After a successful pilot program in 2022, Magic City Match is back in action and ready to empower a new wave of entrepreneurs.

Filed Under: Front Page, Historic Preservation, Small Business, Uncategorized, Woodlawn

One of the most legendary and storied neighborhoods of Birmingham is Woodlawn.  It is a community, anchored by one of the great public high schools of Birmingham, that has produced many citizens who contributed to the life of our city and has had an impact beyond the neighborhood itself.  In a short post like this true justice cannot be done to the rich heritage and legacy of Woodlawn.  However, we hope that this narrative brings together many of the diverse threads that make up the fabric of the community's historic arc in a concise piece. 

Filed Under: Downtown Birmingham, Family Friendly, Front Page, Why BHM

Woof, woof! I've been having an absolute blast visiting my sister in Downtown Birmingham. I can hardly wait to share all the details with you once you return from your vacation. In the meantime, I wanted to put paw to paper and tell you all about it, with the hope of convincing you that moving Downtown could be the most wonderful decision ever.