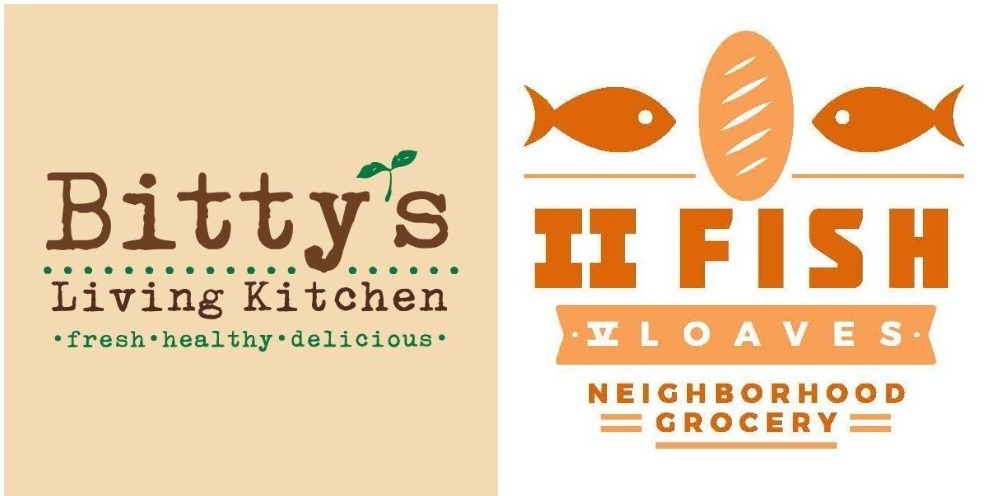 Two REV clients are partnering to bring healthier options to the Norwood community. Your favorite Bitty's Living Kitchen salads are now available in convenient grab-and-go form at II Fish V Loaves Neighborhood Market.
Bitty's owner and chef Kimberly Brock, who has shared her food with Birmingham through popups and a six-month stint in REV's REVeal Kitchen in The Pizitz Food Hall that finished up in January, has created healthy food fans across the city. Two of those fans just happened to be the couple who owns II Fish V Loaves (pronounced "Two Fish, Five Loaves"). Together the CO.STARTERS grads hatched a plan for a collaboration to sell Chef Brock's undressed salads as a grab-and-go option at II Fish V Loaves. 
Chef Brock aims to provide healthier options for the surrounding community through a healthy and "living food" concept, complete with vegan and vegetarian-friendly options. She believes the collaboration with II Fish V Loaves is essential to not only continue sharing her products as she works toward a brick and mortar location, but also to fill the need for healthy lunch options in the Norwood area. 
As a REV Urban Food Project Farm to Corner Store client, II Fish V Loaves has fresh, Alabama-grown food delivered to their store, reducing the barrier for Norwood residents to access fresh produce. II Fish V Loaves Neighborhood Market is located at 3000 12th Avenue North, Birmingham, Alabama. 
Both Chef Brock and II Fish V Loaves owner Antonio Washington are graduates of CO.STARTERS, Create Birmingham's business development training program on which REV is proud to partner.  
Find Bitty's Living Kitchen online at bittyslivingkitchen.com and on Facebook and Instagram. Find II Fish V Loaves on Facebook and Instagram.
 
Related News
Filed Under: Filling Vacant Spaces, Front Page, Get Involved, Small Business

In less than a year after arriving in the United States, the Vyshyvanyuk family, who recently fled from Ukraine, is now launching NiEl' Bridal Atelier, a custom wedding dress and alterations business in Forest Park. Olena and Mykola Vyshyvanyuk, along with their three children – Viktoriia Vyshyvanyuk, Eva Vyshyvanyuk, and Loanna Vyshyvanyuk – made the courageous decision to leave Ukraine on November 7, 2022. This family's inspiring story serves as a testament to the boundless opportunities that small businesses can achieve in Birmingham.

Filed Under: Business-Proving, Downtown Birmingham, Filling Vacant Spaces, Front Page, Small Business

Are you a startup looking for a foot in the door? Did you know we have an accelerator program that helps founders begin their entrepreneurial journey right here in the Switch district? TechStars is a dynamic three-month program that empowers entrepreneurs in their quest to discover product-market fit, gain traction, and access both capital and global mentorship. Operating in more than 30 cities worldwide, Techstars added Birmingham as a host for their energy-focused cohort.

Filed Under: Front Page, Small Business, Woodlawn, Woodlawn Street Market

The Woodlawn Street Market is a platform for small businesses to showcase their talents and products. From handmade jewelry to locally sourced produce, you can find a wide variety of items that highlight the creativity and craftsmanship of the Birmingham community Among the talented individuals who have found a home in this vibrant marketplace is none other than Johnathan Westbrook, fondly known as Jon Jon, and the majority owner of the Broncho Food Truck. This new food truck made its debut back in August and will be back again for this week's market.