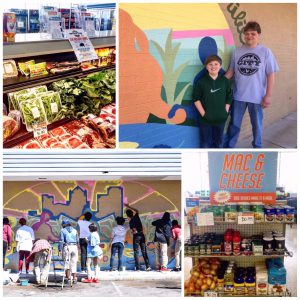 At REV, our strategies begin with community-led ideas. Then we feed those great ideas with good design – strategy design, physical design, graphic design, etc. We seek partners who share those values. One of the Urban Food Project's clients, City Meats & Vegetables, couldn't be more on point these days. Last fall, the UFP team helped owner Randy Newell conduct a focus group to better understand his customers' needs. That customer intel has formed the basis for strategies we've been implementing with Randy since.
Based on feedback from the community, Randy has committed to improving his store with support from UFP. He purchased a new cooler to offer more fresh meat and produce, making it easier for customers to put together fresh meals every day. He commissioned artist Andy Jordon and Woodlawn High School art students to create a mural and hired customer David Todd of Spartan Creative to create a new logo and signage. With support from UFP, he's launched monthly specials and in-store marketing to inspire meal planning and increase sales. He even sponsored an Easter Egg Dying Contest at April's Woodlawn Street Market! Check out the winner on his newly-launched Facebook Page. We are excited about all of the progress that's been made, and we can't wait to share more updates in the future.  Thank you, Randy and City Meats, for your partnership and commitment to serving the Woodlawn community!
Related News
Filed Under: Filling Vacant Spaces, Front Page, Get Involved, Small Business

In less than a year after arriving in the United States, the Vyshyvanyuk family, who recently fled from Ukraine, is now launching NiEl' Bridal Atelier, a custom wedding dress and alterations business in Forest Park. Olena and Mykola Vyshyvanyuk, along with their three children – Viktoriia Vyshyvanyuk, Eva Vyshyvanyuk, and Loanna Vyshyvanyuk – made the courageous decision to leave Ukraine on November 7, 2022. This family's inspiring story serves as a testament to the boundless opportunities that small businesses can achieve in Birmingham.

Filed Under: Business-Proving, Downtown Birmingham, Filling Vacant Spaces, Front Page, Small Business

Are you a startup looking for a foot in the door? Did you know we have an accelerator program that helps founders begin their entrepreneurial journey right here in the Switch district? TechStars is a dynamic three-month program that empowers entrepreneurs in their quest to discover product-market fit, gain traction, and access both capital and global mentorship. Operating in more than 30 cities worldwide, Techstars added Birmingham as a host for their energy-focused cohort.

Filed Under: Front Page, Small Business, Woodlawn, Woodlawn Street Market

The Woodlawn Street Market is a platform for small businesses to showcase their talents and products. From handmade jewelry to locally sourced produce, you can find a wide variety of items that highlight the creativity and craftsmanship of the Birmingham community Among the talented individuals who have found a home in this vibrant marketplace is none other than Johnathan Westbrook, fondly known as Jon Jon, and the majority owner of the Broncho Food Truck. This new food truck made its debut back in August and will be back again for this week's market.