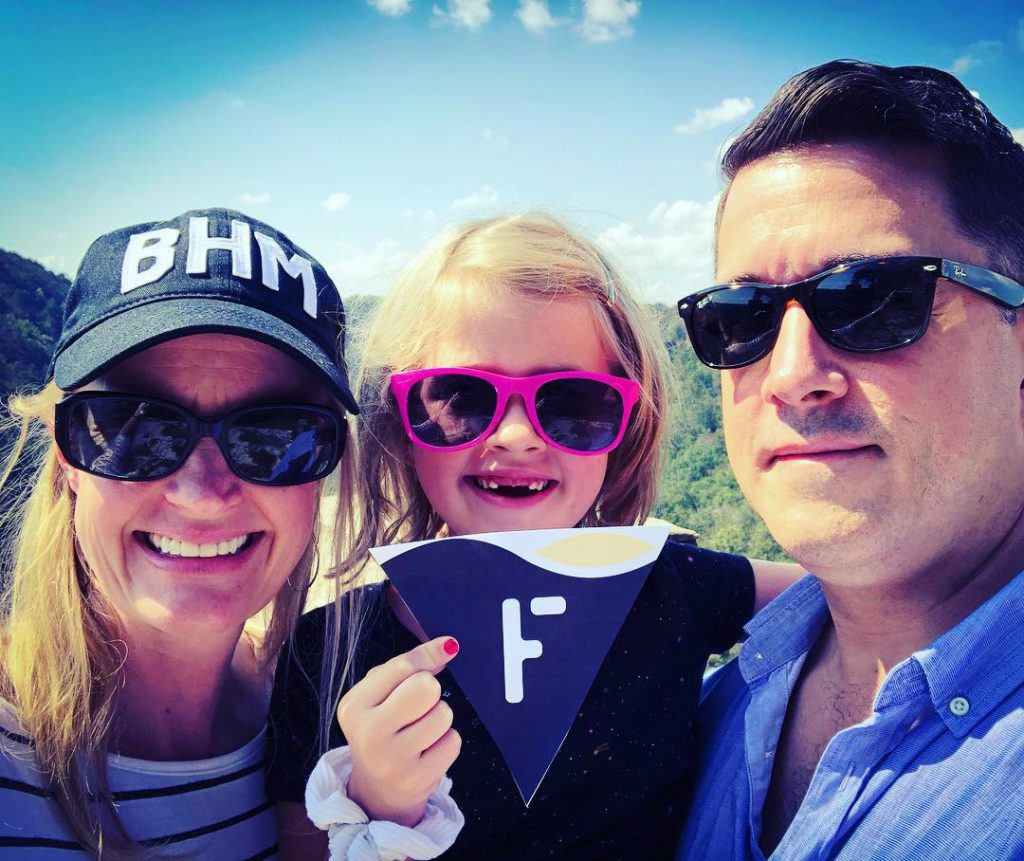 Husband-and-wife duo James Little and Jill Marlar (and their daughter Ruby) are combining their love for coffee and community to open Filter – Coffee Parlor in Five Points South.
Filter will insert caffeinated vibrancy into the Munger Building, an Art Deco beauty that wraps the southwest corner of 20th Street and 11th Avenue South. The building was completed in 1928 and has housed businesses such as Harmon's Beauty Salon, Madame Husted Boutique and Lawrence Hi-Fi Center.
The Munger Building is more recently known as the former home of Five Points South's Starbucks, which James managed for 6 years (in addition to his 8 years of coffee shop management elsewhere). His love for and relationships in the historic neighborhood led James next to becoming REV Birmingham's Five Points South District Manager, a role in which he excelled for 8 years. Jill has successfully operated her own small business since 2000 teaching art, music and drama classes for all ages, and she also teaches music at Independent Presbyterian Day School.
Soon, their coffee, arts and business experience will combine to brilliantly fill a vacant space and a need for good coffee in Five Points South. As they near their opening day, James and Jill are sharing their start-up steps in hopes that it will help more entrepreneurs pursue their dreams.
BIZ 1.0
James attended REV's BIZ 1.0 workshop while he was a REV District Manager. BIZ 1.0 is a 4-hour workshop led by REV´s business growth team that takes entrepreneurs with an idea through defining and achieving their goals, moving their concept to reality. At the beginning of the workshop, each BIZ 1.0 participant determines their own business concept to work through the business model canvas in the four hours. Through instruction and discussion at BIZ 1.0, entrepreneurs learn business operation skills to formalize their visions. Team members across roles at REV are encouraged to experience the workshop from a REV client's point of view, so they can get a deeper look into what gives many start-ups the direction they need to get started. James's "test business" concept for BIZ 1.0 was an artisanal coffee parlor that serves as a place for all to come and enjoy themselves in a welcoming environment.
Brainstorm
Soon, James and Jill began to realize that the "test business" from BIZ 1.0 could be something more. They began brainstorming about what the coffee parlor could look like as a real business. James and Jill envisioned Filter as a place for Five Points South locals and visitors to relax and connect. They love Five Points South, they love coffee, and to them, combining the two is the perfect way to enjoy life to the fullest. While on a beach vacation, they sketched logo designs onto the resort notepads. In fact, they saved their sketches and recently shared them with their social media followers shortly after announcing their opening plans.

Business Planning
James and Jill knew that a solid business plan would be critical for sustainability. Jill researched and found model business plans to guide the pair as they created their own. The plan included how they envision their customer, what they want the business to be and how they can make Filter stand out from competitors. They also focused on the revitalization efforts in Five Points South and how Filter could contribute to that. Through cloud-based business planning tool LivePlan, James and Jill painted a strategic picture of Filter. Together they formed a business strategy, created a budget and forecasted and checked Filter's numbers against those of competitors to see how they stack up. They can continue to use LivePlan to monitor the health and growth of Filter.
Projections
James and Jill created detailed projections for Filter's first year, including project outlines, cash flow, budgets and buildout. They also created a forecast for Filter's first five years. It is important for entrepreneurs to create detailed projections, because it allows a look into whether or not a business plan is feasible. "You need to know who and what you are and be prepared to put that into action," James said.
Competitor Analysis
James and Jill analyzed every aspect of Filter's competitors, from operation hours to menus and pricing. Competition is not who else is doing exactly what you're doing; it's who else can meet your customers' wants or needs, and competitive advantage is why customers choose you over your competitors. James said he and Jill drew from some of the lessons he learned while at REV – including wisdom from Simon Sinek on playing "the infinite game" – to form their philosophy on competition. "Competition is healthy and good. You should always do your best, but never feel like you constantly have to outdo your competitors," James said. "It's good to know who your competitors are, but we're really focusing on our why and sticking with what we set out to do."
Community Engagement and Funding
A recent Five Points Alliance survey revealed that residents and visitors agreed that a coffee shop was needed in the community. James and Jill have been involved in the community for a long time and established relationships with people who believe in them. Because of that, they were able to ask members of the Five Points South community to financially help them bring to life something that would benefit the area. The couple also obtained a Small Business Administration (SBA) loan, which is a commercial loan through a bank or authorized lender that is structured according to SBA requirements with an SBA guarantee (to alleviate bank risk associated with lending money to small business owners and entrepreneurs).
Buildout
Now in the final stages of bringing Filter to life, James and Jill are overseeing the buildout process. The lease has been signed; and the building, health department, patio and all other necessary permits have been obtained. Although starting a new business is never easy, James and Jill have leveraged many resources to streamline their journey. Their most valuable lesson? ASK QUESTIONS. In one conversation with a Sysco representative about food, James asked for referrals to equipment suppliers – and learned that another department within Sysco that could meet Filter's equipment needs. The connection saved he and Jill time and stress – and they never would have known without just asking the question.


A final piece of advice James extends to entrepreneurs is to form relationships with those who have the best interest of you and your business in mind. "Having people who know you and your needs is key," said Little. "Research the demographic of the area, the building conditions and every other little detail, and find representatives for these that want you to succeed."
Filter is set to open in less than a month. Like the Filter Facebook page for updates and information about opening.
Related News
Filed Under: Business-Proving, Downtown Birmingham, Events, Filling Vacant Spaces, Front Page, Get Involved, Magic City Match, Potential-Proving, Small Business

Magic City Match is a program that transforms lives and opens doors for Black entrepreneurs and business owners. Led by REV Birmingham and powered by Prosper, this initiative aims to create opportunities for Black-owned businesses by matching them with brick-and-mortar spaces where they can thrive. After a successful pilot program in 2022, Magic City Match is back in action and ready to empower a new wave of entrepreneurs.

Filed Under: Front Page, Historic Preservation, Small Business, Uncategorized, Woodlawn

One of the most legendary and storied neighborhoods of Birmingham is Woodlawn.  It is a community, anchored by one of the great public high schools of Birmingham, that has produced many citizens who contributed to the life of our city and has had an impact beyond the neighborhood itself.  In a short post like this true justice cannot be done to the rich heritage and legacy of Woodlawn.  However, we hope that this narrative brings together many of the diverse threads that make up the fabric of the community's historic arc in a concise piece.