Jay Brandrup, principal and founder of Kinetic Communications, takes pride in the workplace culture he has been able to create since he started his company in 1995. What started out as a small startup company run from inside Brandrup's apartment has now expanded into a successful website design, development, and marketing firm and is located in his dream location on Morris Avenue in Downtown Birmingham. However, this nifty office space has not always been occupied by website designers; before Brandrup bought it out after having his eye on the space for years, the building had been the home to four restaurants and three nightclubs!  
The office space is full of rich history and unique knick-knacks which represent all sorts of things that are special to the company. When asked about creating a positive workplace culture and the effect it has on the company, Brandrup said "Our space directly influences our work on a daily basis. It trickles into our client work. It inspires us and it invigorates us. It gives us a space to escape, retreat, or collaborate – or all of the above. We're so lucky to have found and been able to build out our dream space on our favorite block of our favorite street in the state. I wouldn't pick us up to move us anywhere." 
While he wouldn't change anything about his office space now, it is not necessarily something he had planned for, but rather one that evolved over time. "You've gotta go with the flow in life. I knew I wanted to have a team that was involved and loves their work, both with their clients and the community projects that we're so lucky to be involved with. I want to be around a team that appreciates each other and enjoys collaboration." 
Brandrup also expressed his love for downtown and how there was really nowhere else he would have moved his business. He still feels that way today and loves being surrounded by the vibrancy of the city center because that is exactly what his company thrives on – the "kinetic" energy of a workplace! While he is very excited and proud of Birmingham, he acknowledges the fact that there is always more work to be done. However, that doesn't take away from the fact that his team is rocking it and are thrilled to have put down permanent roots. 
 Enjoy the photo tour below of this cool little office space!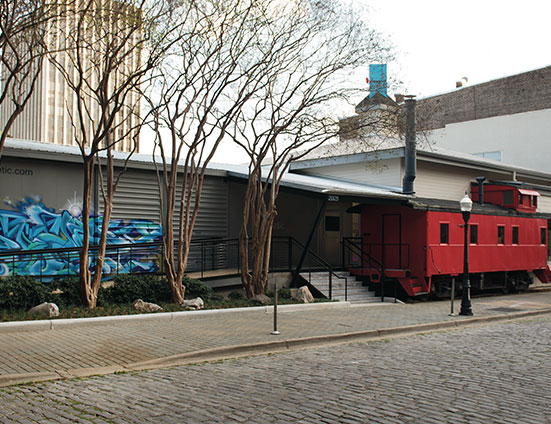 How many people can say their office is inside of a caboose?! Our guess is not many!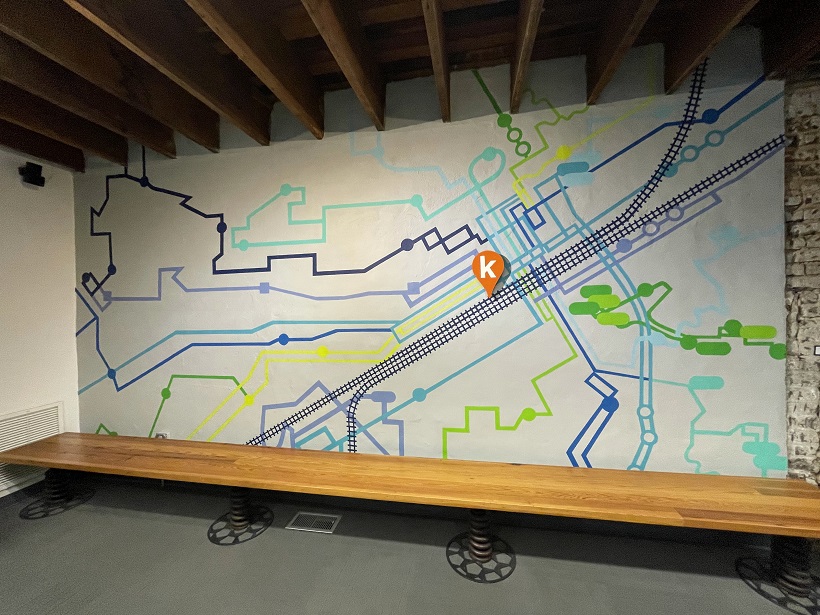 This kinetic map was created by a muralist who was inspired by an old bus route map in Birmingham. She took the map and combined it with a social media look to come up with this cool masterpiece!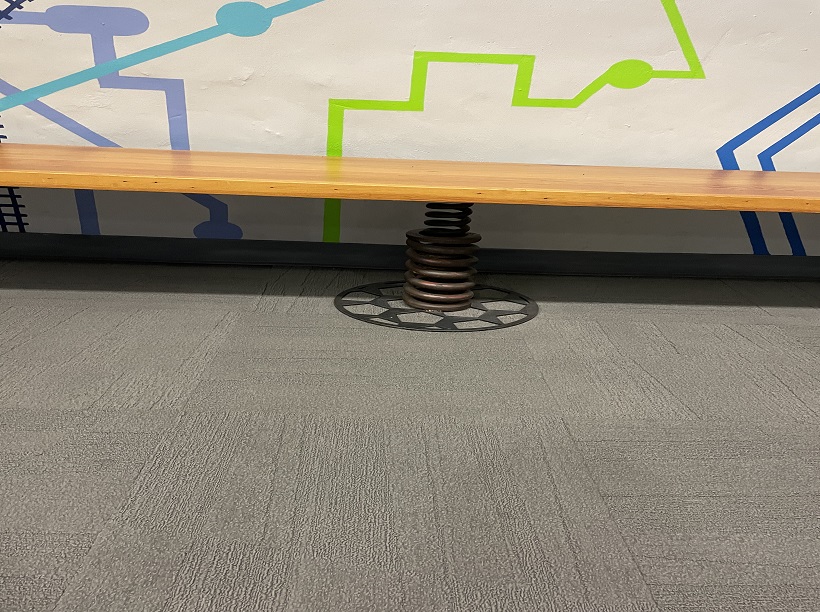 This bench is held up by these train springs that were found in a client's train graveyard. Sturdy enough to serve its purpose but bouncy enough for some mid-day bench surfing!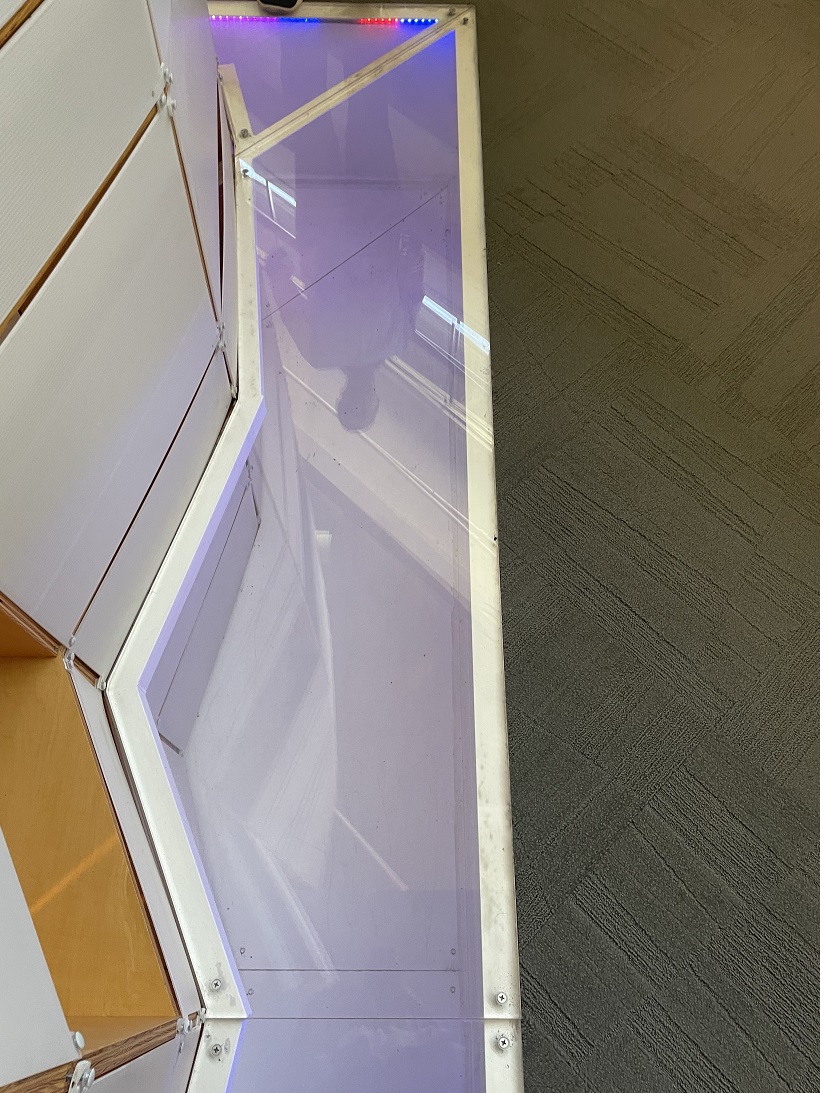 This building just so happened to be multiple clubs in its past life and these light up dance floors were inspired by the previous tenants. Office parties must be a blast at Kinetic!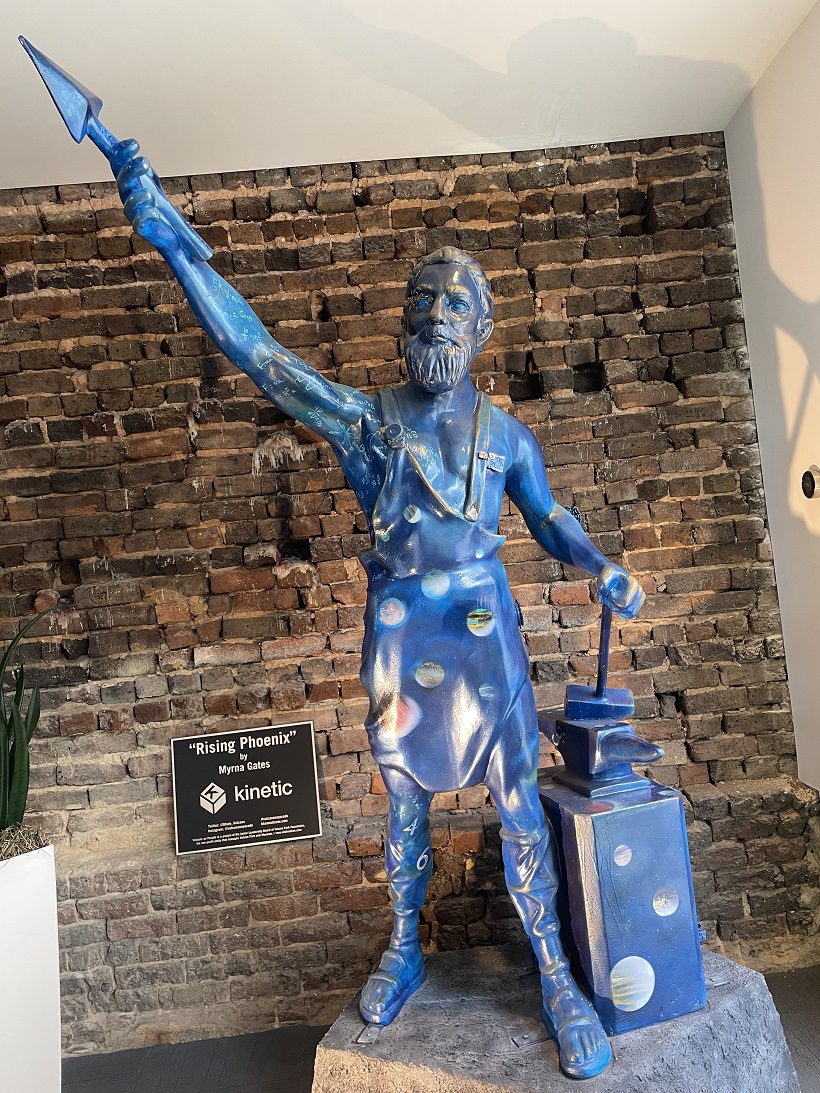 There are a handful of mini Vulcan statues throughout the city of Birmingham and Kinetic is home to one of thirteen. How cool!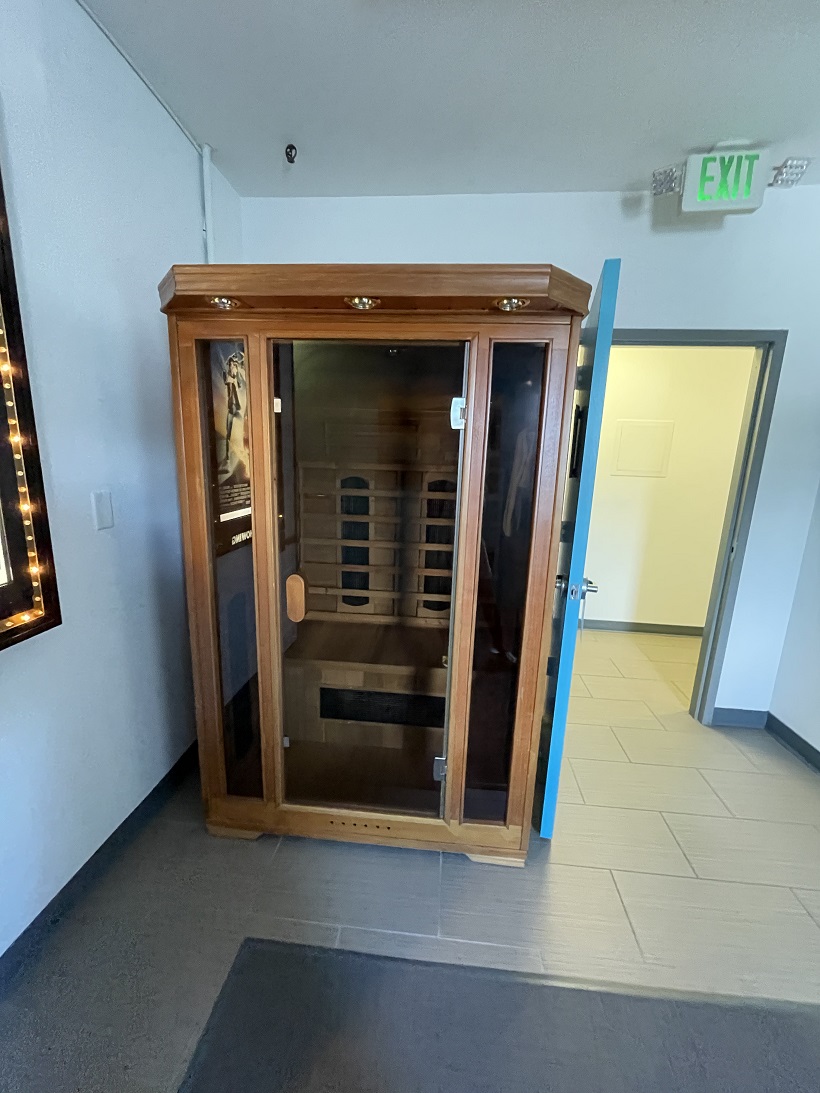 Stressed out at work? No worries! Just head down to the sauna for a relaxing break.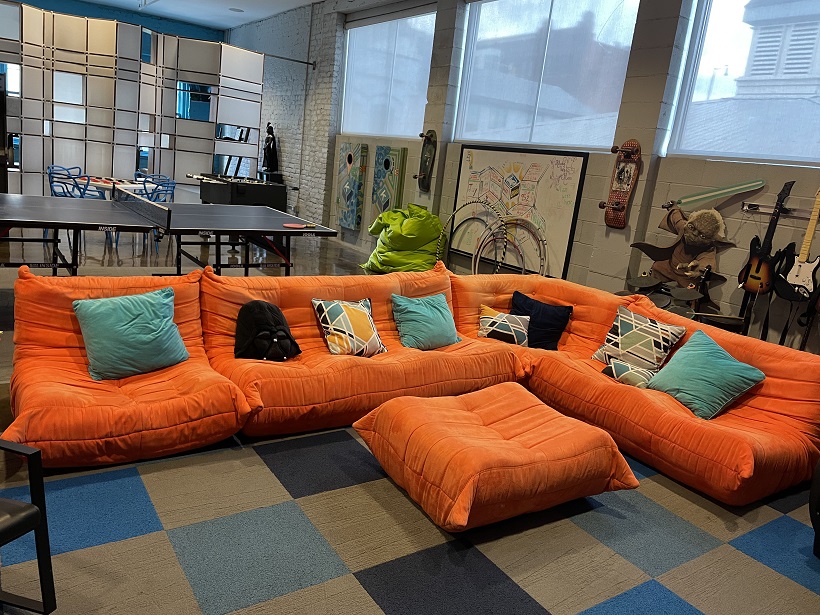 This game room comes stocked with basketball nets, virtual reality equipment, and loads of video games; it doesn't get better than that!
These rooftop views make the perfect back drop for a golf tournament – check out the Kinetic Cup!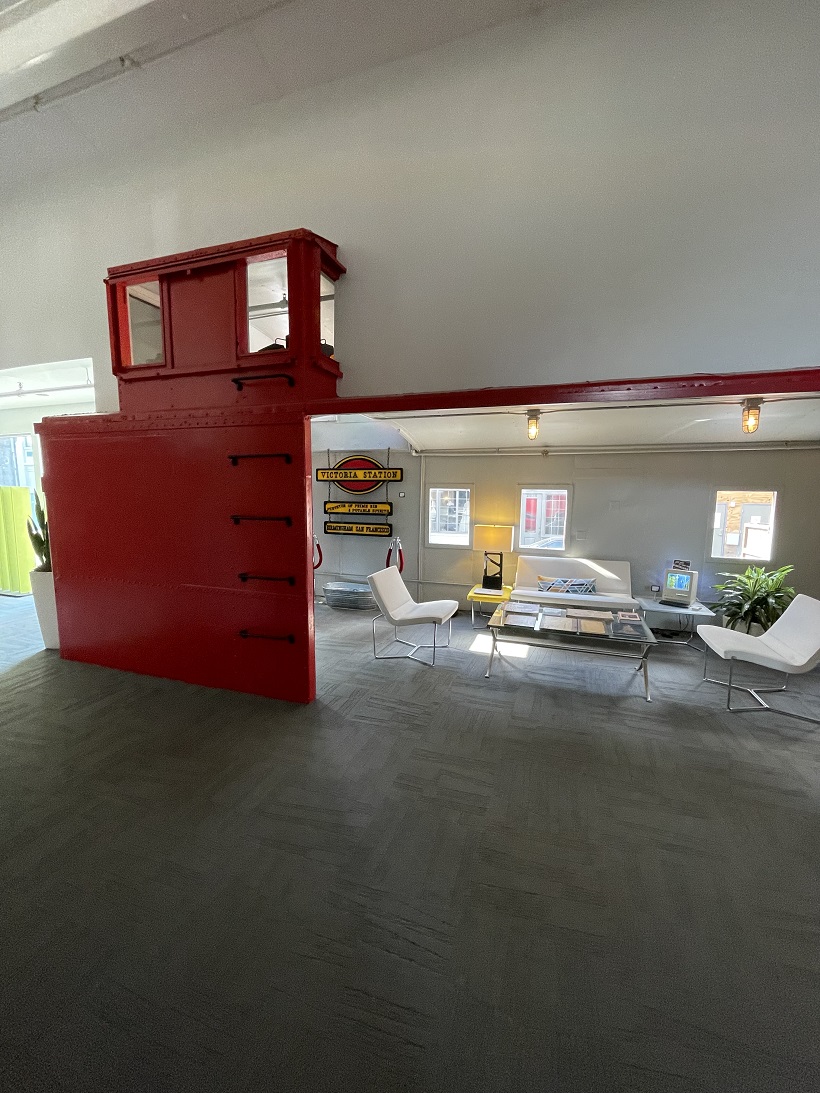 This is the original caboose from the Victoria Station restaurant that lived in the space before Kinetic moved in. The caboose still has menus from the original restaurant, along with other memorabilia, such as an album that THE Johnny Cash wrote there!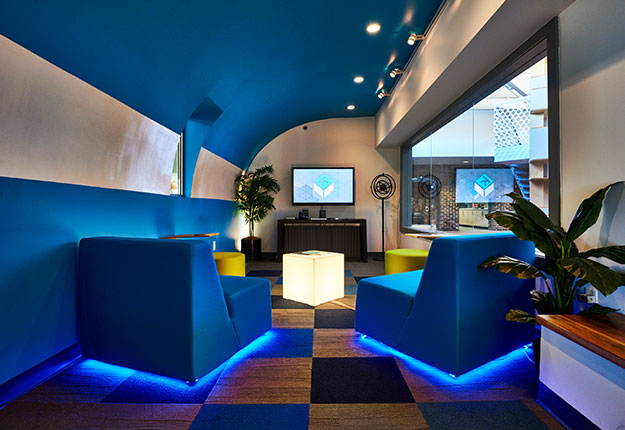 This sound proof room was once a VIP lounge at a club. The window allowed members to see what was happening on the dance floor while still enjoying their privacy. It now serves as an area for office members to focus on their work in a zen environment.
Scroll through this photo gallery to see all the other fun paraphernalia within the Kinetic walls!
Related News
Filed Under: Business-Proving, Downtown Birmingham, Events, Filling Vacant Spaces, Front Page, Get Involved, Magic City Match, Potential-Proving, Small Business

Magic City Match is a program that transforms lives and opens doors for Black entrepreneurs and business owners. Led by REV Birmingham and powered by Prosper, this initiative aims to create opportunities for Black-owned businesses by matching them with brick-and-mortar spaces where they can thrive. After a successful pilot program in 2022, Magic City Match is back in action and ready to empower a new wave of entrepreneurs.

Filed Under: Front Page, Historic Preservation, Small Business, Uncategorized, Woodlawn

One of the most legendary and storied neighborhoods of Birmingham is Woodlawn.  It is a community, anchored by one of the great public high schools of Birmingham, that has produced many citizens who contributed to the life of our city and has had an impact beyond the neighborhood itself.  In a short post like this true justice cannot be done to the rich heritage and legacy of Woodlawn.  However, we hope that this narrative brings together many of the diverse threads that make up the fabric of the community's historic arc in a concise piece. 

Filed Under: Downtown Birmingham, Family Friendly, Front Page, Why BHM

Woof, woof! I've been having an absolute blast visiting my sister in Downtown Birmingham. I can hardly wait to share all the details with you once you return from your vacation. In the meantime, I wanted to put paw to paper and tell you all about it, with the hope of convincing you that moving Downtown could be the most wonderful decision ever.