From summer to fall, the Five Points Alliance and REV Birmingham have coordinated multiple pop-up opportunities that have helped prove the Five Points South community's desire for more outside-the-box additions to their historic neighborhood.
Reactivating green spaces

The first of these pop-up events was a summer Pop-up Dog Park & Community Movie Night at Brother Bryan Park.
The inspiration originated from a 2017 community-planning meeting, in which plans were proposed for revitalizing the area's green spaces. The committee sent a survey to more than 1,000 residents to receive feedback on park redevelopment. One of the most frequent responses from the survey was that Brother Bryan Park should be repurposed into a community event space. The pop-up dog park helped demonstrate the park's potential to the neighborhood.
"For a first-time event, the pop-up dog park went very well. A lot of vendors and community members showed up in the earlier part of the day to enjoy the dog park," said Stephen Foster, Five Points South Neighborhood Association vice president. "Unfortunately the movie got rained out, but we still got experience with logistics and planning for it."
According to Foster, five neighborhood associations within three city council districts are all within a 20-minute walking distance from Brother Bryan Park. People are generally willing to walk up to 20 minutes to access a green space or dog park, and that was the basis of centralization for engaging Brother Bryan Park as the catalyst for reactivating green spaces in the area.
Increasing retail opportunities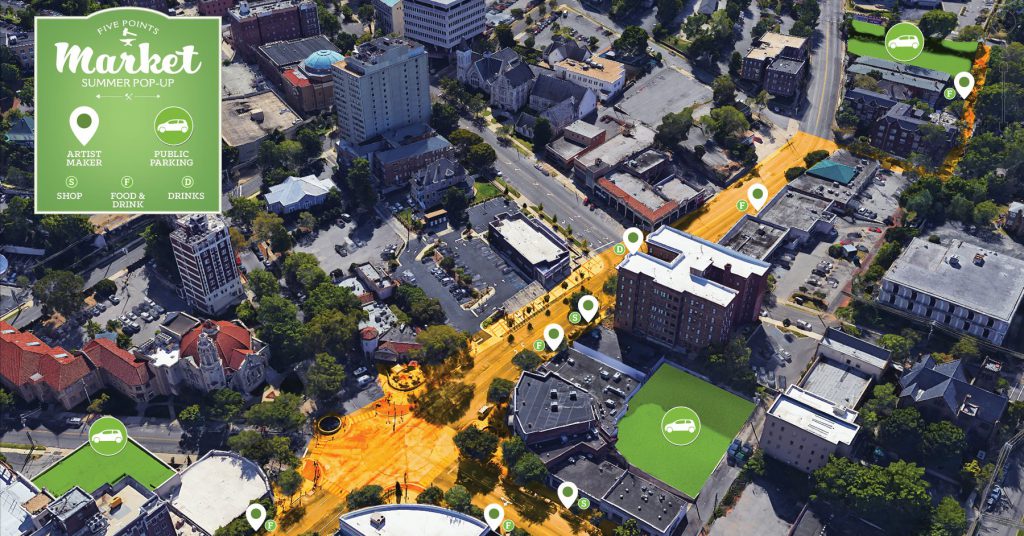 Much like the Pop-up Dog Park & Movie Night, the idea for the Five Points Market series was brought to life in response to community survey results. These responses highlighted the need for more retail options in Five Points South to complement the community's thriving food scene. The market highlights area makers, art and gifts, while also demonstrating the viability of Five Points South as a market for expanded retail.
"The Five Points Market is very important because it helps show the consumer there is actually an opportunity for a retail footprint in Five Points South," said Ace Graham, owner of Alchemy 213. "It gives people more places to hang out as opposed to going out of their way into other parts of Birmingham or other cities for a shopping experience; Five Points and nearby residents can walk or make a short drive and not have to spend extra time or money commuting to retail."
Five Points South's potential for growth was highlighted last year during the Birmingham Restaurant Week Preview Party, hosted at Pickwick Place. Up until this point, Pickwick Place had been largely vacant for a number of years. The success of the Preview Party and KH Management's rebrand of the property led to a flourishing Pickwick Place with new tenants, which has also contributed to a significantly decreased vacancy rate in Five Points South.
—
The Five Points Alliance's vision is that Five Points South is a visitor and culinary destination that offers vibrant retail and entertainment experiences in a walkable neighborhood environment. Pop-up opportunities like the ones organized in 2018 enrich the neighborhood's vibrancy and allow stakeholders and visitors to experience a taste of what Five Points' future could hold!
Related News
Filed Under: Business-Proving, Downtown Birmingham, Events, Filling Vacant Spaces, Front Page, Get Involved, Magic City Match, Potential-Proving, Small Business

Magic City Match is a program that transforms lives and opens doors for Black entrepreneurs and business owners. Led by REV Birmingham and powered by Prosper, this initiative aims to create opportunities for Black-owned businesses by matching them with brick-and-mortar spaces where they can thrive. After a successful pilot program in 2022, Magic City Match is back in action and ready to empower a new wave of entrepreneurs.

Filed Under: Front Page, Historic Preservation, Small Business, Uncategorized, Woodlawn

One of the most legendary and storied neighborhoods of Birmingham is Woodlawn.  It is a community, anchored by one of the great public high schools of Birmingham, that has produced many citizens who contributed to the life of our city and has had an impact beyond the neighborhood itself.  In a short post like this true justice cannot be done to the rich heritage and legacy of Woodlawn.  However, we hope that this narrative brings together many of the diverse threads that make up the fabric of the community's historic arc in a concise piece. 

Filed Under: Filling Vacant Spaces, Front Page, Historic Preservation

The preservation of our urban treasures is a civic mission that requires a commitment from both the public and private sectors. This responsibility extends beyond developers or the city; it encompasses all of us who cherish Birmingham's authentic character, its heritage, and its stories. Through intentional collaboration, we stand ready to converge whenever opportunities arise. The current buzz surrounding the sale of the Liberty National Building marks a pivotal juncture.