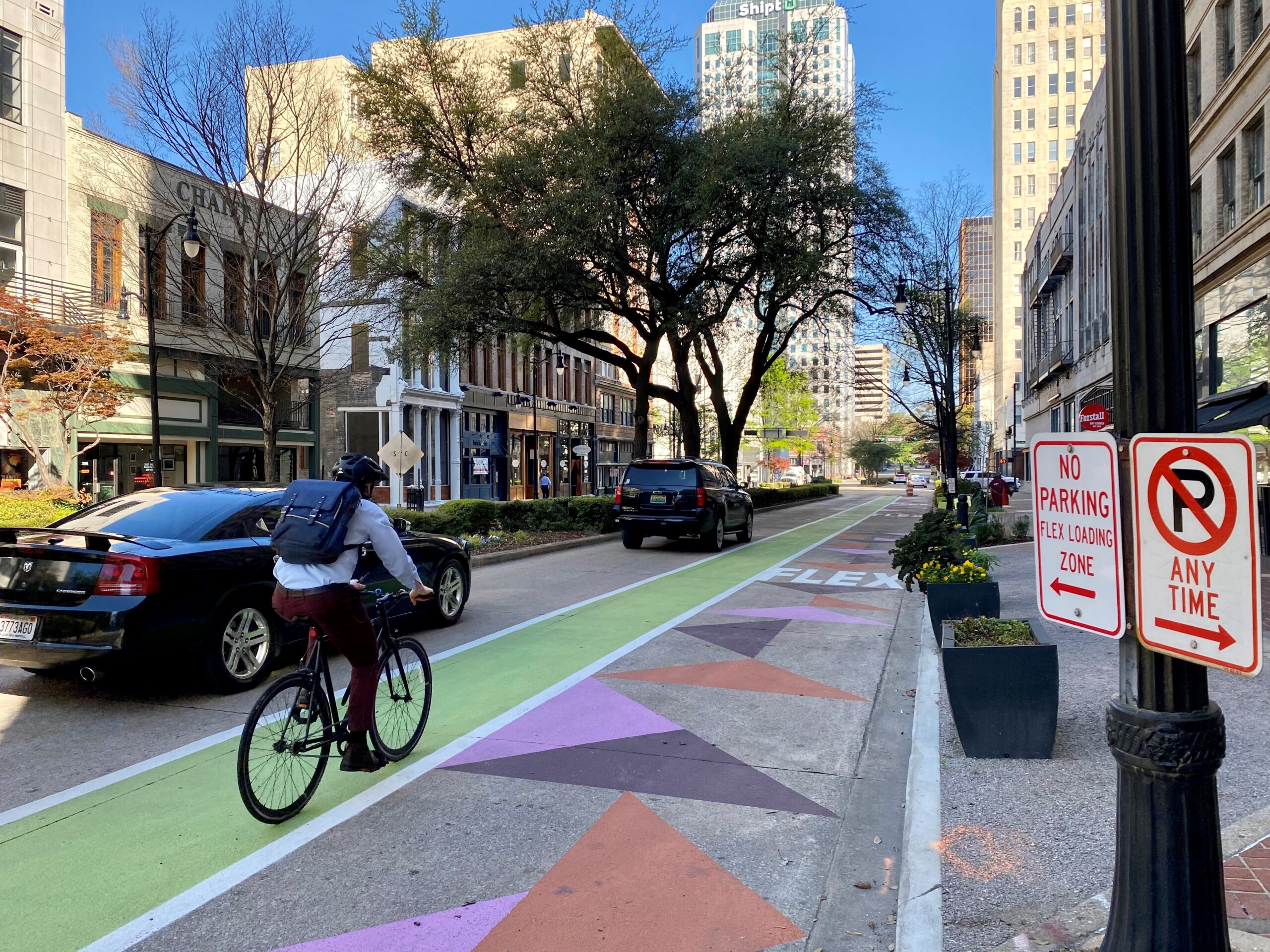 As we return to in person work in downtown Birmingham you may notice a new addition to the streetscape. The Regions green Zyp bikes have been replaced by a wide array of new bikes and scooters. These new devices are a fun and easy way to break up your work day, explore, and take advantage of all the great things Downtown Birmingham has to offer!  
This new fleet works slightly differently than the previous bikeshare system, but if you ever used Zyp via the mobile app then hopping on the new system will be an easy transition for you. You've probably noticed that the new system doesn't have any docking stations or kiosks with screens. It's completely app based. Bikes and scooters are clustered together in corrals painted on the ground, and others are on their own, usually parked near the previous rider's destination. This dockless model allows a lot more flexibility in where you can start and end your ride. All of downtown Birmingham is only a scoot away! 
Download the app
So you want to use the new bikes or scooters get out of the office and grab lunch at Yo Mamma's, get a coffee from Revelator, or just enjoy the sunshine at Railroad Park. The first step on this journey is downloading the app… or apps. We actually have two micro mobility providers in Birmingham right now, although there's a chance we could add even more. Veo and Gotcha are the two current providers and you can find their apps in your phone's app store by searching  "Veo" or "Gotcha". The apps themselves are free to download, and you can load money onto the apps to pay for your rides when you're ready to roll.  
Plan your route
It's a good idea to think about where you're headed and how you'll get there before you start pedaling or pushing the throttle. If you're looking to ride in a dedicated bike/scooter lane, or on a protected path, the Regional Planning Commission has a great interactive map that you can use to find all the current and planned multimodal infrastructure around Birmingham, or you can check out Fresh Water Land Trust "Find a Trail" page. You can also look on the Gotcha or Veo app to see if there are any corrals near your destination, if so; you'll want to park there because parking in a corral actually gives you money back! The devices each have their own small fee to unlock, and then a "per minute" charge while you have them unlocked. Make sure to load a few bucks into your virtual wallet in the app to get started. 
Find a device
Once you have one, or both of the apps, use the "map" feature to find the bikes and scooters closest to you. The map will show your location, as well as the locations of all the bikes and scooters available, along with some crucial info like their battery charge. Each company has both bikes and scooters, with different pricing models based on which device you choose, so make sure to click around on the app and see what device best fits your budget and goals. Veo provides traditional pedal bikes, which are the cheapest option, and the best way to get a little cardio, while Gotcha provides bikes with e-assist, much like the Zyp bikes with the lightning bolt for a quicker trip. 
When you've found a device you want to ride in the app, walk over to it (the Veo app allows you to ring the bell from your phone if you're having trouble finding it!) and point your phones camera at the QR code on the handlebars. The app will then run you through basic pricing, unlocking, and riding information. Make sure you read through that and then you're ready to roll.  
Ride
All the devices require a small push to get started before the motor kicks in. The scooters have a throttle beside your thumb that controls the electric motor. You might want to get a little practice starting and stopping in a parking lot or alleyway before you head out on your first ride. When you do set out onto the street, remember to follow all the normal rules of the road just as you would in a car. If parts of your journey will be made on streets with no dedicated infrastructure it's actually much safer, and in many cases legally mandated, to ride on the road rather than the sidewalk. With doors that open directly onto the sidewalk, pedestrians, curb cuts, and gradient changes – along with devices that average in the 15 to 20 mph range – the sidewalk isn't the best place for bikes and scooters. Riding in the road also increases your visibility to drivers and pedestrians. For example, people look both ways before they cross the street, but usually not when they open a door onto the sidewalk.
Riding on a scooter as opposed to in a car allows you to see so many more of our pretty downtown sights! Plus, there's no better time than now to try out these new "scooting" methods with the beautiful weather we've been getting here in the Magic City.  
Park
If there's a corral close to whatever brewery, park, restaurant, or other awesome amenity you've ridden to, go ahead and put your bike or scooter on the kick stand inside the coral to get some money back in your virtual wallet. Corals are painted white rectangles on the asphalt that normally have at least one white plastic bollard and a bike or scooter logo to identify them. If there isn't a coral, look for any bike rack, curb cut, or adjacent fee space that does not block walking on the sidewalk, and pop that kickstand. Once you've got your device parked, take out your phone and open the app to end your ride. The app will ask you to take a picture of the parked device to confirm you've left it somewhere neat and tidy. When you're done with the picture you'll get a ride summary with some fun stats about your ride, as well as a breakdown how much it cost. 
Related News
Filed Under: Business-Proving, Downtown Birmingham, Events, Filling Vacant Spaces, Front Page, Get Involved, Magic City Match, Potential-Proving, Small Business

Magic City Match is a program that transforms lives and opens doors for Black entrepreneurs and business owners. Led by REV Birmingham and powered by Prosper, this initiative aims to create opportunities for Black-owned businesses by matching them with brick-and-mortar spaces where they can thrive. After a successful pilot program in 2022, Magic City Match is back in action and ready to empower a new wave of entrepreneurs.

Filed Under: Front Page, Historic Preservation, Small Business, Uncategorized, Woodlawn

One of the most legendary and storied neighborhoods of Birmingham is Woodlawn.  It is a community, anchored by one of the great public high schools of Birmingham, that has produced many citizens who contributed to the life of our city and has had an impact beyond the neighborhood itself.  In a short post like this true justice cannot be done to the rich heritage and legacy of Woodlawn.  However, we hope that this narrative brings together many of the diverse threads that make up the fabric of the community's historic arc in a concise piece. 

Filed Under: Downtown Birmingham, Family Friendly, Front Page, Why BHM

Woof, woof! I've been having an absolute blast visiting my sister in Downtown Birmingham. I can hardly wait to share all the details with you once you return from your vacation. In the meantime, I wanted to put paw to paper and tell you all about it, with the hope of convincing you that moving Downtown could be the most wonderful decision ever.