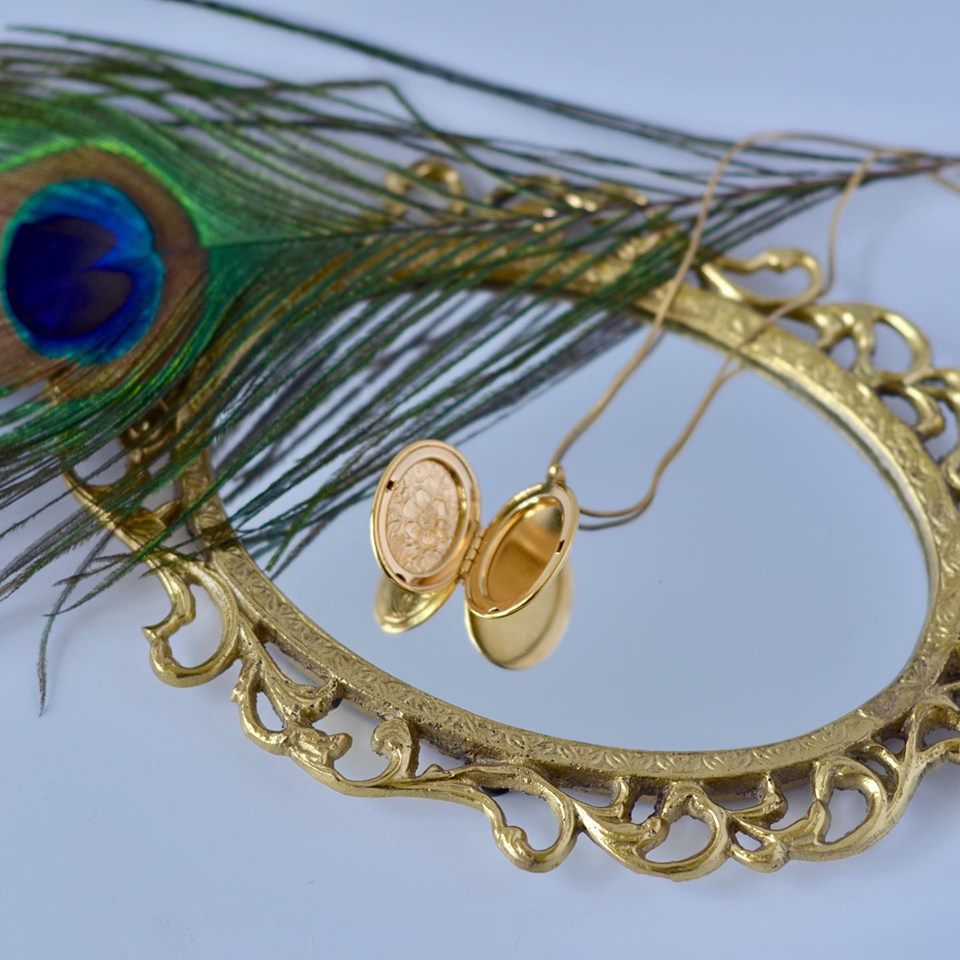 After working with the founder of Charm on 2nd for eight years and buying the business in 2018, Rachel Bayerle and her partner Nicole Putman have been able to turn their love of collecting and accessories into an important pillar of Birmingham's downtown retail scene. REV sat down with co-owner Rachel Bayerle to learn more about how Charm on 2nd came to be.   
Q: What drew you to downtown Birmingham?  
A: So that's a complicated question because we're actually the new owners of Charm, so we've only owned Charm for about a year. Before that, a woman named Chattam Hellmers owned Charm for almost nine years and I worked for her for eight of those years. When she moved to Birmingham, she had a store in Five Points, she had a store in Forest Park, and then this was her last venture here until she moved to Levy's. So, the shop ended up downtown because of Chattam. And then, I personally have always been a downtowner. I went to high school downtown – I went to ASFA – so I've been downtown since I moved to Birmingham in 1999.  
Q: What have you noticed that's changed since you've been here? 
A: When I was in high school, none of this was here. There was Space One Eleven – and I worked at Space One Eleven when I was in school, so I've been on this avenue since I was 17 – and back then all of these storefronts were empty. None of these lofts – nothing, none of this. It's come so far. 
Q: What excites you the most about Birmingham? 
A: Birmingham is this weird little bubble – it wants to be a big city so bad, and it has all of the components of a big city, but it's not. It's the small little town where everybody kinda knows each other, and if you don't know that person, I guarantee you that they know someone that you know. It's this weird, interconnected web, and that's not like a big city – that's a town. Birmingham is great because it's got a big city feel but a small-town community. 
Q: When your out of town friends come to visit you, what do you tell them they have to do? 
A: Birmingham has become a food city. The South is food, it's all about the food, so if my friends were visiting me I'd definitely point them to certain restaurants. Also, because I'm a cheesy person, I'd point them to Vulcan. I love Vulcan – he's my favorite. I visit him several times a year. Buns of steel, you know. 
Q: Where do you think downtown Birmingham is heading? 
A: I think it's heading in a really good direction for the first time in a very long time. I hope it's heading towards more businesses. I know we have a lot of lofts downtown these days but a lot of them aren't occupied and they're never going to be occupied unless we get more businesses. Like we got that Publix – that's awesome – but it's not far enough downtown. 
We need all of the bigger stuff to move slightly more north side and give everyone – even people in the surrounding neighborhoods – a reason to come in. 
Q: How did you guys end up selling jewelry? You mentioned that you ended up here because of Chattam and in Birmingham because you went to ASFA, so what does that journey look like? 
A: Well I also have a partner, and she plays a very big role in this story too so I don't wanna leave her out. She's on vacation, which is very rare for her 'cause she's a workaholic. She's super dedicated and I could not do it without her, because I run another business. So it's a weird story – Chattam is a collector of things, especially of pretty things, and ESPECIALLY of shiny, pretty things. She is perhaps the best collector in town, in my opinion, and she grew this empire. This tiny little walled empire of jewels which you don't even – I mean, this is nothing compared to what she's collected for us. She loves this stuff. I met her way back when I was 13 at her other business, but she didn't really know me until I met her through the restaurant I run. She's a regular there. She started joking about how she needed someone to work once a week at her shop and I was like – 'Yeah, I'll do it.'
I was already a jewelry person at the time, but being here with Chattam and traveling with her made me fall in love with it. I fell in love with these tiny, little objects. Since I was already wearing jewelry every day I was definitely already into it, but digging them, finding the old and the new, and then doling them out to people – it's actually really exciting in a weird way.
Q: What's the story of how you ended up buying Charm? 
A: For about a year Chattam was like "I think you should buy Charm", and I was like, 'That's silly, you own Charm.' I thought she was just joking, and then with every month, she got slightly more serious. She'd usually do it when she'd come and eat in my restaurant, so I'd be cleaning up and closing up shop and she'd be like 'Yeah, I think you could do it, right? You could just quit here and do it.'
And then in December she approached me and said, 'Seriously, I got in that job at Levy's. I am selling Charm and I would rather sell it to you than to someone that could possibly destroy it.'
And I got drunk that night with my friend Nicole, because there was a political thing – someone won an election that was really amazing and we were like, "How did this person just win that election in Alabama?' So we were celebrating and I was jokingly like, 'Well you should totally buy this business with me because I can't do it on my own'. The next morning Nicole sent me the paperwork and was like, 'Hey, I think I can do this paperwork. Let's get this started.' And I was like, "What? Okay!" It was just really random. REV actually helped us out a lot with the legal side of things when the deal was being ironed out. 
Q: What restaurant do you own? 
A: It's called Giuseppe's Cafe and it's a little hole-in-the-wall Italian place. It's been here almost 17 years – a UAB staple. 
Q: So what's next for Charm? 
A: We have a mural in progress! We had to take a quick little pause on it because we're about to launch our website – hopefully within a week. We've never had a website and it's going to be an eCommerce storefront that we sell products through, so we're super excited about that. But the mural that we're working on is our "Turn Yourself Into a Cameo" mural. Our little phrase is "Charmed to Have You In Birmingham" and Nicole – my business partner and I – drew it, and then I painted it. So I've been painting and it just needs some more finishing touches on it before it's ready to go. 
—– 
During an interview we were doing at Levy's, REV got the chance to catch up with Chattam, the original owner of Charm – here's what she had to say about her experience opening the store. 
Q: What's the story of how you ended up opening Charm? 
A: I've always been into collecting things. I had a few ventures in Atlanta in the early 90s, and since Atlanta was expensive for the mid-century collectibles that I was interested, I'd travel around. I came here one day in the early 00s and I saw that there was a gap in Birmingham's retail scene so I opened up a store called Jinx. A little while after I sold Jinx, I started to miss it again. I got a divorce from my husband and I just wanted some change. I initially thought I was gonna move so I closed Jinx, but I just wasn't satisfied with the way things ended so I decided to try it again. That was where Charm came up. The space wasn't even up for rent initially, I just went in and talked to the guy who owned it – it was a storage space. I went in and asked him if he would rent it and I called him every Monday at like 9 AM for 11 weeks until he finally said okay. Then I had it for 8 and a half years and now the girls have it and I think they're doing a great job. I feel like Charm is in great hands.  
Drop by the shop weekdays from 10 a.m. to 6 p.m. and on Saturday from 10 a.m. to 4 p.m. to check out the one-of-a-kind jewelry, eclectic stationery, and other unique finds that line its shelves. 
Related News
Filed Under: Business-Proving, Downtown Birmingham, Events, Filling Vacant Spaces, Front Page, Get Involved, Magic City Match, Potential-Proving, Small Business

Magic City Match is a program that transforms lives and opens doors for Black entrepreneurs and business owners. Led by REV Birmingham and powered by Prosper, this initiative aims to create opportunities for Black-owned businesses by matching them with brick-and-mortar spaces where they can thrive. After a successful pilot program in 2022, Magic City Match is back in action and ready to empower a new wave of entrepreneurs.

Filed Under: Front Page, Historic Preservation, Small Business, Uncategorized, Woodlawn

One of the most legendary and storied neighborhoods of Birmingham is Woodlawn.  It is a community, anchored by one of the great public high schools of Birmingham, that has produced many citizens who contributed to the life of our city and has had an impact beyond the neighborhood itself.  In a short post like this true justice cannot be done to the rich heritage and legacy of Woodlawn.  However, we hope that this narrative brings together many of the diverse threads that make up the fabric of the community's historic arc in a concise piece. 

Filed Under: Downtown Birmingham, Family Friendly, Front Page, Why BHM

Woof, woof! I've been having an absolute blast visiting my sister in Downtown Birmingham. I can hardly wait to share all the details with you once you return from your vacation. In the meantime, I wanted to put paw to paper and tell you all about it, with the hope of convincing you that moving Downtown could be the most wonderful decision ever.