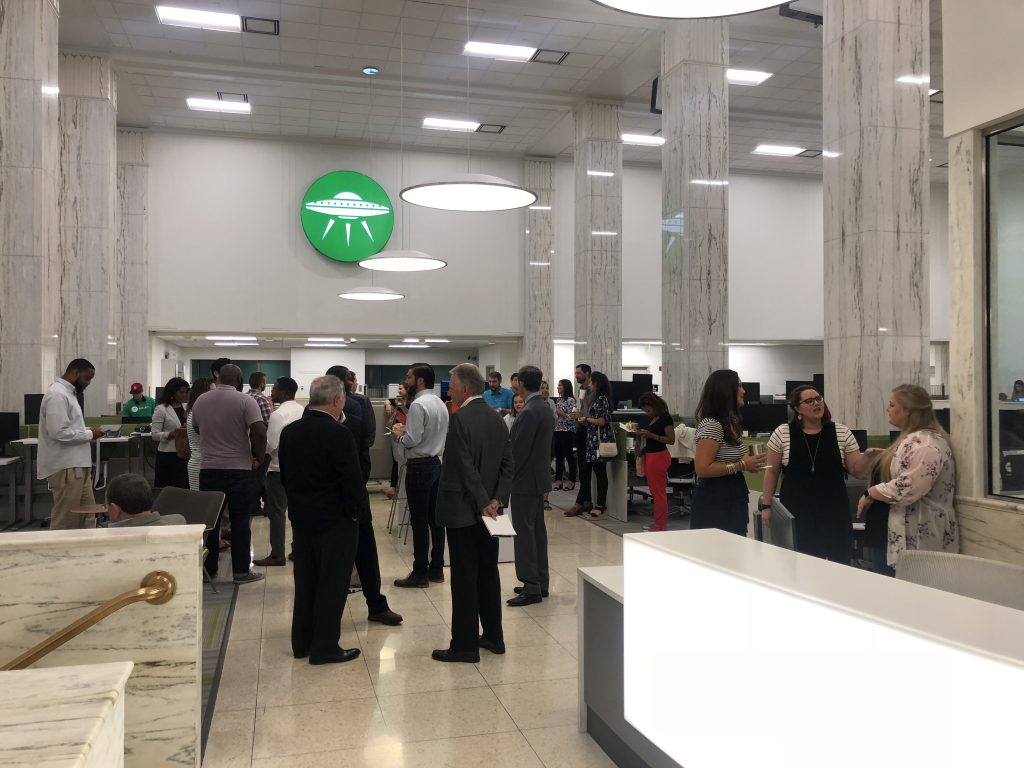 More than 60 interested guests visited Shipt HQ for A Doughnut Discussion on Thursday, July 19th. Sponsored by Young Pioneers and REV Birmingham, the event featured REV CEO and historian David Fleming and Shipt CEO and entrepreneur Bill Smith for a talk on the history of Birmingham, innovation and entrepreneurship, the story of Shipt, and lots of questions.
David Fleming opened the event by providing a "Birmingham context" for Shipt.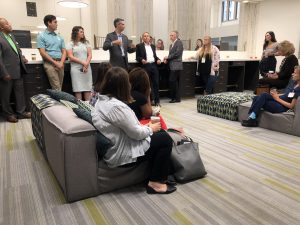 "Birmingham itself is a venture town, a startup," said Fleming as he described Birmingham's beginnings as an iron-rich pioneer town. Birmingham didn't have river access, a natural transportation resource for most 19th century manufacturing towns, so entrepreneurs gathered capital to build a railroad to support the burgeoning steel industry they were creating.
Birmingham, England was the world's largest industrial manufacturing city at the time of Birmingham, Alabama's founding.
"They began what I call the upstart era of Birmingham," Fleming said. "They declared with the name Birmingham that this was the kind of city we were going to have."
Fleming focused on the future as much as the past. When asked about Birmingham's prospect for economic advancement today, he said, "We see a downtown that people had written off that is now revitalizing, and Shipt is one of the best stories going."
Britney Summerville, Shipt's Director of Community Engagement, handed the conversation off to Bill Smith by adding, "I encourage our city to stay involved in making Birmingham even better than it already is."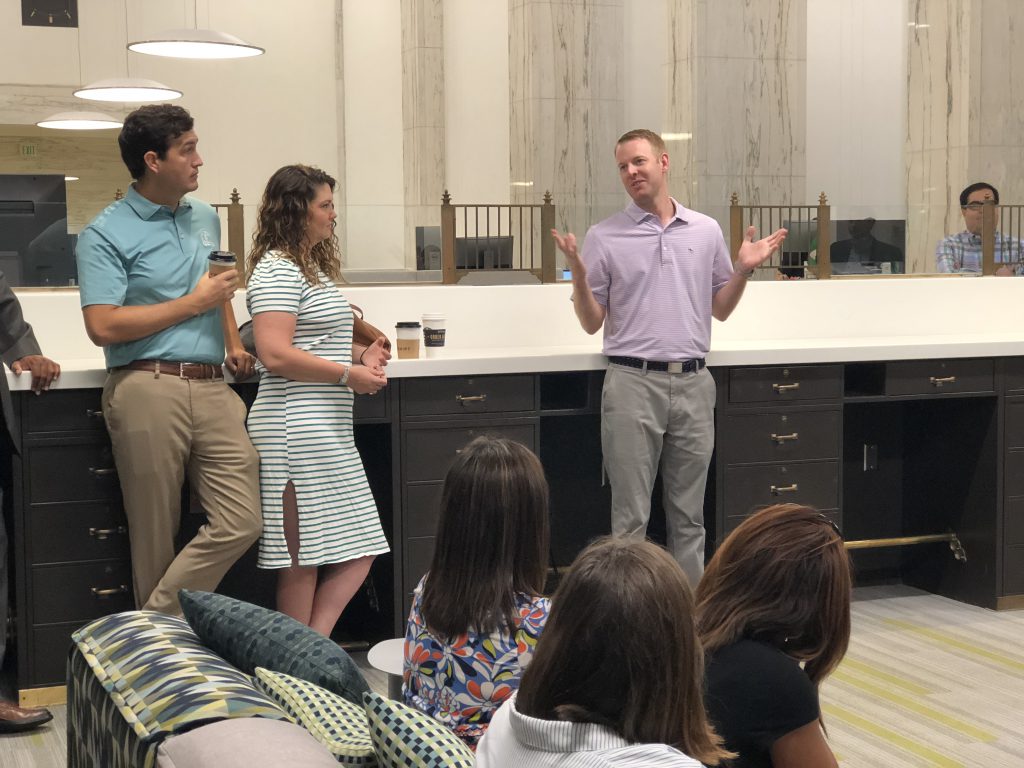 Bill Smith Q & A:
On how Shipt was created:
"I just hated waiting. I love to buy stuff off the Internet but hate waiting for it to show up."
On talking with early customers:
"People said this was a cool idea, but what they really want is their groceries delivered."
On Shipt's value proposition:
"I didn't really understand it until we had our second child. We were in the grocery store with our one-year-old and a newborn and I realized those customers were right."
On Shipt's culture:
"Testing is a big part of Shipt's culture. I tried to make a place where if you have a good idea, you can just go make it happen."
"I believe in trusting people. We just have shoppers and an app and trust. That's really it."
On trusting customers:
"If you let us know that your ground beef was bad, we're not going to come pick it up and inspect it. We're going to put a credit in your account."
On deciding how to grow:
"We're in 156 markets and 35 states and will be in every US city by the end of the year."
"We launched in our second city just six weeks after launching in Birmingham."
"Our goal in every city is to have the top grocers in the market [available via Shipt]."
"We got really lucky with the Tampa expansion. A lot of startups want to move into major cities first, like LA or New York… but with cities like Birmingham and Tampa, it's a lot easier to break through the noise and connect with people."
On motivating Shipt's 550 employees and 50,000 shoppers:
"Let them do their job and get out of the way."
"My job these days is actually really easy. I just coach them and let them work. They're a great team."
On raising capital and splitting equity:
"Shipt was the first time I raised venture capital. I learned that a small piece of a big pie is better than all of a small pie."
On giving back to the city:
"I believe the biggest impact is by creating jobs and being successful. Entrepreneurship is the best way to make change in a city."
On how to make more Shipts happen in Birmingham:
"The city government is fired up about more companies. It'd be awesome if the large companies in Birmingham would contribute to a venture funder for Birmingham companies."
"We need a non-stop flight from Birmingham to San Francisco. I think 90 percent of venture capital is out of San Francisco."
"I want to encourage companies to open a second location in Birmingham. It's a great city."
Related News
Filed Under: Business-Proving, Downtown Birmingham, Events, Filling Vacant Spaces, Front Page, Get Involved, Magic City Match, Potential-Proving, Small Business

Magic City Match is a program that transforms lives and opens doors for Black entrepreneurs and business owners. Led by REV Birmingham and powered by Prosper, this initiative aims to create opportunities for Black-owned businesses by matching them with brick-and-mortar spaces where they can thrive. After a successful pilot program in 2022, Magic City Match is back in action and ready to empower a new wave of entrepreneurs.

Filed Under: Front Page, Historic Preservation, Small Business, Uncategorized, Woodlawn

One of the most legendary and storied neighborhoods of Birmingham is Woodlawn.  It is a community, anchored by one of the great public high schools of Birmingham, that has produced many citizens who contributed to the life of our city and has had an impact beyond the neighborhood itself.  In a short post like this true justice cannot be done to the rich heritage and legacy of Woodlawn.  However, we hope that this narrative brings together many of the diverse threads that make up the fabric of the community's historic arc in a concise piece. 

Filed Under: Downtown Birmingham, Family Friendly, Front Page, Why BHM

Woof, woof! I've been having an absolute blast visiting my sister in Downtown Birmingham. I can hardly wait to share all the details with you once you return from your vacation. In the meantime, I wanted to put paw to paper and tell you all about it, with the hope of convincing you that moving Downtown could be the most wonderful decision ever.