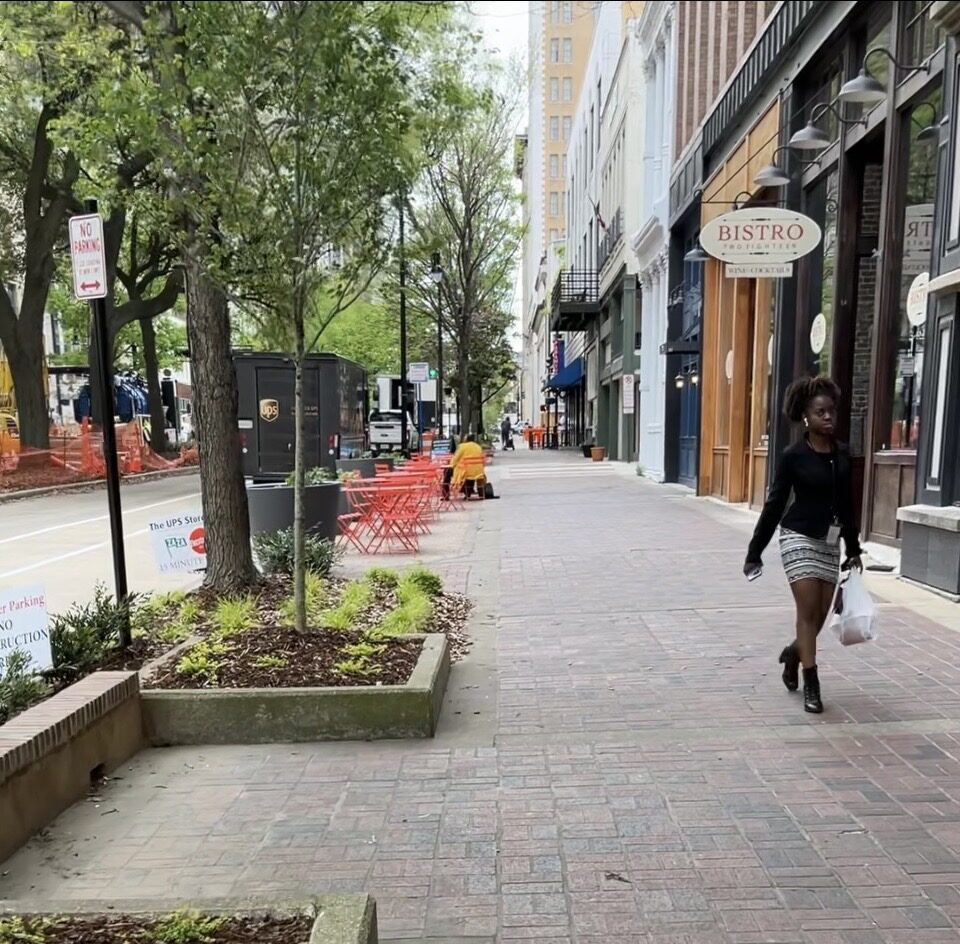 This Friday, May 20th, we will be having a (20th) Street Party (which you can read more about here) to celebrate the end of our Birmingham Green Refresh! While this certainly calls for a celebration, the party doesn't stop there. We will still be adding some finishing touches to the street after the (20th) Street Party. These additional touches will help make Birmingham's main street more vibrant, interactive, and efficient! Additions will include smart trash cans, free libraries, street performers, and more!
In short, although the refresh is coming to an end, we will continue to activate 20th Street with new and exciting additions over time! We're so excited to celebrate the end of this project with you all and turn the street back over to you. Make sure to come out this Friday from 4-8 pm and bring your family and friends as well to join the (20th) Street Party!
Now let's get to the fun part! Keep reading to learn more about all the fun additions that you'll be seeing along 20th Street soon.
Smart Trashcans
Trashcans that have beauty AND brains – I mean what more could you really ask for? Soon we will be adding black Victor Stanley Sage trashcans with the relay smart system (if you want to get technical) to 20th Street. And trust us when we say these will be worth the wait! Not only will they look great, but they will also play a huge part in keeping the street looking nice and clean all the time! Instead of having our CAP team constantly checking to see when the trashcans need to be emptied, these new additions will alert CAP team members when they reach a certain level so that that they can be emptied out before they begin to overflow. Plus they are side loading for easy cleanup and they have closed tops which means no more trash bags flapping in the wind! Pretty cool right? They've been ordered so make sure to keep an eye out for them!
BHM Letters
Let's be honest…who can pass up a good photo op? Not us! That's why we're getting some fancy new "BHM" letters that are a whopping 4 feet tall to create an instagrammable spot along 20th Street. Not only will these letters serve as the perfect backdrop for your photos, but they will also represent a place for the arts. Street performers can use these letters to set the scene for their performances moving forward. We love celebrating all the talent here in the Magic City and these letters are going to be a fun way to elevate that experience!
Free Library
You'll start to notice some refurbished mailboxes popping up along 20th Street – make sure to check out what's inside them when you do! These mailboxes will be serving as free libraries along 20th Street and will showcase the new Downtown branding. Each library will feature something different like games, reading materials, special treats for our furry friends, etc. Be sure to borrow whatever you'd like to maximize your 20th Street experience – but don't forget to return it when you're done so everybody else can have just as much fun as you!
Street Performances
Nothing beats some live entertainment and soon enough we'll be bringing that to 20th Street! We're on the hunt for all the hidden talent hiding out in the Ham! You'll start to notice folks sharing their craft all along Birmingham's main street and if you think that's something you'd be interested in (or know somebody who needs that extra push to put themselves out there) we encourage you to apply now! Performances will take place on Friday evenings from 4-6 p.m. and performers will receive a base pay of $100 + any and all tips they receive during their performance. Sound like something you'd be interested in?
Related News
Filed Under: Business-Proving, Downtown Birmingham, Events, Filling Vacant Spaces, Front Page, Get Involved, Magic City Match, Potential-Proving, Small Business

Magic City Match is a program that transforms lives and opens doors for Black entrepreneurs and business owners. Led by REV Birmingham and powered by Prosper, this initiative aims to create opportunities for Black-owned businesses by matching them with brick-and-mortar spaces where they can thrive. After a successful pilot program in 2022, Magic City Match is back in action and ready to empower a new wave of entrepreneurs.

Filed Under: Front Page, Historic Preservation, Small Business, Uncategorized, Woodlawn

One of the most legendary and storied neighborhoods of Birmingham is Woodlawn.  It is a community, anchored by one of the great public high schools of Birmingham, that has produced many citizens who contributed to the life of our city and has had an impact beyond the neighborhood itself.  In a short post like this true justice cannot be done to the rich heritage and legacy of Woodlawn.  However, we hope that this narrative brings together many of the diverse threads that make up the fabric of the community's historic arc in a concise piece. 

Filed Under: Downtown Birmingham, Family Friendly, Front Page, Why BHM

Woof, woof! I've been having an absolute blast visiting my sister in Downtown Birmingham. I can hardly wait to share all the details with you once you return from your vacation. In the meantime, I wanted to put paw to paper and tell you all about it, with the hope of convincing you that moving Downtown could be the most wonderful decision ever.