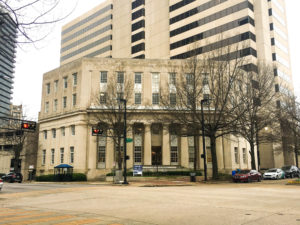 In a quilt, individual pieces of fabric are sewn together to create a larger whole. These pieces of fabric have their own colors, patterns, sizes and details. However, the way they come together, right next to each other, defines a larger pattern and one-of-a-kind work of art. If you remove an individual piece of fabric, the entire quilt is the ultimate loser.  No one likes a quilt full of holes.    
Now, close your eyes and picture downtown Birmingham.  
What buildings did you see? Maybe you pictured the recently restored Empire Building that now houses the Elyton Hotel; the John Hand Building that Shipt calls home; TJ Tower with its unique mooring mast; or the bright lights of the Alabama and Lyric theaters.   
Birmingham's city center is fortunate to have many of its iconic historic buildings restored and in daily use now. But where would Birmingham be without the buildings in between the landmarks? They're the ones that line the streets, with their ground-level restaurants and storefronts and historic nature. They may not be the "stand outs," but they are essential to the character of the place. We call these historic gems "fabric buildings." Collectively, they are one of downtown's most important assets.    
An old building does not have to be an architectural wonder or the site of a historically significant event to be worth saving. Older buildings are packed with character, their reminders of yesteryear like mosaic tile floors, tin ceilings and ornate mail chutes begging to be restored and reused. A city's unique historic buildings are a source of local pride and a draw for tourism.  These buildings make Birmingham feel like Birmingham, and not Anywhere, USA. 
They are also important for economic development. The kinds of spaces these buildings offer are clearly sought after in today's office environment. This is especially true for growing or start-up businesses seeking to attract talent.  The most sought-after talent in the workforce of today and tomorrow want to be in "cool spaces" – which often means historic. These fabric buildings are a critical part of our business incubation ecosystem.   
The momentum in downtown Birmingham's development scene is raising the bar for what a restored historic building in the area should look like. Now, the city is starting to see even the best of its fabric buildings getting refreshed.  
"A little can go a long way. Refreshing fabric buildings shows people that a place is thought about and cared for. This creates a sense of connectivity," said REV Birmingham President and CEO David Fleming. "Downtown needs to be a walkable place, and people want to walk past something that looks historic and occupied. Vacant buildings or parking lots add nothing. 
The reviving of existing buildings also further encourages cities to build on more of the assets they already have. According to the National Trust for Historic Preservation, unleashing the power and potential of older buildings helps to improve a city's overall health, affordability, prosperity and well-being.  
The Mason Building, a two-part commercial block located at 1717 3rd Ave. N., was constructed in 1906 by Dr. Ulysses Grant Mason, a prominent physician in Birmingham's African American community. His office used the second floor while the ground floor was occupied by People's Drug Store, complete with an ice cream balcony at the rear of the building. Other original tenants included the People's Mutual Aid Association and the American Hearts of Labor, as well as some residents.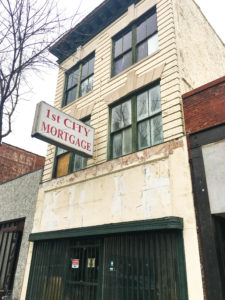 The building has stood vacant for several years now, but its owner is planning the structure's rehabilitation, building out the bottom two levels as attorneys' offices and the top two levels and roof as residential space. 
"With the Mason Building, we are replacing the flooring because at least 75 percent of the floor structure and all of the flooring material had been damaged by years of neglect and roof leaks," said architect Scott Phillips. "We're also restoring the front facade by taking off the existing stone cladding and iron security bars, as well as replacing the storefronts, all with new wood and glass and cornice work and new signage to be more historically accurate." 
Just one block up from the Alabama and Lyric theaters, the Mason Building's fresh face will add one more well-cared-for building to our urban landscape and issue a challenge for more buildings around it to live up to the new standard.  
However, even buildings that appear to already be in good shape can benefit from extra attention. The Land Title Building at 600 20th St. N. is a shining example. The 1946 Greek-Revival style building whose 8-column portico diagonally faces the intersection of 6th and 20th was designed by Birmingham architecture firm Warren, Knight & Davis – of Protective Life Building, Federal Reserve and Watts Building fame.  
The building has served as the long-term home to the Land Title Company, Birmingham Reporting Services, and Source One Legal Copy, Inc., and has recently become home to Sheffield and Lentine, PC and Jaffe and Erdberg, PC. When Jim Rowland purchased the building in 2018, the exterior of Alabama limestone with Alabama marble trim was still in good shape, but that didn't mean there wasn't work to be done.  
"Upon the purchase of the Land Title Building, I began an extensive renovation that included replacing all of the old florescent lights with LED's, new floor coverings, updated bathrooms, new HVAC and controls with everything getting a much-needed fresh coat of paint," said Rowland. 
Rowland also has plans for a rooftop open workspace, complete with seating for up to 75 people and connections to power sources and WiFi. 
"Downtown has certainly seen a ton of activity recently because it remains an attractive market. Birmingham is seeing an increasing number of young professionals, retirees and others moving in to the urban core to live, work and play," said Casey Howard of Harbert Realty Services, which handles leasing of the Land Title Building. "Most of downtown sits in an opportunity zone and is getting national attention from tech companies, startups and other companies looking to land in great southern cities that provide a strong quality of life for their employees and an attractive economy where they can grow." 
Related News
Filed Under: Business-Proving, Downtown Birmingham, Events, Filling Vacant Spaces, Front Page, Get Involved, Magic City Match, Potential-Proving, Small Business

Magic City Match is a program that transforms lives and opens doors for Black entrepreneurs and business owners. Led by REV Birmingham and powered by Prosper, this initiative aims to create opportunities for Black-owned businesses by matching them with brick-and-mortar spaces where they can thrive. After a successful pilot program in 2022, Magic City Match is back in action and ready to empower a new wave of entrepreneurs.

Filed Under: Front Page, Historic Preservation, Small Business, Uncategorized, Woodlawn

One of the most legendary and storied neighborhoods of Birmingham is Woodlawn.  It is a community, anchored by one of the great public high schools of Birmingham, that has produced many citizens who contributed to the life of our city and has had an impact beyond the neighborhood itself.  In a short post like this true justice cannot be done to the rich heritage and legacy of Woodlawn.  However, we hope that this narrative brings together many of the diverse threads that make up the fabric of the community's historic arc in a concise piece. 

Filed Under: Downtown Birmingham, Family Friendly, Front Page, Why BHM

Woof, woof! I've been having an absolute blast visiting my sister in Downtown Birmingham. I can hardly wait to share all the details with you once you return from your vacation. In the meantime, I wanted to put paw to paper and tell you all about it, with the hope of convincing you that moving Downtown could be the most wonderful decision ever.