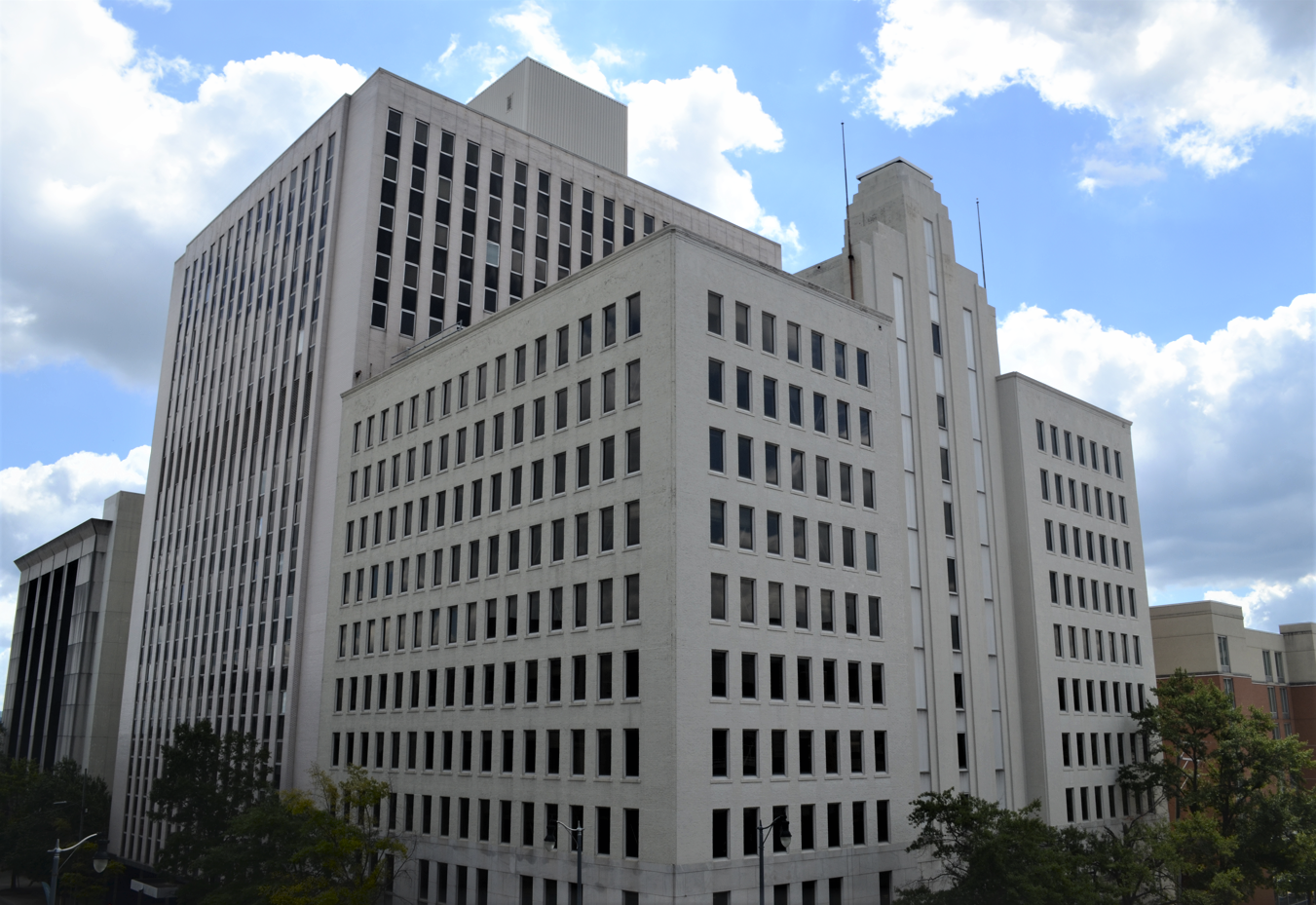 By David Fleming 
REV Birmingham President & CEO 
The preservation of our urban treasures is a civic mission that requires a commitment from both the public and private sectors. This responsibility extends beyond developers or the city; it encompasses all of us who cherish Birmingham's authentic character, its heritage, and its stories. Through intentional collaboration, we stand ready to converge whenever opportunities arise.
The current buzz surrounding the sale of the Liberty National Building marks a pivotal juncture. This building has stood anchoring the southern half of 20th Street in downtown for almost 100 years.  While it has been vacant for several years, this building tells so many stories about Birmingham.  It highlights its business story, the story of civic philanthropy, and the story of the city's physical growth in the city center and suburbs.
The building we know now was constructed in phases.  The original 10-story structure was developed in 1925 and designed by noted local architecture firm Warren, Knight & Davis. Life insurance company Liberty National purchased the building in 1931 for its headquarters offices. As the company grew, a six-story addition was built in 1952. Some of us will recall a 1/5th-scale bronze replica of the Statue of Liberty that was placed on top of the older building. Liberty National even provided tours to see the structure up close. Later in 1971, a 16-story modern addition to the lower building was completed, overshadowing the original structure.
(Images from BhamWiki)
Liberty National Life Insurance was founded in 1900 and grew to become a major Birmingham business.  Many of the executives of Liberty National became leaders in civic philanthropy in Birmingham.  The legacy of the Samford and Beeson families has left a permanent mark, gracing Auburn University, Samford University, and the Birmingham Museum of Art, among several others, with their generosity.
Liberty National under Frank Samford, Jr., created the Torchmark Corporation as a holding company with businesses in New York, Texas, and Oklahoma.  One of those, StoneGate Realty, partnered with Drummond Company in 1989 to develop Liberty Park in Vestavia Hills, a large retail, residential and office development.  This led to the relocation of the Torchmark headquarters out of downtown to the suburbs.  The Statue of Liberty replica was then relocated to its current home in Liberty Park and is still visible from I-459 today. Ultimately, Torchmark would leave the Birmingham region for McKinney Texas in 2006.  Liberty National left downtown for Hoover and the building has been left untouched for several years.
This story of Liberty National's business and civic philanthropy reflects a lot about Birmingham's story. Businesses have been born and nurtured in Birmingham and become attractive businesses.  They have created wealth that gives back to our city. However, a recurring trend emerges where numerous businesses, attractive to other companies, fall under new ownership, often reducing or severing their ties to the community. Regrettably, this disconnection has the potential to result in the loss of jobs, philanthropic investments, and the business itself. It continues to be the business story of Birmingham and a challenge for our economic development ecosystem to retain businesses or build businesses that will acquire others to our benefit.
Additionally, the move to the suburbs from downtown not only underscores its own significance but also shines a light on similar decisions by businesses that have been made over the course of years. For those of us that champion a vibrant downtown, it reminds us of the need to keep downtown an attractive place for jobs and businesses.  Downtown has birthed countless businesses over the years and continues that even today.  We need to retain those businesses downtown, contributing to the vibrancy of our great city.
Besides economic growth, preserving this building is essential to our authentic character. The Liberty National Building represents the opportunity to keep an almost 100-year-old part of our urban fabric in our lives.  Such a building is a challenge to redevelop.  But it is not impossible.  With the will and commitment to do that it can be done.  Imagine a hole in the physical fabric of the southside with the building gone.  It is a building that has a place in the skyline, and it should remain so.  This will require the right combination of a realistic seller, a skilled redeveloper and city and state incentives.  Many buildings like the Liberty National have been great mixed-use conversions.  A hotel and residential mix is a great option for this landmark.  The return on the investment in Liberty National's adaptive re-use strengthens our economy, our heritage, and our authenticity.  All of those things are of lasting value.
Related News
Filed Under: Business-Proving, Downtown Birmingham, Events, Filling Vacant Spaces, Front Page, Get Involved, Magic City Match, Potential-Proving, Small Business

Magic City Match is a program that transforms lives and opens doors for Black entrepreneurs and business owners. Led by REV Birmingham and powered by Prosper, this initiative aims to create opportunities for Black-owned businesses by matching them with brick-and-mortar spaces where they can thrive. After a successful pilot program in 2022, Magic City Match is back in action and ready to empower a new wave of entrepreneurs.

Filed Under: Front Page, Historic Preservation, Small Business, Uncategorized, Woodlawn

One of the most legendary and storied neighborhoods of Birmingham is Woodlawn.  It is a community, anchored by one of the great public high schools of Birmingham, that has produced many citizens who contributed to the life of our city and has had an impact beyond the neighborhood itself.  In a short post like this true justice cannot be done to the rich heritage and legacy of Woodlawn.  However, we hope that this narrative brings together many of the diverse threads that make up the fabric of the community's historic arc in a concise piece. 

Filed Under: Downtown Birmingham, Family Friendly, Front Page, Why BHM

Woof, woof! I've been having an absolute blast visiting my sister in Downtown Birmingham. I can hardly wait to share all the details with you once you return from your vacation. In the meantime, I wanted to put paw to paper and tell you all about it, with the hope of convincing you that moving Downtown could be the most wonderful decision ever.