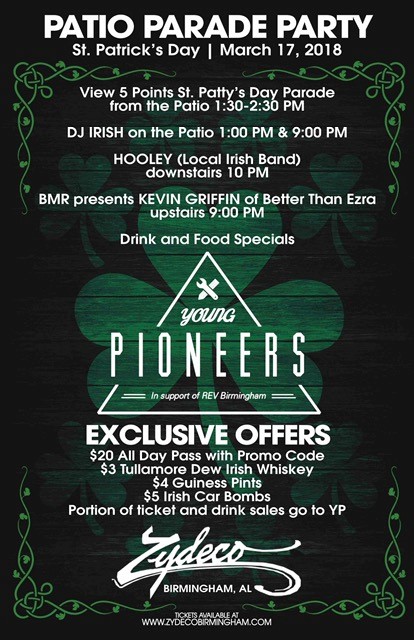 Looking for a prime spot to view the St. Patrick's Day parade in Five Points South? Join Young Pioneers at their patio party! 
Young Pioneers are in their second year of celebrating the St. Patrick's Day Parade in Five Points South and will be partnering with Zydeco to host a viewing party for the parade on Saturday, March 17. The viewing party will take place on Zydeco's patio, with festivities set to begin at 1:30 p.m.  
Young Pioneers is a group of young professionals dedicated to connecting people and businesses that are making a difference in Birmingham. Supported by REV Birmingham, the Young Pioneers are bringing together Birmingham's future leaders with the influencers, risk-takers and business owners who have been instrumental in our city's successes, to share their passions, celebrate triumphs and create vibrancy within the Magic City. 
Zydeco has created an all-day celebration around the St. Pat's parade. This event is the first of its kind for Zydeco and falls in line with the mission of the Young Pioneers: to pioneer growth by creating vibrancy in unique, urban places throughout the Magic City.  
Tickets are $20 if ordered in advance using an access code, or $22 if purchased at the door. Purchase of a ticket gives you: 
An all-day pass, which includes access to the patio during the parade 
Food and drink specials, together with live music from DJ Irish 
Unlimited come-and-go access, including the ability to stay for the concerts (Kevin Griffin of Better than Ezra at 9 pm and local Irish Band, Hooley, at 10 pm) 
Zydeco has graciously agreed to donate $5 per ticket sold to the Young Pioneers in support of their ongoing service projects in Ensley. Additionally, a portion of all drink sales will be similarly donated, so invite as many people as you can to support the cause! 
To purchase the $20 all-day pass, click here and enter "revparty" as your access code when prompted. 
2018 Young Pioneers memberships can be purchased here or here. 
Like Young Pioneers on Facebook to keep up with the group's work! 
 
 
Related News
Filed Under: Filling Vacant Spaces, Front Page, Get Involved, Small Business

In less than a year after arriving in the United States, the Vyshyvanyuk family, who recently fled from Ukraine, is now launching NiEl' Bridal Atelier, a custom wedding dress and alterations business in Forest Park. Olena and Mykola Vyshyvanyuk, along with their three children – Viktoriia Vyshyvanyuk, Eva Vyshyvanyuk, and Loanna Vyshyvanyuk – made the courageous decision to leave Ukraine on November 7, 2022. This family's inspiring story serves as a testament to the boundless opportunities that small businesses can achieve in Birmingham.

Filed Under: Business-Proving, Downtown Birmingham, Filling Vacant Spaces, Front Page, Small Business

Are you a startup looking for a foot in the door? Did you know we have an accelerator program that helps founders begin their entrepreneurial journey right here in the Switch district? TechStars is a dynamic three-month program that empowers entrepreneurs in their quest to discover product-market fit, gain traction, and access both capital and global mentorship. Operating in more than 30 cities worldwide, Techstars added Birmingham as a host for their energy-focused cohort.