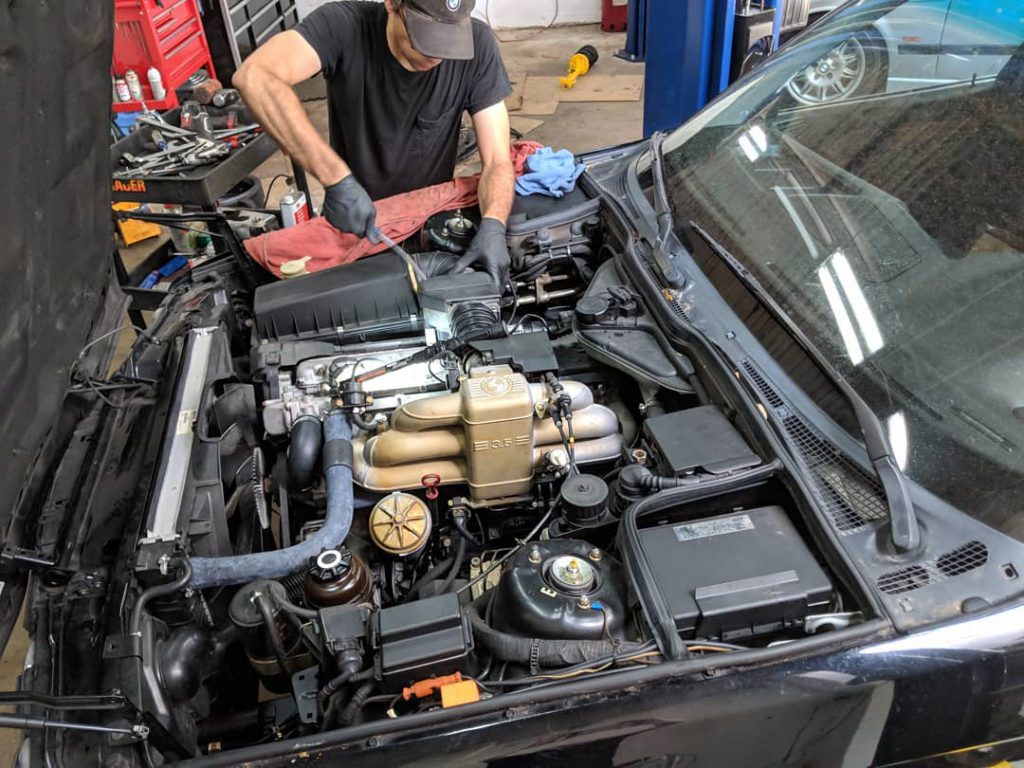 The 2018 Big Pitch Competition presented by PNC is in its fifth year, and REV is excited for you to get to know each of our five 2018 finalists. Meet finalists Manuel Mota and Alexis Ginsburg of Mota Autohaus. They are leading the way for the future of auto repair in Birmingham, providing reliable service at a fair price in a space that adds to the community.
Each Big Pitch finalist is paired with a mentor to help them prepare for the competition. Manuel and Alexis's mentor is Scott Pierce, the founder of multiple technology companies and a facilitator for Create Birmingham's 10-week CO.STARTERS business development program since its inception.
REV Birmingham asked Manuel and Alexis a few questions about Mota Autohaus and how they envision their business adding to the vibrancy of Birmingham.
REV: Give us your elevator pitch.
Alexis Ginsburg & Manuel Mota:  Mota Autohaus wants to change the way people view their local auto repair shop. We will pave the road for the future of automotive repair by putting their customers and community first. Mota Autohaus provides BMW master-technician certified repair services at its new location in Avondale. The building will also have a community gathering space allowing for many uses such as art classes, cake decorating classes, pop-up shops, and a covered eating area for food trucks.  
REV:When did your business get started and why?
AG & MM: June 2018 is when construction started on the building. We are both passionate about community involvement, and felt that the best way to connect to the community and pursue Manuel's BMW passion was to open a business that was able to combine both those aspects. Manuel frequently saw the frustrations of  people in the community with the experience at their local repair shops being substandard and unreliable. He knew the only way to fix this problem would be to open his own shop, and they both knew it had to be in a space where community was at the forefront.  
REV: Why does Birmingham need you?
AG & MM: Mota Autohaus will lead the way for the future of the auto repair industry in Birmingham providing reliable repair service at a fair price. The look and feel of Mota Autohaus will be one-of-a-kind offering a customer area with comfortable workspace, coffee area and a modernistic ambiance. Mota Autohaus will also provide an affordable space where people can host various events. Our concept will solve both of those problems. We also hope to create a program by partnering with a local non-profit where we can help local working single Moms. Car repair is often a daunting and expensive, and this program will help keep their kids and cars safe while also having a vehicle to drive to their place of employment.  
REV: What do you want Birmingham to know about the person/ people behind the business? 
AG & MM: Manuel has been in the automotive industry for almost 15 years, and is a Level One BMW Master Technician, the highest level certification available. Originally from Puerto Rico, he moved to Birmingham to work at the BMW dealership after completing his bachelor's degree in Science followed by his BMW technician certification. Lexi, a Birmingham native moved back to her after town after completing her Bachelor's degree in science from Indiana University and Certified Pastry Culinarian from LCB in Austin, TX. Lexi eventually went on to open her own Wedding Cake boutique, The Cakerie,  where she specializes in high end wedding cakes that are known for their intricate design and exquisite taste. They both know the dedication and sacrifice it takes to make a successful business. With their two children, they hope to make a family-friendly neighborhood environment.
—-
In its five years, The Big Pitch presented by PNC has grown to become an exciting showcase of Birmingham's up-and-coming small business owners. REV Birmingham launched this event to offer an impactful opportunity for entrepreneurs to gain the resources needed to achieve their big dreams for their small businesses.
The 2018 finalists include Beehive Baking Company, Gatos and Beans, Ignite Cycle, Mota Autohaus, and Nelchie's Cajun Cuisine. They will compete and pitch their ideas in front of judges and a live audience on Saturday, November 17 from 1 to 4 p.m. at the Studio Arts Building in Five Points South, 1034 20th Street South. Buy your Big Pitch tickets now!
See more details on The Big Pitch, including information about business development workshops from October 16-30, at bigpitchbham.com.
Follow @revbham on Facebook, Twitter and Instagram to see updates on #REVBigPitch and more of REV's vibrancy-driving work in Birmingham.
Related News
Filed Under: Big Pitch, Front Page, Small Business, Uncategorized

If you've been following REV for a while, you probably remember The Big Pitch Competitions we used to hold back in the day. The Big Pitch presented by PNC was essentially our own little version of Shark Tank. And a lot of your favorite local businesses that participated in this competition now have active retail storefronts that you can go check out. Let's start with some of our finalists that are based in the City of Birmingham and see what they've been up to!

Filed Under: Downtown Birmingham, Events, Front Page, Uncategorized

One of Birmingham's many hidden treasures is the music scene downtown. The sheer volume of concert venues we have in downtown Birmingham is something most people aren't even aware of – but it really is remarkable! There is truly something for everyone, whether you're into the smaller, more intimate venues or the large-scale venues for those big name artists. Keep reading to check out some of the cool venues downtown Birmingham has to offer.

Filed Under: Front Page, Small Business, Uncategorized, Woodlawn

We're so excited to welcome yet another new business to the Woodlawn Community! Thrive Wellness Lounge is a plant-based health and wellness store in the heart of Woodlawn owned by Tish Fletcher (a veteran Woodlawn Street Market vendor – whoop whoop)! You can swing by and check out Woodlawn's newest addition on Tuesday – Saturday from 11:00 a.m. – 5:30 p.m. It's always a good time to support a female, black-owned local business! We talked to Tish a little bit more about her journey to opening her very own brick and mortar store. Keep reading to learn more!