Governor Kay Ivey proclaimed August 24 Main Street Alabama Day in recognition of the organization's efforts to create jobs and preserve character in communities across the state. REV Birmingham received honors for three 2017 projects at the fifth annual Main Street Alabama Awards of Excellence ceremony held on the special date.
Excellence in Downtown Planning and Public Space Design: Woodlawn Tactical Urbanism (September-October 2017)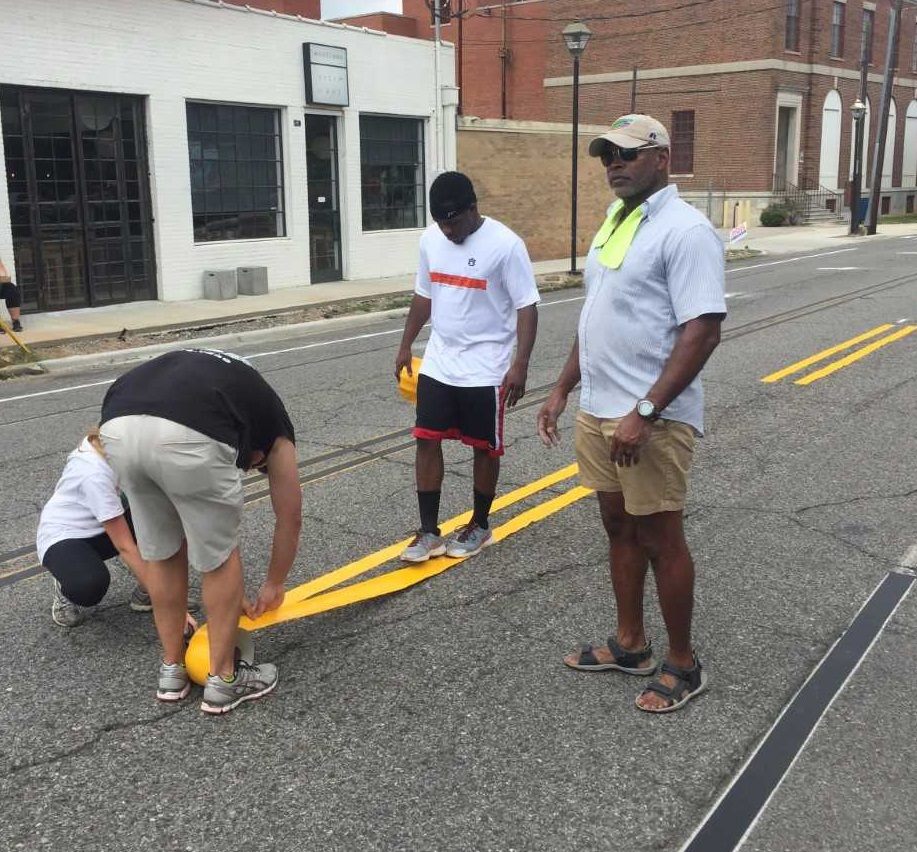 When REV learned that the City of Birmingham and the Alabama Department of Transportation had committed funding to redesign several blocks of 1st Avenue South in Woodlawn, REV reached out to the City to discuss a project that would demonstrate the benefits of a Complete Streets design. The Complete Streets approach helps ensure streets are safe for people of all ages and abilities, balance the needs of different transit modes, and support local land uses, economies, cultures, and natural environments.
The focus was 1st Avenue South between 55th Street North and 57th Street North. 1st Avenue South currently carries four lanes of high-speed traffic, limited and fading crosswalks, and no pedestrian signals or other traffic calming devices such as side parallel parking. REV engaged the community to collect opinions on what they would like to see in traffic improvements along the corridor, then presented the survey results to the City's Traffic Engineering Department and Civil Dynamic Engineers.
In October, 23 volunteers used tape, spray chalk and traffic cones to lay out the temporary street design, funded by an AARP Community Challenge grant. Nearly 140 volunteer hours were spent on the entirety of the project from data collection to physical implementation/uninstallation. The street design was in full effect during the October Woodlawn Street Market with cyclists using the bike lanes, pedestrians using the crosswalks, and parallel parking being utilized, providing a safety barrier to sidewalk pedestrians. Most importantly, traffic slowed considerably, creating a safer environment for pedestrians and cyclists.
Read more about Complete Streets and the tactical urbanism project here.
Excellence in Historic Preservation: Big Alabama Sign (October 2017)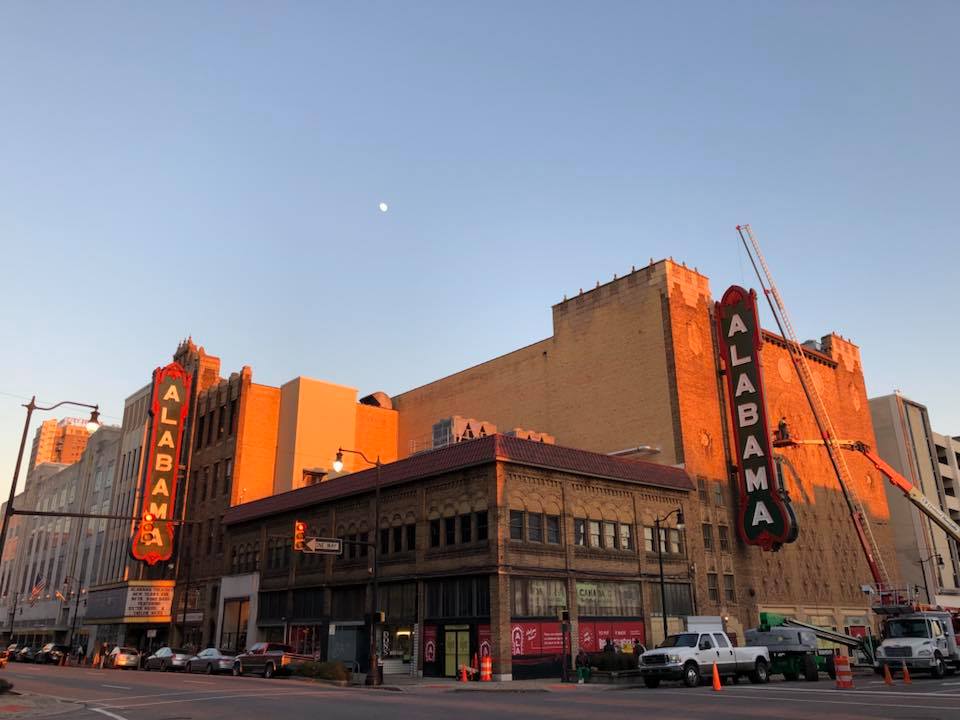 The Alabama Theatre's 60-foot sign on 3rd Avenue North is an icon of both the city and the state. But what some didn't know until the Big Alabama Sign campaign is that, from 1927 to 1957, a twin Alabama sign lit 18th Street from just above the double doors that lead to the stage. REV Birmingham nominated the Alabama Theatre for the Partners in Preservation's 2017 Vote Your Main Street grant competition, whose winners were to be determined by public vote. Over the course of the month-long campaign, REV and the theater harnessed the power of Birminghamians' local pride and earned more than 54,000 votes.
Thanks to Alabama Theatre supporters' diligent voting, the historic theater finished in the top 10 and received a $120,000 grant for their 18th Street sign restoration. The grant supplemented funds pledged by Birmingham's generous corporate community. The campaign that REV Birmingham led in partnership with the Alabama Theatre not only raised awareness of the historic sign that had disappeared in the '50s but also helped the theater close the funding gap to bring the project to life. The 18th Street sign went up in December and was lit for the first time with a New Year's Eve celebration that also marked the theater's 90th birthday.
Read more about the project here and about the win here.
Excellence in Business Development: Art Town (October 2017)
Art Town at East Lake Station, which opened on 1st Avenue North in October 2017, is a facility offering work areas for artists, a stage and event space, and informal arts education for community residents. The mission of Art Town is to provide affordable studios, teaching, performing and gallery spaces for emerging and established artists in the heart of Birmingham's East Lake neighborhood. REV worked with the building owner and local artists to partner with Birmingham Art Crawl on a series of pop-ups to introduce the space.
About Main Street Alabama
Main Street Alabama Day recognizes the efforts of the organization that is focused on creating jobs and keeping character in communities across the state. At the awards ceremony in Eufaula, Main Street Alabama's President and State Coordinator Mary Helmer recognized 50 projects and individuals that made tremendous impacts in their respective communities.
"It's an honor to recognize these outstanding community projects, leaders and volunteers," said Helmer.  "… These projects are truly charting new territory in downtown revitalization in Alabama.  The effort and leadership it takes to move these projects from concept through completion is tremendous and we are thrilled to acknowledge such achievements."
Main Street Alabama has 23 Designated Programs and 36 Downtown Network Communities.  Alexander City, Anniston, Athens, Birmingham, Columbiana, Decatur, Dothan, Elba, Eufaula, Florence, Foley, Fort Payne, Gadsden, Heflin, Jasper, Marion, Monroeville, Montevallo, Opelika, Oxford, Scottsboro, South Huntsville, and Wetumpka each have Designated Programs and new communities will be added annually.
Since 2014, Main Street Alabama Designated Communities have reported 509 net new businesses, 1980 net new jobs, $81,631,591 public dollars invested, $287,168,535 private dollars invested and 65,702 volunteer hours in their districts.
Related News
Filed Under: Front Page, Get Involved, Historic Preservation, Residential

President and CEO of REV Birmingham David Fleming writes about the importance of historic preservation and highlights the advocacy efforts that saved the French Quarter in New Orleans and the Forest Park neighborhood in Birmingham. The article concludes with a call to action, urging for new leaders and the implementation of various strategies to protect and celebrate Birmingham's historic buildings and places.

Filed Under: Filling Vacant Spaces, Front Page, Small Business, Woodlawn, Yaysayers

Lights, Camera, Action! The rebirth of the Woodlawn Theater is happening this weekend in the heart of Woodlawn. The theater is opening its doors to the public with two extraordinary opening events that are FREE to the public. The 1400 square foot venue has a wide range of amenities and even has a full-service bar. Because of the Mason Music Foundation, this venue is filling a much needed resource for local musicians to perform. Keep reading to discover how the theater came back to life and its impact on the community.

Filed Under: Downtown Birmingham, Events, Front Page, Yaysayers

Brian Allen, a talented cornerback, has made the remarkable transition from a small town in Texas to the vibrant city of Birmingham. Choosing Birmingham for his football career for two consecutive seasons, Brian's unwavering dedication and exceptional skills have made him a standout figure in the world of football. To dive deeper into Brian's journey and discover his genuine appreciation for the city, watch this video with the link below!