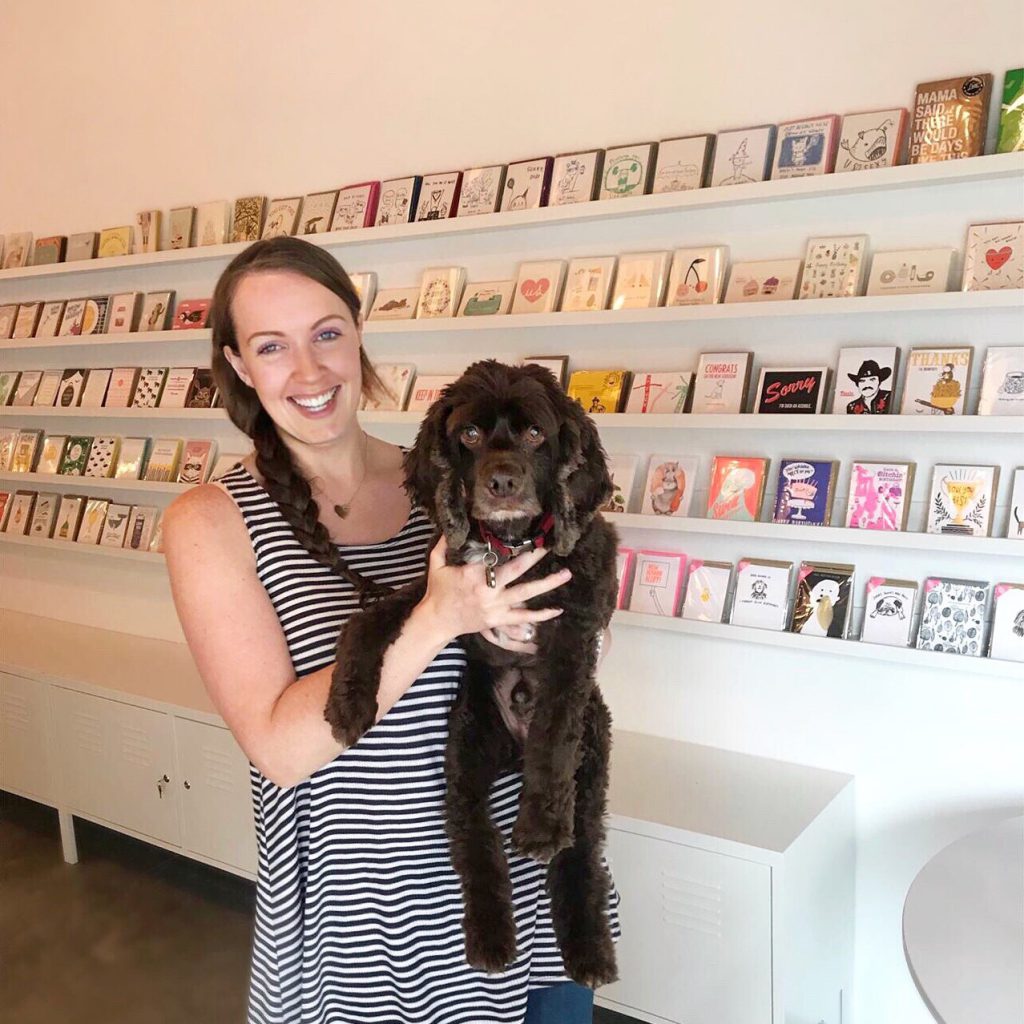 Birmingham retail startup Square One Goods Co. is opening its first brick-and-mortar store in downtown Birmingham on Saturday, August 25.
The card, gift and stationery shop will make its home in the mixed-use Founders Station development. The 500 square-foot space, looking out into the newly created plaza between Morris Avenue and 1st Avenue North, promises to be a small shop with big personality.
The move to brick-and-mortar allows Hardy to expand Square One's unique signature line, continue their focus on locally made products, as well as introduce new brands to Birmingham. From an "I love you more than James Spann loves suspenders" card to "What the food truck?" t-shirt to "Bham AF" throw pillow, the shop is full of witty and often Birmingham-centric gifts. Shop visitors also have a chance at a sighting (and possible petting) of Square One's Chief Fido Officer Murphy – a rescue cocker spaniel.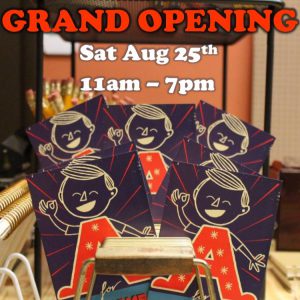 "We're beyond excited to be joining the growing family of shops in downtown Birmingham," said owner Kate Hardy. "The people of Birmingham have been so supportive of our journey, and we're incredibly proud of our city and its creative talent and can't wait to show it off. Our aim has always been to add to the vibrancy of downtown Birmingham, provide a place for local makers and creators to showcase their products, and give back to a city that has given so much to us."
One way Square One is giving back to its community is with the "All Write" initiative in partnership with Build UP- Ensley. For every stationery item purchased at Square One's downtown location, they will donate a stationery item to Build UP's workforce development school serving Birmingham youth. Build UP provides young people with career-ready skills through paid apprenticeships with industry-aligned academic coursework, leading them to become educated, credentialed, and empowered civic leaders, workers and property owners.
Hardy began her journey as a vendor at Woodlawn Street Market in early 2017. Following a successful market season, Hardy pitched the idea of a permanent retail location as a finalist in REV Birmingham's 2017 Big Pitch Presented by PNC, winning 2nd place. This injection of confidence and cash led to the first iteration of Square One as a brick-and-mortar store, a month-long pop-up at the Alabama Theatre in December 2017. Keen to capitalize on the success of the pop-up, Hardy worked with REV on the search for Square One's permanent home downtown.
"Kate is adding to the vibrancy of downtown Birmingham in her wonderfully witty way," said REV CEO David Fleming. "Square One Goods is one of three Big Pitch finalists anchoring the Founders Station development, along with Amanda Blake Turner of Sprout and Pour and Kristen Farmer Hall of The Essential – and we couldn't be prouder of all three small business owners."
Square One's hours are:
Tuesday through Friday: 11 a.m. to 7 p.m.
Saturday: 10 a.m. to 7 p.m.
Sunday: 10 a.m. to 5 p.m.
Closed on Mondays
Follow Square One on Instagram and Facebook and browse the online shop at squareonegoodsco.com.
Is your small business ready to grow? 2018 Big Pitch Presented by PNC applications are open now through September 15!
Related News
Filed Under: Big Pitch, Front Page, Small Business, Uncategorized

If you've been following REV for a while, you probably remember The Big Pitch Competitions we used to hold back in the day. The Big Pitch presented by PNC was essentially our own little version of Shark Tank. And a lot of your favorite local businesses that participated in this competition now have active retail storefronts that you can go check out. Let's start with some of our finalists that are based in the City of Birmingham and see what they've been up to!

Filed Under: Developer, Downtown Birmingham, Filling Vacant Spaces, Front Page, Potential-Proving, Uncategorized

Have you been to Downtown Birmingham's newest development located on 25th Street? If not, you need to head down there ASAP and check it out! This new single story development is a product of a collaboration between David Baker Architects (DBA) and Locke General Contractors, led by DBA's very own Amanda Loper. It is intended to be a "collaborative commercial space in a catalyst development area of Birmingham." Both DBA and Locke General Contractors will be tenants of the space, along with June Coffee Roasters, Zephyr Barber, and Last Call Baking Cooperative!

Filed Under: Downtown Birmingham, Events, Front Page, Uncategorized

One of Birmingham's many hidden treasures is the music scene downtown. The sheer volume of concert venues we have in downtown Birmingham is something most people aren't even aware of – but it really is remarkable! There is truly something for everyone, whether you're into the smaller, more intimate venues or the large-scale venues for those big name artists. Keep reading to check out some of the cool venues downtown Birmingham has to offer.