REV is turning TEN! Our birthday is swiftly approaching (it's on November 15th in case you want to give us a happy birthday shoutout!) and we are spending the week leading up to it reflecting on the past 10 years. We have accomplished so much in just a decade, and we can't wait to see what the next 10 years have in store for us. But for now, let's take a trip down memory lane and look back at some of our favorite projects.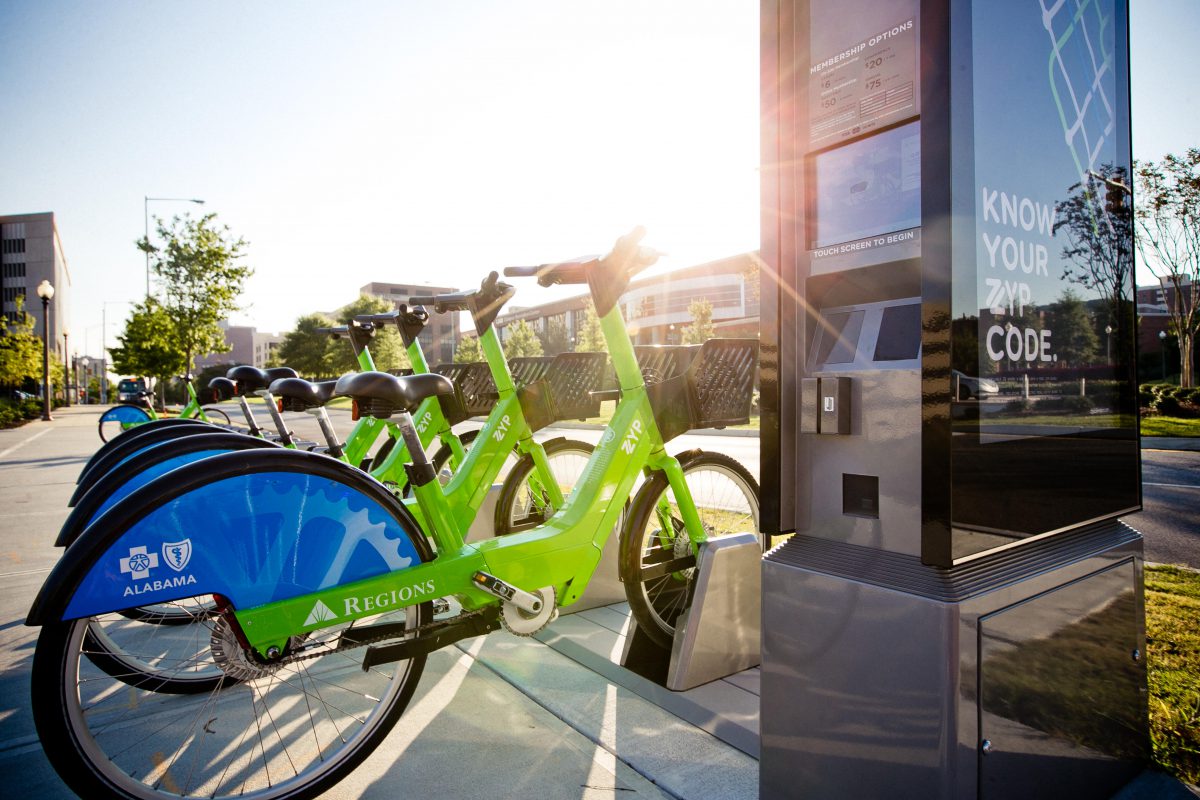 Zyp Bikeshare
Starting off with a bang, let's revisit one of our favorite projects – Zyp Bikeshare! Zyp launched in October 2015 with a five-year commitment from sponsors. Zyp BikeShare, an initiative of REV Birmingham, ushered in a new era of public transportation options to the city of Birmingham. Upon its launch, Zyp became the first public bike-sharing system in the state of Alabama, and the first system overall to utilize electric pedal assist technology in North America. Servicing downtown Birmingham and its surrounding neighborhoods with hundreds of green bikes at more than 40 stations, Zyp made trips around town convenient, fast and fun for downtown residents and visitors!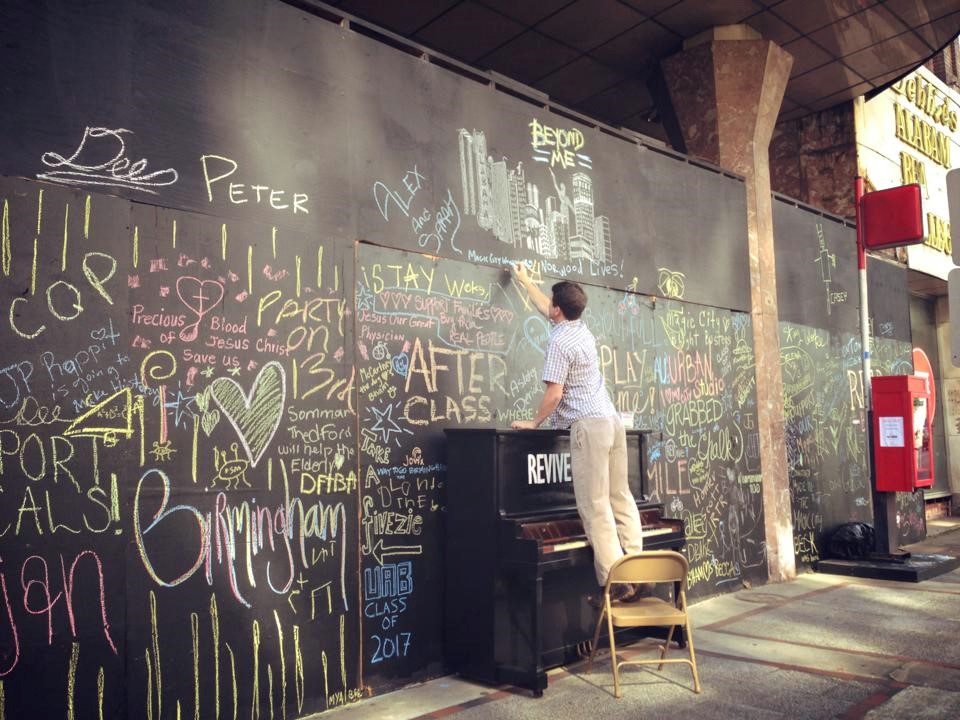 Revive
Do you remember our REVIVE street activation project in 2013? The demonstration project in five commercial districts was designed to change perceptions about city neighborhoods by activating streets and storefronts and generating foot traffic. From 250 people at a pop-up in a vacant lot in Ensley to 2,500 people at Light Up The Lyric in the Theatre District, Birmingham turned out and showed their support each week for REV's work to revive one block in each of these districts: East Lake, Ensley, Five Points South, Woodlawn and 3rd Avenue North in downtown. The streets were buzzing with vibrancy in the form of shops, signage, street life and, most importantly, PEOPLE!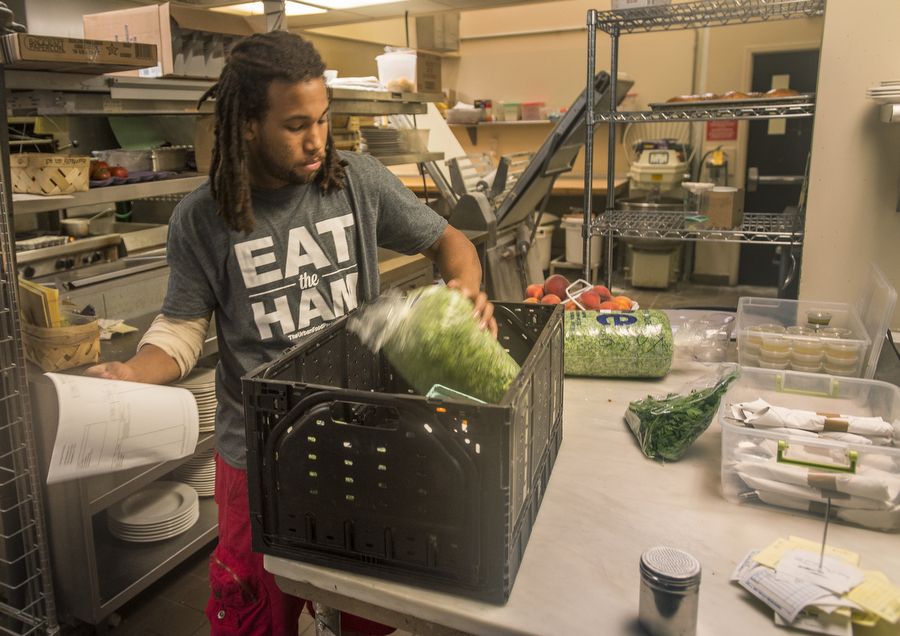 Urban Food Project
Another one of our favorite projects was the Urban Food Project! In 2010, REV Birmingham launched our Urban Food Project—an initiative designed to address the 163 square miles of food deserts in Birmingham by aiming to create access to fresh food for those living in those areas. REV operated the program until 2018 when another nonprofit food distributor expanded into the Birmingham market. 
The Urban Food Project team circumvented traditional food distribution systems by establishing a local food hub and supply chain, serving as a liaison between local farmers with retailers, restaurants and breweries desiring to sell and serve locally-sourced produce. We love a project that is fun AND impactful!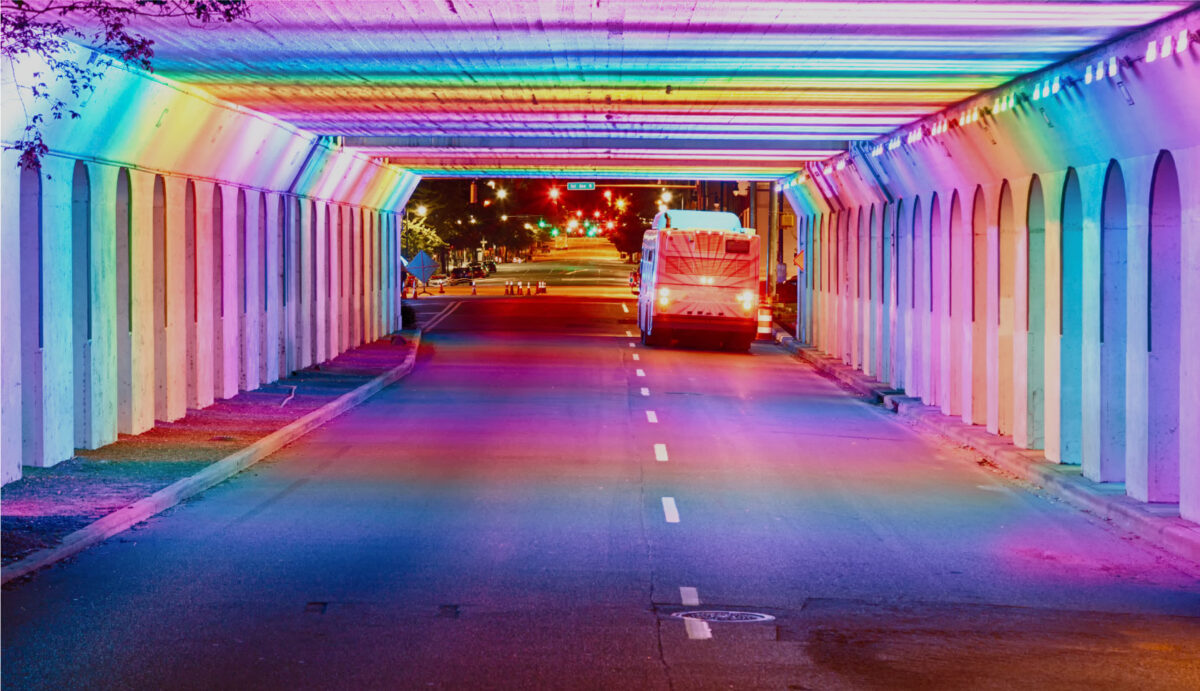 Birmingham Lights
We know you've seen the iconic light tunnels downtown – but did you know that they were a REV Birmingham project? Well, it's time for a little history lesson! In Birmingham, we have four railroad underpasses in our downtown.  They used to divide the north and south sides of the City Center as dark and uncomfortable places.  People avoided walking through the tunnels, which kept nearby businesses from thriving. Now, all four are filled with rainbow light art. The Birmingham Lights tunnels draw pedestrians into what was a dark and scary place.  But more importantly, it draws people from the south side to the north side, moving them between lunch spots and business meetings and parks and theaters. These light tunnels have also become ICONS in the city—countless engagements and parties and music videos have been showcased under their brilliant colors. Have you taken the infamous light tunnel photo for your Instagram feed yet?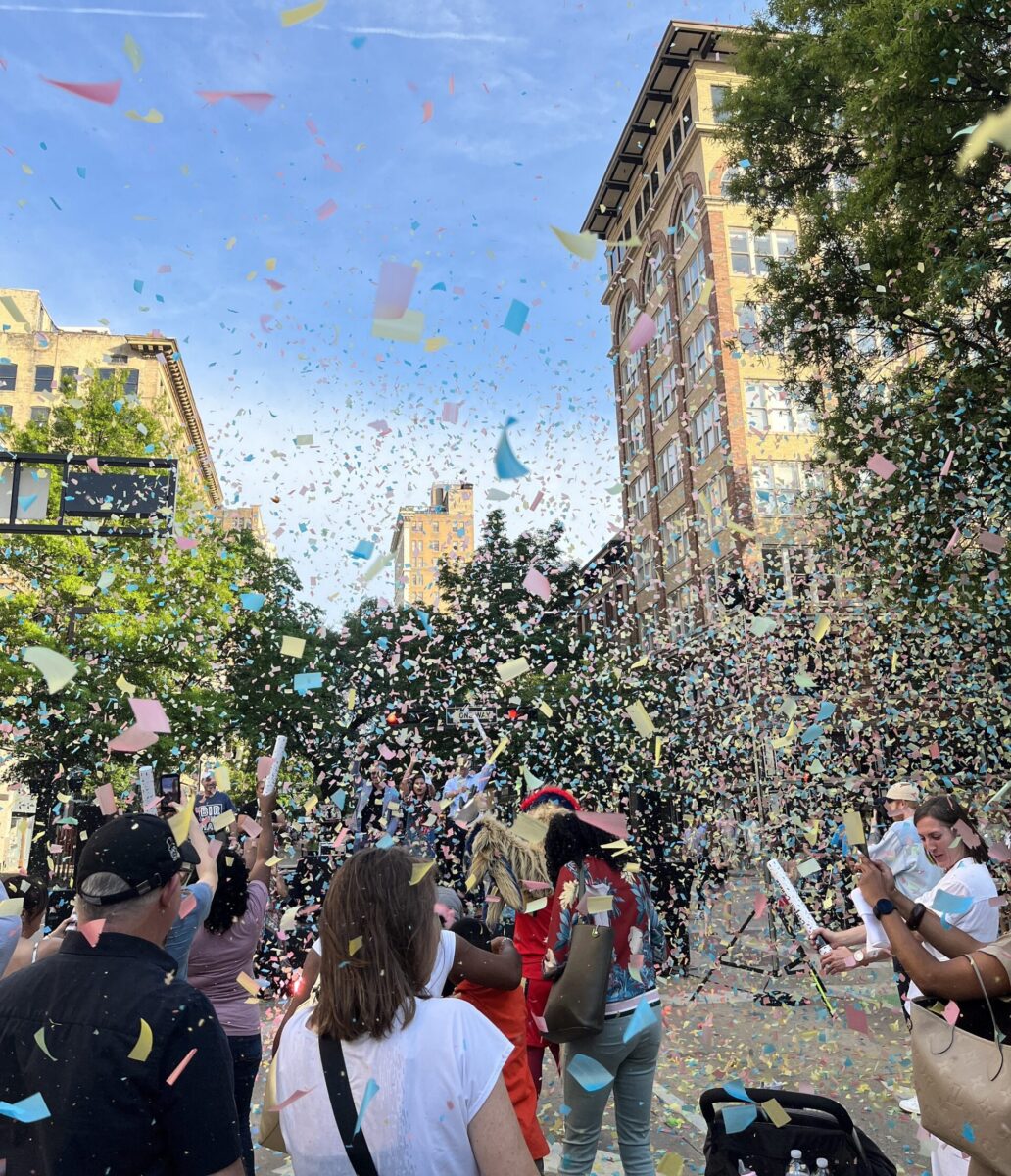 Birmingham Green Refresh
One of our most recent projects (but also one of our favorites) was the Birmingham Green Refresh! The project was implemented on 20th Street North from the railroad tracks to Linn Park and includes new native and drought-resistant landscaping (like the plants you see in Railroad Park and Rotary Trail), plus cafe-style seating and an expansion of the bike and flex lanes installed on a portion of the street in 2020.  Basically, 20th Street got a huge makeover that's been a long time coming! 
If you haven't gone downtown and checked out Downtown Birmingham's main street yet, what are you waiting for?! We are constantly activating the streets in new and innovative ways for YOU to come out and enjoy!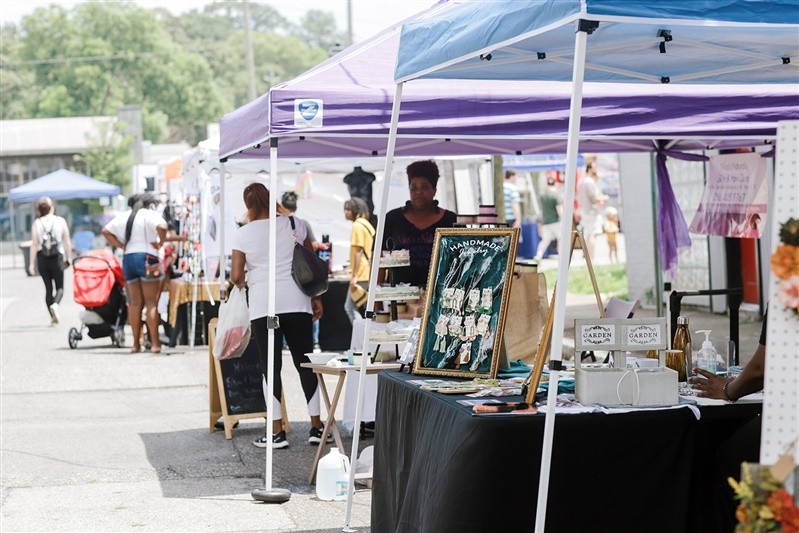 Woodlawn Street Market
Have you met us at the market yet? The Woodlawn Street Market is an urban street market providing a platform for startup businesses, pairing local retail & food with live entertainment in the heart of historic Woodlawn. REV Birmingham partners with the Woodlawn Business Association to bring you Woodlawn Street Market. Since 2014, Birmingham entrepreneurs have been using this business-proving opportunity to start small, test strategies, and perfect their models in response to real customer feedback.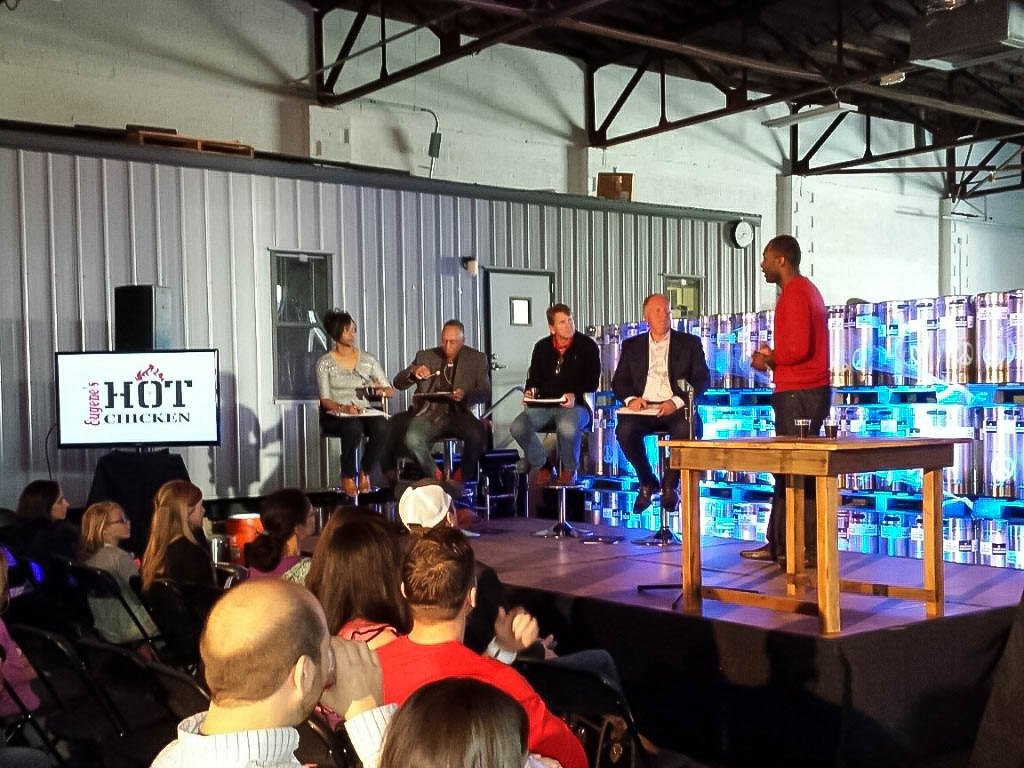 The Big Pitch
Organized annually by REV Birmingham from 2014 through 2019, The Big Pitch presented by PNC was a business pitch competition designed to provide technical assistance, mentoring, exposure and capital to Birmingham's up-and-coming entrepreneurs. The Big Pitch intentionally focuses on helping lifestyle and creative businesses that make Birmingham a vibrant place. Betcha didn't know that some of your favorite Birmingham businesses participated in our Big Pitch competition!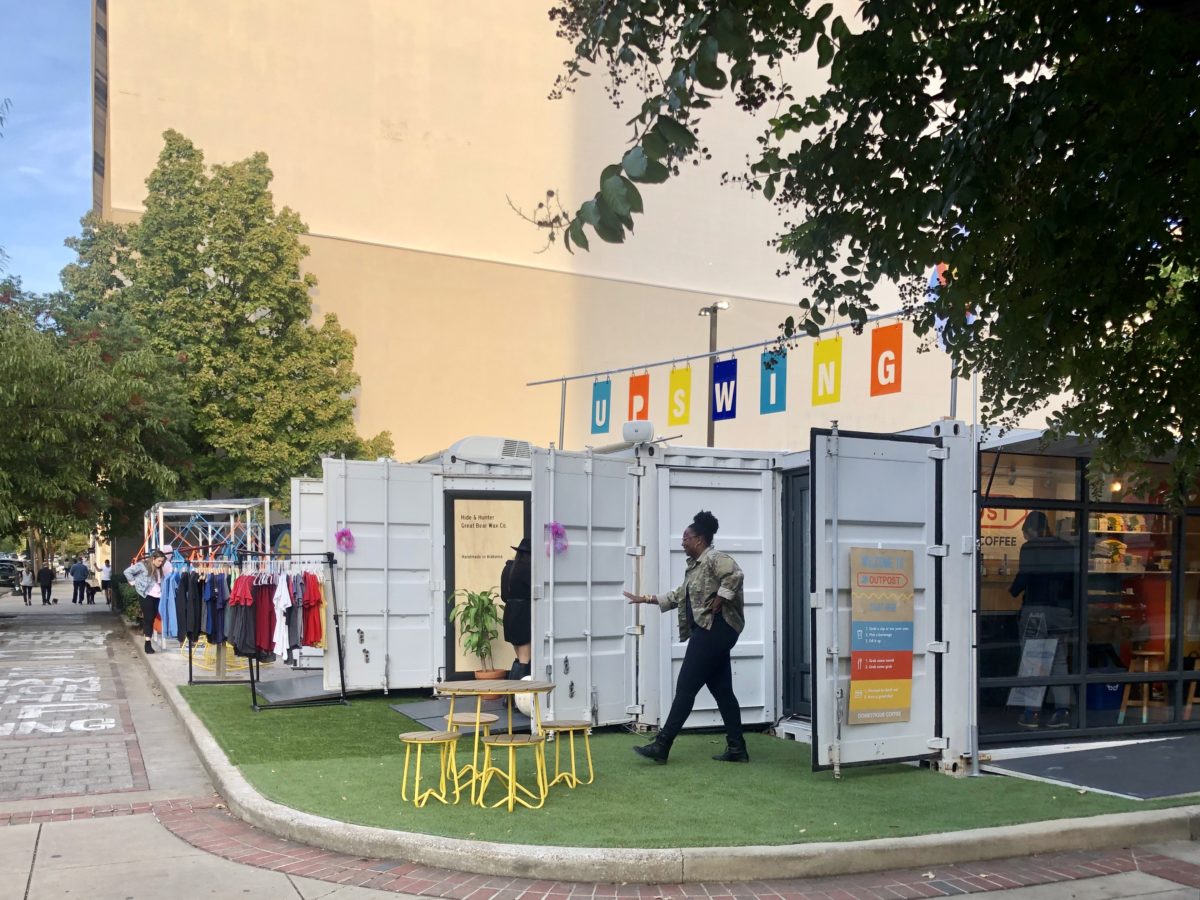 Upswing
Upswing was born in 2019 as a demonstration project—designed by REV Birmingham—to prove and improve downtown's market for retail. Retailers popped up in three shipping container stores on the corner of 2nd Avenue North and 19th Street: Domestique Coffee, Hide & Hunter + Great Bear Wax, and Magic City T-Shirts + Urban Vintage.
Fast forward to present day: Have you seen the colorful swings (and other more stationary seating) at 3rd Avenue North and 19th Street? This parklet across from The Pizitz and McWane is a spot for you to rest a bit, sip a latte, have a conversation—and swing!
REV believes in the power of placemaking to make your downtown experience a little more vibrant and fun. Sometimes that can be as simple as a tiny park on the corner of a parking lot (which, by the way, is a paid public lot where you can start and end your day or night downtown). Stop by Upswing and hang out any time!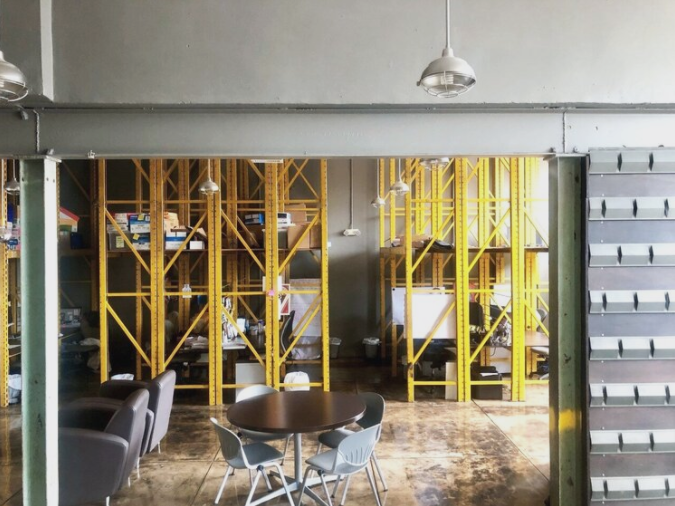 SocialVenture
We loved this project so much, we made it our home base! Converted in 2013 from vacant warehouse to offices rich in industrial vibe, SocialVenture is a co-working space, meeting space and change-making space in the heart of Woodlawn.
SocialVenture is home to REV and Woodlawn Foundation, and more nonprofits, entrepreneurs and start-ups make up the co-working community. The facility also includes a divisible space to host meetings, workshops and receptions for businesses small and large. With both indoor and outdoor capabilities — including a spacious courtyard and covered patio — there's something for everyone at SocialVenture.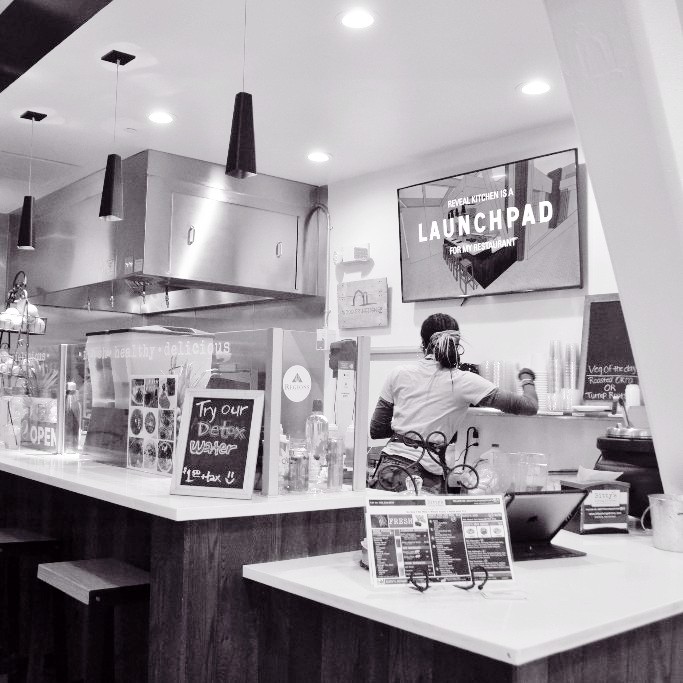 REVeal Kitchen
REVeal Kitchen was a REV-programmed stall inside the Pizitz Food Hall that served as an accelerator for Birmingham's up-and-coming restaurateurs, who rotated every four to six months. The stall offered culinary graduates of Create Birmingham's CO.STARTERS program (an initiative REV partnered on) to improve their business models and establish early customer bases.
The REVeal Kitchen accelerator gave participants a short-term opportunity in a move-in-ready space to tackle everything it takes to run a restaurant.  At the same time, they perfected their operating model and built an early client base. Future tenants also worked with REV's real estate team to identify space for their permanent brick-and-mortar restaurants and identify the resources needed to shrink the timeline between leaving REVeal and landing in a permanent location. In addition, REV team members helped startups adjust their business models based on lessons learned, while also working to secure financing and other resources needed for sustainability.
Help REV keep the momentum going!
We have loved every minute of these 10 years since the merger of Operation New Birmingham and Main Street Birmingham made us REV!
Our efforts over the past 10 years have helped to breathe new life into Birmingham, and we intend to do so much more over the next 10 years and beyond!
As a nonprofit, REV needs your help to keep making Birmingham a better version of itself. In honor of our 10th year, our friends at Stewart Perry have generously offered to match every anniversary gift you make up to $10,000. Click below to give now!
Related News
Filed Under: Filling Vacant Spaces, Front Page, Get Involved, Small Business

In less than a year after arriving in the United States, the Vyshyvanyuk family, who recently fled from Ukraine, is now launching NiEl' Bridal Atelier, a custom wedding dress and alterations business in Forest Park. Olena and Mykola Vyshyvanyuk, along with their three children – Viktoriia Vyshyvanyuk, Eva Vyshyvanyuk, and Loanna Vyshyvanyuk – made the courageous decision to leave Ukraine on November 7, 2022. This family's inspiring story serves as a testament to the boundless opportunities that small businesses can achieve in Birmingham.

Filed Under: Business-Proving, Downtown Birmingham, Filling Vacant Spaces, Front Page, Small Business

Are you a startup looking for a foot in the door? Did you know we have an accelerator program that helps founders begin their entrepreneurial journey right here in the Switch district? TechStars is a dynamic three-month program that empowers entrepreneurs in their quest to discover product-market fit, gain traction, and access both capital and global mentorship. Operating in more than 30 cities worldwide, Techstars added Birmingham as a host for their energy-focused cohort.