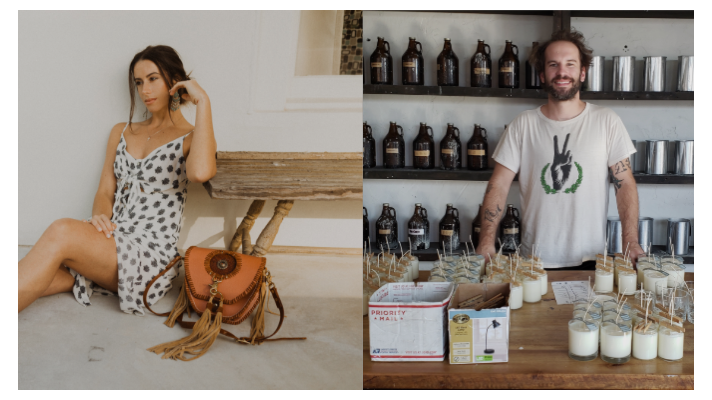 Picture it—or smell it, rather: Walking into a shop filled with fine leather goods and hand-poured candles smack in the middle of downtown Birmingham.
Hide & Hunter along with Great Bear Wax Co. hope to create this great smelling oasis amidst the hustle and bustle in their retail space on the corner of 2nd Avenue and 19th Street North.
The two companies are sharing one of three converted shipping containers as a part of Upswing, REV's three-month demonstration aimed at proving the need for more retail downtown. The other two are occupied by Urban Vintage, Magic City T-Shirts and Domestique Coffee.
"What's so great about the downtown Birmingham market is that it produces an eclectic mix of customers," said Hide & Hunter Owner Hannah Christine. "We believe this will give us an awesome opportunity to get to know the community and build a collection that best suits their interests and needs."
Birmingham holds a special place in Hide & Hunter's history as the first city to carry its products, according to Christine.
She said she was inspired by her background in apparel design and her humanitarian work to start the company. A portion of Hide & Hunter's sales goes to funding various international philanthropy efforts.
At Upswing, customers will be able to choose from a selection of handbags, wallets, leather-bound notebooks, jewelry as well as customer favorites such as the Drifter and Hipster crossbody bags. Customers can also place custom orders.
She said she's excited to collaborate with Great Bear Wax.
"Sharing a space with Great Bear will be an awesome way to provide quality, handcrafted products to our community in a laid back, sustainable shop overtaken with the delicious scent of leather and candles," she said.
Great Bear owner Jake Carnley started the company in 2013, inspired by olfactory memory.
"The idea that scent can trigger emotions and memory far greater than any other sense fascinates me completely," he said.
Now, he gets to bring that phenomenon to his backyard.
"I have lived in downtown Birmingham for four years, and as a business owner in Birmingham, it is my obligation to make this city just a bit better than it was when I moved here. The revitalization of downtown excites me to my core," he said.
The shop's full range of products—all nine scents in three sizes—will be available at Upswing.
Carnley said Upswing is about more than sales.
"Mainly, I want to create a place for my community to enjoy," Carnley said. "I hope the city is proud of Great Bear and hope that they see my brand as an entity that is doing what it can to make Birmingham a fun and dynamic city."
"Some amazing shops are going into Upswing and together we will have an impact on the city so being able to lock arms with Hannah, Urban Vintage, Magic City T-Shirts, and Domestique is an unbelievable honor."
Related News
Filed Under: Filling Vacant Spaces, Front Page, Get Involved, Small Business

In less than a year after arriving in the United States, the Vyshyvanyuk family, who recently fled from Ukraine, is now launching NiEl' Bridal Atelier, a custom wedding dress and alterations business in Forest Park. Olena and Mykola Vyshyvanyuk, along with their three children – Viktoriia Vyshyvanyuk, Eva Vyshyvanyuk, and Loanna Vyshyvanyuk – made the courageous decision to leave Ukraine on November 7, 2022. This family's inspiring story serves as a testament to the boundless opportunities that small businesses can achieve in Birmingham.

Filed Under: Business-Proving, Downtown Birmingham, Filling Vacant Spaces, Front Page, Small Business

Are you a startup looking for a foot in the door? Did you know we have an accelerator program that helps founders begin their entrepreneurial journey right here in the Switch district? TechStars is a dynamic three-month program that empowers entrepreneurs in their quest to discover product-market fit, gain traction, and access both capital and global mentorship. Operating in more than 30 cities worldwide, Techstars added Birmingham as a host for their energy-focused cohort.