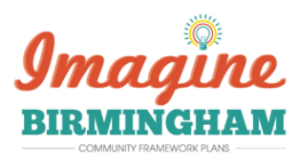 Hey Birmingham, did you know you have an opportunity to change your neighborhood, your commercial district, and the Birmingham we work, live and invest in for the better?
Would you like to get engaged? Now is the time.
In 2013, the City of Birmingham adopted its first Comprehensive Plan in 60 years. "The Plan" captures the vision citizens have for Birmingham for the next 20 years, and it puts the City on a new strategic path toward renewed neighborhoods, a stronger economy and a better quality of life for all. Now, that BIG-picture vision is getting real in neighborhoods on the east and west sides of the Magic City.
What do you think could fill that vacant lot and draw people into the heart of your commercial district? How can the City encourage existing small businesses and attract new ones that you would support? What can we do to increase safety?  Where do we need to invest in sidewalks and remove blight? Add your voice to this important work!
Our partners in City Planning are creating framework documents – data on literally every land parcel in a community –  and talking to hundreds of stakeholders like you. These plans will be detailed and take about a year to complete. There are two new opportunities kicking off THIS month for you to be involved — the Eastern Area Kick-Off meeting is Tuesday, January 24th at Woodlawn United Methodist Church from 6pm-7:30pm, and the Pratt-Ensley Kick-Off meeting is Tuesday, January 31st at McAlpine Rec Center from 6pm-7:30pm.
We hope you'll join your neighbors and us as we look to the future and build a better Birmingham for all. Want to know more?  Jump to the official Imagine Birmingham website HERE! http://www.imaginebham.com/.
Related News
Filed Under: Front Page, Historic Preservation, Small Business, Uncategorized, Woodlawn

One of the most legendary and storied neighborhoods of Birmingham is Woodlawn.  It is a community, anchored by one of the great public high schools of Birmingham, that has produced many citizens who contributed to the life of our city and has had an impact beyond the neighborhood itself.  In a short post like this true justice cannot be done to the rich heritage and legacy of Woodlawn.  However, we hope that this narrative brings together many of the diverse threads that make up the fabric of the community's historic arc in a concise piece. 

Filed Under: Front Page, Potential-Proving, Uncategorized, Yaysayers

TODAY IS THE DAY! REV Birmingham is celebrating 10 years of creating vibrant commercial districts in the City of Birmingham. Today is all about celebrating the past decade of success and all that we have accomplished. It all started ten years ago when two organizations – Operation New Birmingham and Main Street Birmingham – merged to create the one and only REV Birmingham. We have covered so much ground since then, from historic building rehab consulting all the way to our refresh of 20th Street North – and we are looking forward to seeing what the future holds for us here at REV.

Filed Under: Business-Proving, Front Page, Uncategorized, Yaysayers

REV is turning TEN! Our birthday is swiftly approaching (it's on November 15th in case you want to give us a happy birthday shoutout!) and we are spending the week leading up to it reflecting on the past 10 years. We have accomplished so much in just a decade, and we can't wait to see what the next 10 years have in store for us. But for now, let's take a trip down memory lane and look back at some of our favorite projects.