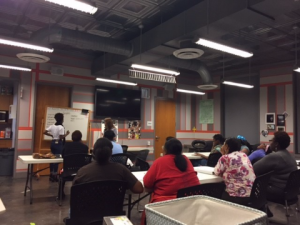 The YWCA Family Resource Center in Woodlawn is now offering Farm Fresh Cooking –  a program developed by REV Birmingham's Urban Food Project (UFP), AARP Alabama, Ama Shamublia, and the Alabama Extension Cooperative Systems. Farm Fresh Cooking provides residents with fun and comprehensive nutrition education. REV's UFP team trained twenty community leaders last fall in implementing Farm Fresh Cooking so community leaders can replicate the successful model across the city. This month, Woodlawn community is getting a taste of the program and local, healthy food.
The YWCA Family Resource Center in Woodlawn recently adopted Farm Fresh Cooking Classes into their "Let's Cook" program for 2017. They hosted their first 6-week class for four families on Tuesday, January 31, from 5:30 to 7 PM. The first nutrition lesson "Enjoying Healthy Food that Tastes Great" used Cooking Light's recipe for Chicken Fingers, sweet potatoes fries, and garlic green beans. The  participants shared a meal, discussed the lesson and were all able to take a local food bag containing fresh green beans, Gravel Ridge Farm eggs, and Haynes & Sons' sweet potatoes sourced through REV Birmingham's Urban Food Project to try at home.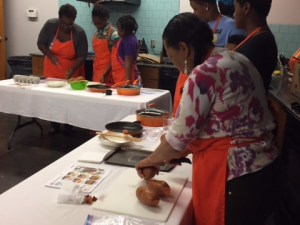 Farm Fresh Cooking is a ½ day, 2-day, 3-week, or 6-week program that combines nutrition lessons from "Eat Healthy, Be Active", hands-on cooking demonstrations, shared meals, and take-home food bags to develop healthy eating habits in the community.  The Woodlawn YWCA began using "Farm Fresh Cooking" this year after Farm Fresh Cooking Facilitator training conducted by the UFP team last fall. The YWCA plans to host a second 6-week class starting in April for four Woodlawn families free of charge. REV's Urban Food Project will continue to support the YWCA Family Resource Center through consultations, evaluations, and local product sourcing.
Related News
Filed Under: Front Page, Historic Preservation, Small Business, Uncategorized, Woodlawn

One of the most legendary and storied neighborhoods of Birmingham is Woodlawn.  It is a community, anchored by one of the great public high schools of Birmingham, that has produced many citizens who contributed to the life of our city and has had an impact beyond the neighborhood itself.  In a short post like this true justice cannot be done to the rich heritage and legacy of Woodlawn.  However, we hope that this narrative brings together many of the diverse threads that make up the fabric of the community's historic arc in a concise piece. 

Filed Under: Front Page, Potential-Proving, Uncategorized, Yaysayers

TODAY IS THE DAY! REV Birmingham is celebrating 10 years of creating vibrant commercial districts in the City of Birmingham. Today is all about celebrating the past decade of success and all that we have accomplished. It all started ten years ago when two organizations – Operation New Birmingham and Main Street Birmingham – merged to create the one and only REV Birmingham. We have covered so much ground since then, from historic building rehab consulting all the way to our refresh of 20th Street North – and we are looking forward to seeing what the future holds for us here at REV.

Filed Under: Business-Proving, Front Page, Uncategorized, Yaysayers

REV is turning TEN! Our birthday is swiftly approaching (it's on November 15th in case you want to give us a happy birthday shoutout!) and we are spending the week leading up to it reflecting on the past 10 years. We have accomplished so much in just a decade, and we can't wait to see what the next 10 years have in store for us. But for now, let's take a trip down memory lane and look back at some of our favorite projects.