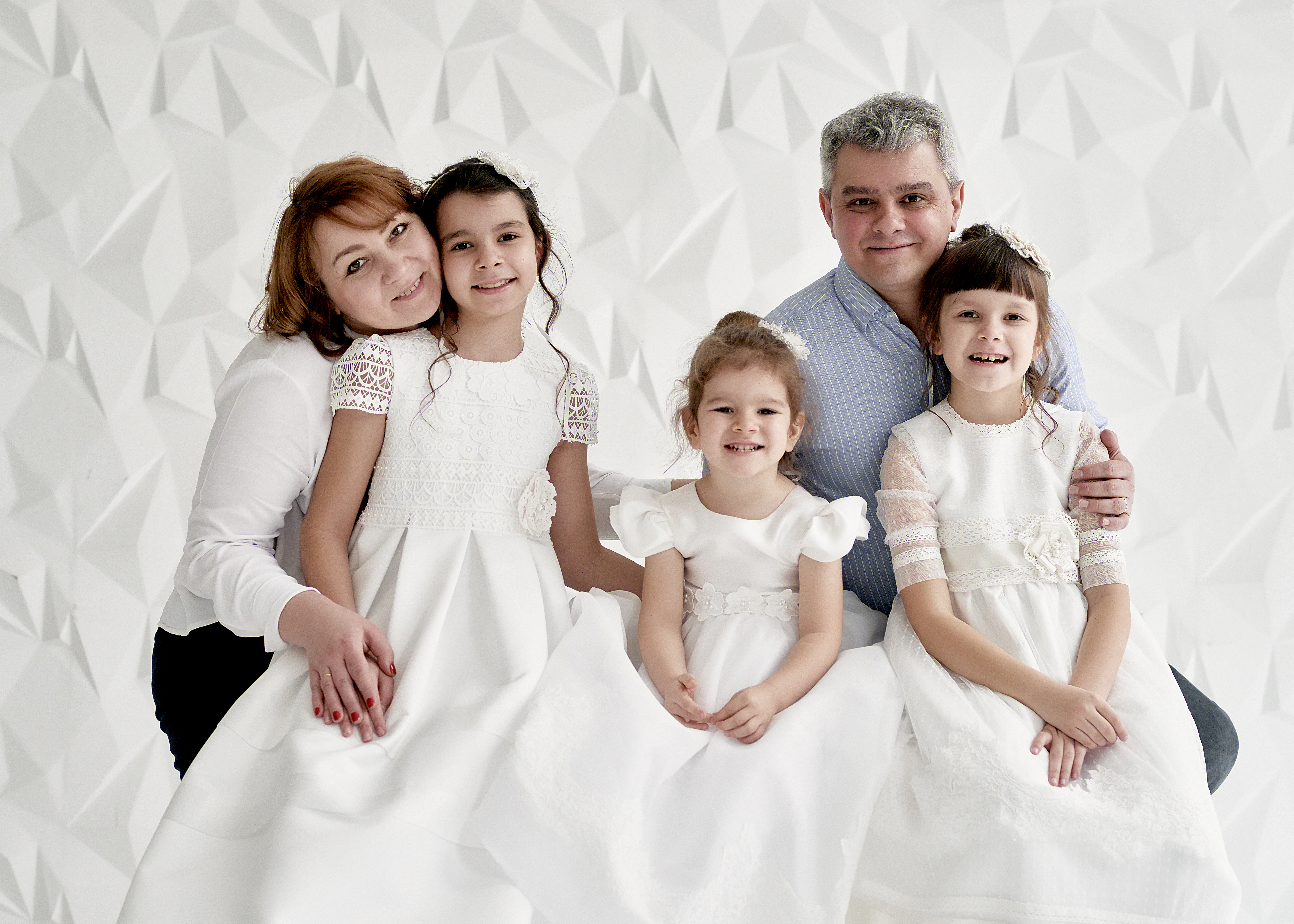 Less than a year after arriving in the United States, the Vyshyvanyuk family is launching NiEl' Bridal Atelier, a custom wedding dress and alterations business in Forest Park. Olena and Mykola Vyshyvanyuk – along with their three children Viktoriia, Eva, and Loanna – made the courageous decision to leave Ukraine in September 2022. This family's inspiring story is a testament to the boundless opportunities that small businesses can achieve in Birmingham.
Passion and Family
The Vyshyvanyuk's journey began in Greece, where Mykola attended fashion school and crossed paths with Olena, also born in Ukraine. Mykola devoted a decade to working for Maurizio, an Italian fashion brand. Over time, his side gig in alterations evolved into a full-fledged venture dedicated to crafting dresses from scratch. 
"It's much easier and simpler to create a dress that fits the bride to their shape," said Mykola.
The name "NiEl' Bridal Atelier" is a combination of the couple's names. NiEl' was initially founded in Greece, but the Vyshyvanyuks relocated back to Ukraine to be closer to loved ones. Although the Vyshyvanyuks spent many happy years in Ukraine surrounded by family and friends, everything took a drastic turn in February 2022 when Russia launched a full-scale invasion.
In a remarkable display of resourcefulness, Mykola learned how to craft tactical vests to help support the war efforts. However, as the frontlines drew closer, the Vyshyvanyuk family fled to Poland for safety. It was during this turbulent period that they discovered the "United for Ukraine" program, established by the U.S. government, which allows American citizens to sponsor a Ukrainian family for up to two years. 
Within a few days, Mykolas met Ed Cotter, a sponsor for the United for Ukraine program and resident of Vestavia Hills. Through a series of text messages and Zoom calls, the Cotter family invited the Vyshyvanyuk to their home and initiated the necessary paperwork to make it all possible.
From the Frontlines to Birmingham
The Vyshyvanyuks had an outpour of support from the Birmingham community once they arrived at their new home in Vestavia Hills.  The Cotters gathered a wealth of donations, including a fully furnished apartment, clothing, groceries, and even a car, to help the Vyshyvanyuk family settle into Birmingham seamlessly.
Mykola faced challenges adapting to a new culture in a foreign country and leaving his homeland behind, but his unwavering passion for sewing and design endured. Though finances were tight, he was determined to purchase a sewing machine to begin alterations immediately. With the help of his sponsors, word of Mykola's talents quickly spread, resulting in a steady stream of clients. However, he knew his dream was to open his business again.
REV's Impact
"My vision for this shop was with me from the day we arrived," Mykola shared.
Through connections he established with his sponsors, Mykola found Robert Emerick, the Director of Economic Growth for REV Birmingham. REV played a pivotal role in helping the Vyshyvanyuk family develop their business through regulatory processes, securing a physical location, and connecting them with the multiple resources they needed to open their business within a year of arriving in the United States.   
Robert emphasized the thriving small business opportunities in Birmingham, saying, "Birmingham is fortunate to have a robust network of partners who collaborate to support entrepreneurs like Mykola, ultimately contributing to the uniqueness of the small business ecosystem here in Birmingham. Mykola and Olena were a delight to work with. We're excited that Birmingham is adding a talented designer and small business owner to our community.  
Unfortunately, Mykola did not have enough credit history to purchase or lease a space yet. However, Robert was able to connect Mykola with Tessa Commercial Real Estate, who was able to provide him with a property in Forest Park. But Mykola believes Robert's step-by-step plan was the only reason he was able to make his dream into a reality.
"Nothing was the same when we started NiEl' in Ukraine compared to Birmingham, but we have a great support system here in Birmingham that helped us make this possible," said Mykola.
Furthermore, Birmingham's demand for handmade creators and its untouched fashion market is setting NiEl' apart. Olena noted, "We have noticed that Birmingham hosts a wide range of events, which has contributed to the success of our business already."
Mykola chimed in, "I really like the location. I want to make this store my home. When you come to buy a dress, we want you to enjoy your experience."
The Vyshyvanyuks' journey serves as irrefutable evidence of the remarkable opportunities that exist in Birmingham, even for those without prior experience in launching a business in Alabama.
Olena concluded with pride, "I believe in Birmingham. It's a welcoming city with a cozy atmosphere, and it's family-oriented."
Support NiEl'
This is your chance to support the Vyshyvanyuk family at the Grand Opening of NiEl' on November 5th, between 2-4 pm. The Opening is not just about celebrating the birth of a new business; it's an opportunity to meet the family and witness their unwavering determination in pursuit of the American dream. Even if you're not in the market for a wedding dress, Mykola creates a range of formal dresses perfect for any event!
* If you require any business assistance or support, contact REV's Business Outreach Coordinator Salena to arrange a 15-minute introductory consultation at salena@revbirmingham.org. *
Related News
Filed Under: Business-Proving, Downtown Birmingham, Filling Vacant Spaces, Front Page, Small Business

Are you a startup looking for a foot in the door? Did you know we have an accelerator program that helps founders begin their entrepreneurial journey right here in the Switch district? TechStars is a dynamic three-month program that empowers entrepreneurs in their quest to discover product-market fit, gain traction, and access both capital and global mentorship. Operating in more than 30 cities worldwide, Techstars added Birmingham as a host for their energy-focused cohort.

Filed Under: Front Page, Small Business, Woodlawn, Woodlawn Street Market

The Woodlawn Street Market is a platform for small businesses to showcase their talents and products. From handmade jewelry to locally sourced produce, you can find a wide variety of items that highlight the creativity and craftsmanship of the Birmingham community Among the talented individuals who have found a home in this vibrant marketplace is none other than Johnathan Westbrook, fondly known as Jon Jon, and the majority owner of the Broncho Food Truck. This new food truck made its debut back in August and will be back again for this week's market.