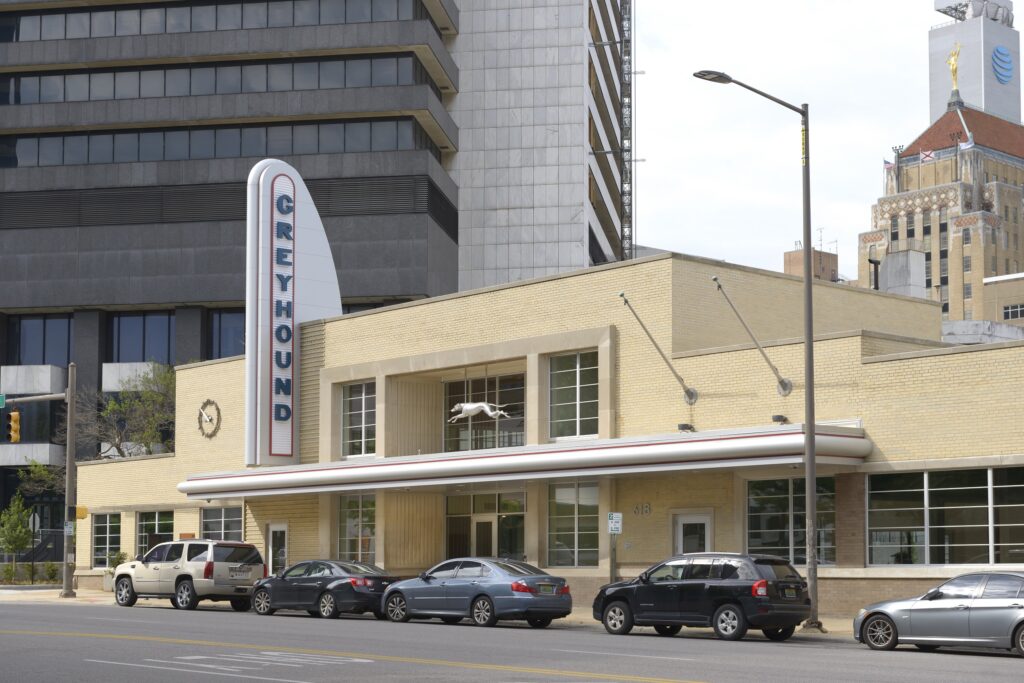 You know REV loves a good historic preservation story—and there are layers to the one behind Birmingham's Greyhound Bus Terminal. 
The building on 19th Street North has marked entry to the city for many since its original opening on December 19, 1949. In the 1960s, Freedom Riders rode Greyhound (and Trailways) buses through Birmingham and throughout the South to challenge racial segregation on interstate bus travel. Although the Greyhound Bus Terminal was renovated in the '70s, many original elements of the building remained and have now been become historic highlights in the present-day adaptive reuse project. 
Developer Mike Mouron, chairman of Capstone Real Estate Investments and a former REV board member, bought the building in 2019 and started a $14 million renovation that has transformed the station into a unique multi-use office space that lovers of history and architecture will appreciate. Mouron, who has completed a number of other historic building projects including the Federal Reserve and 2200 Magnolia, worked with Williams Blackstock Architects and construction manager Rusty Boylan to preserve and restore the many historic elements of the Greyhound Bus Terminal. 
There's plenty more information to soak in about this building's past and future—and you can read more about the overall project from AL.com or Bham Now—but here and now, we're taking you on a photo tour of 12 bits of history that the Greyhound project team has beautifully preserved in this space.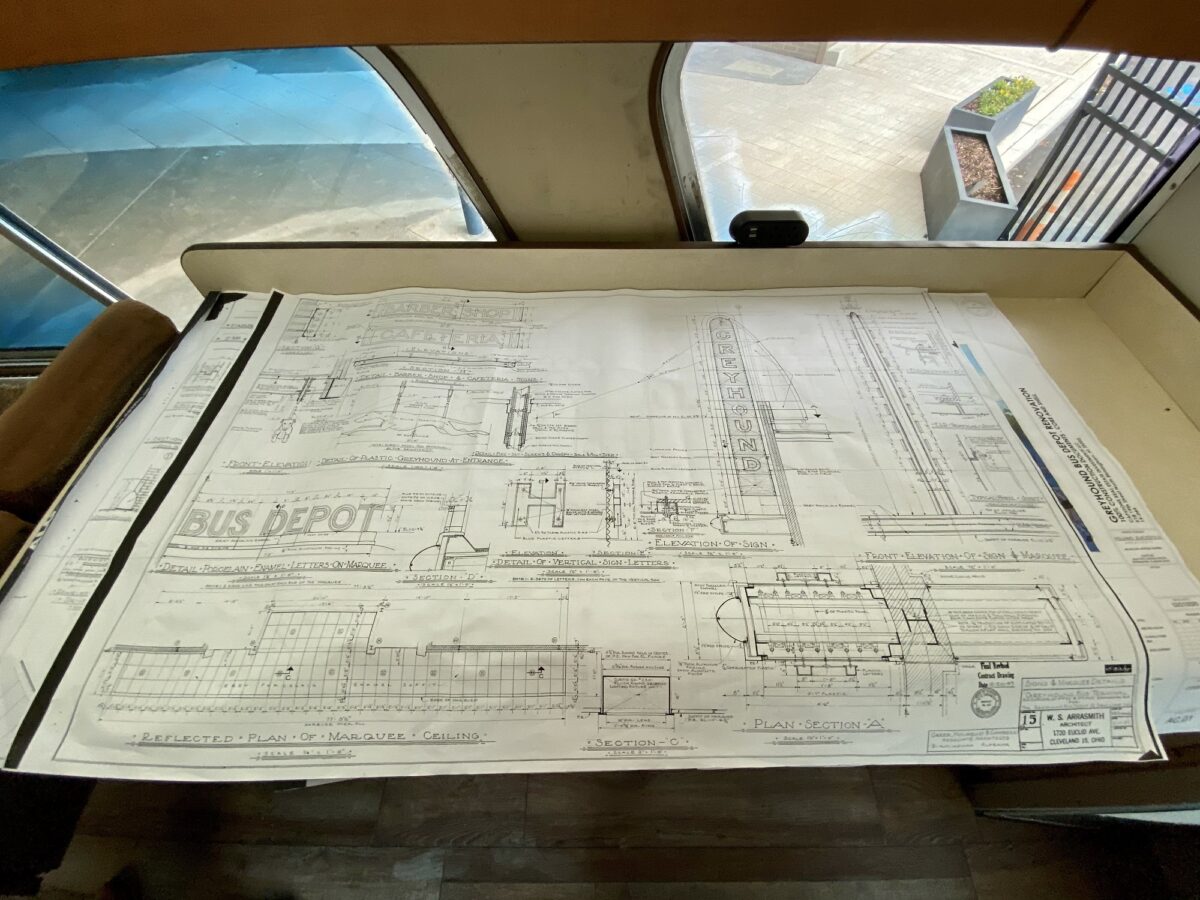 Back to the Drawing Board
Greyhound gave the redevelopment team access to the original plans for the bus terminal, which proved to be pivotal for some of the restorations and recreations that followed.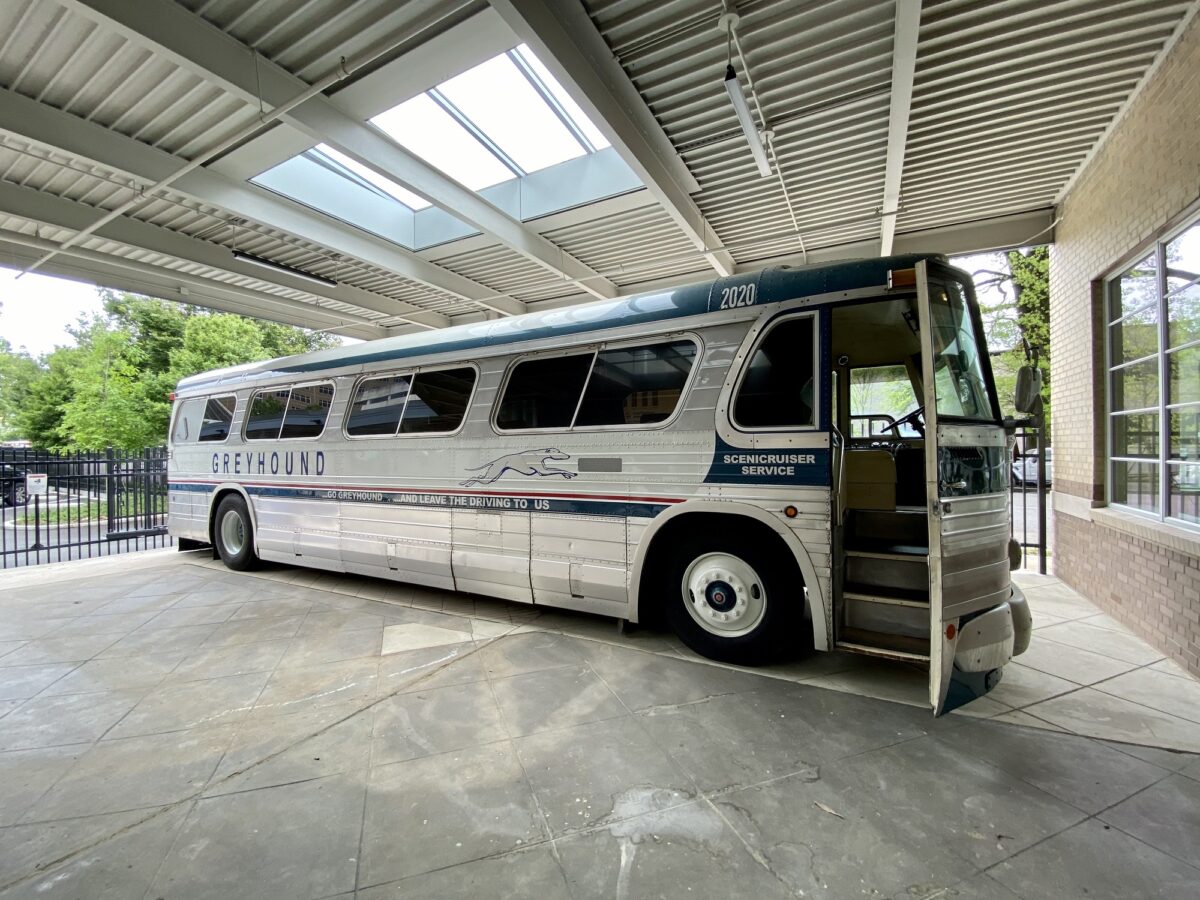 Don't Move That Bus!
Step onto this bus now and find retrofitted space for meetings and work. The bus is a 4106 from the late 1950s—the same kind that Freedom Riders would have been riding during the Civil Rights Movement—that has been repainted to fit Greyhounds of the era.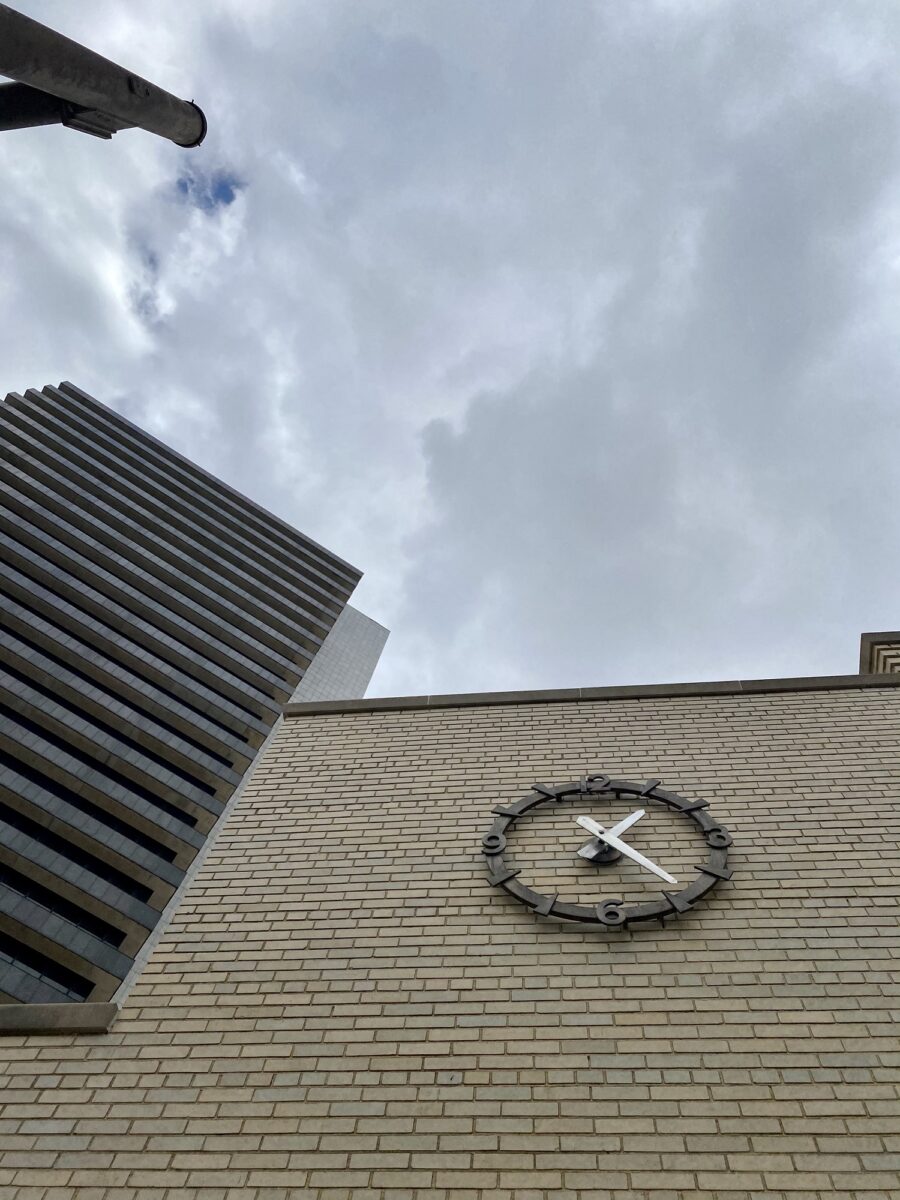 Always on Time
The original exterior clock has been updated with a new mechanism to stay on time.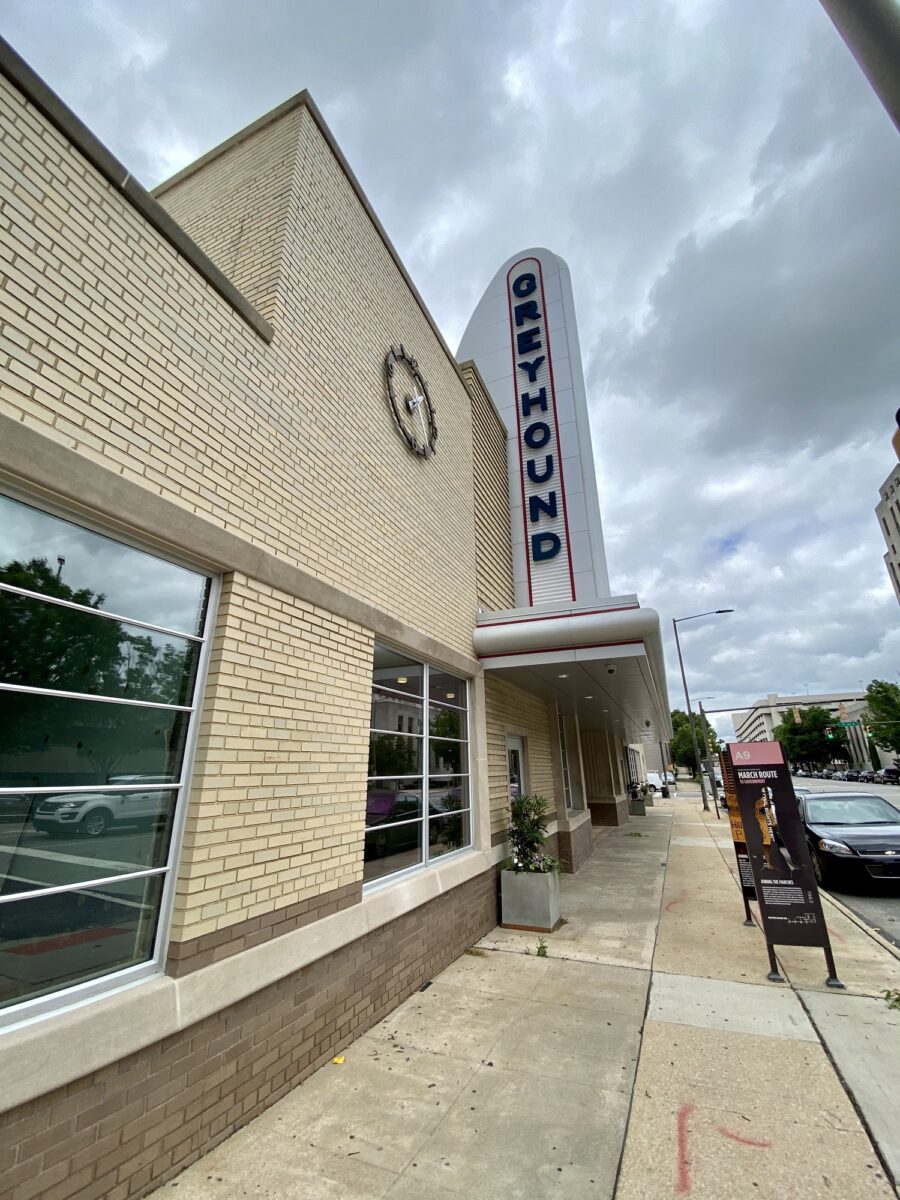 Let the Original Sign Shine
The original vertical Greyhound sign had been completely covered in sheet metal in a past renovation. The team went to lengths to take down sheet metal and restore the sign to its original condition based on the original plans.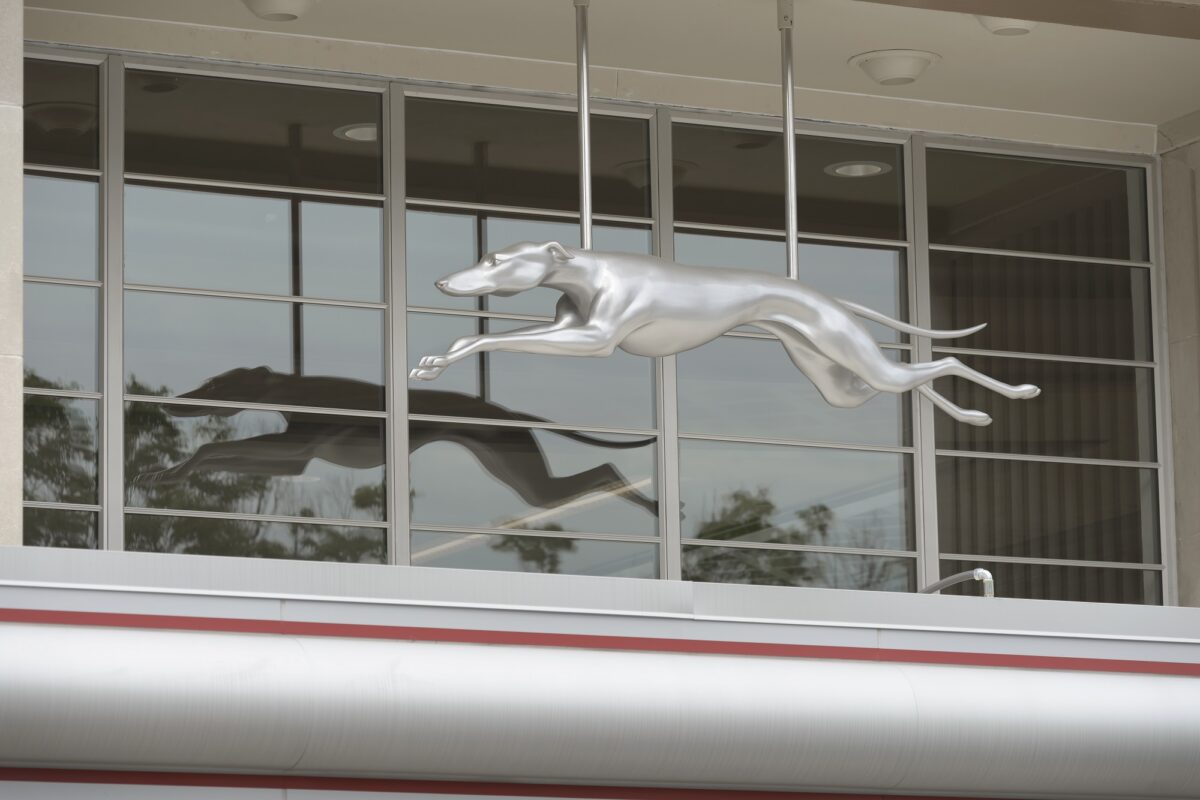 And, Of Course, the Greyhound Him/Herself!
The original dog was taken down in past renovations, but this team knew the building wouldn't be complete without it. They went above and beyond to recreate the missing Greyhound symbol, working with a company out of Georgia that makes animals used on Merry-Go-Rounds to match the original dog from the original plans.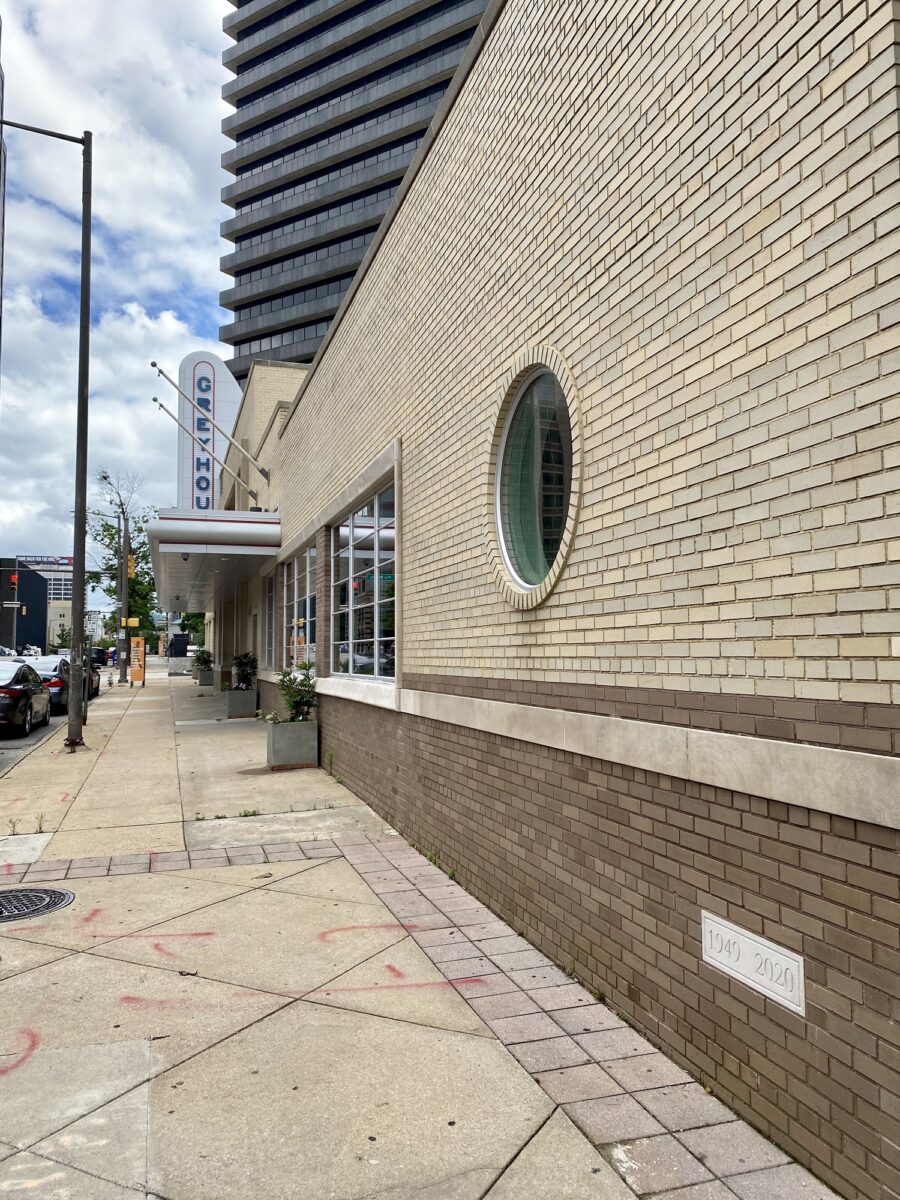 Even the Flag Poles
Bet you didn't think about that, did you? Yes, this team restored and reused the original flag poles that would have flown U.S. and state flags in the building's bus terminal days. 
Terrazzo Tile for Days
What's more mid-century than terrazzo flooring? These beautiful original tiles have been repaired and repolished to last another 70 years (and more!).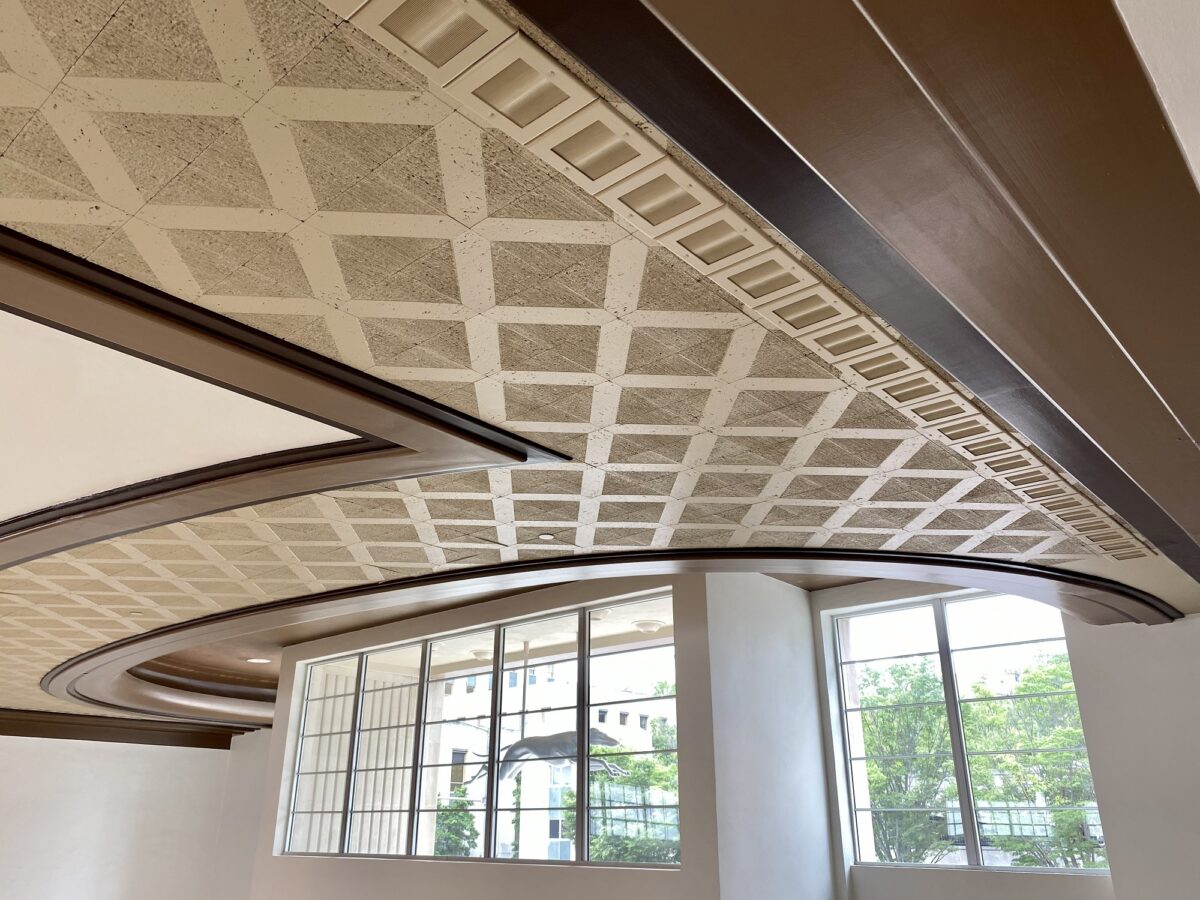 Take a Look at That Ceiling!
The original ceiling was damaged, so Stewart Perry worked to custom-match the molding with sheetrock. It's impossible to tell the original from the new now!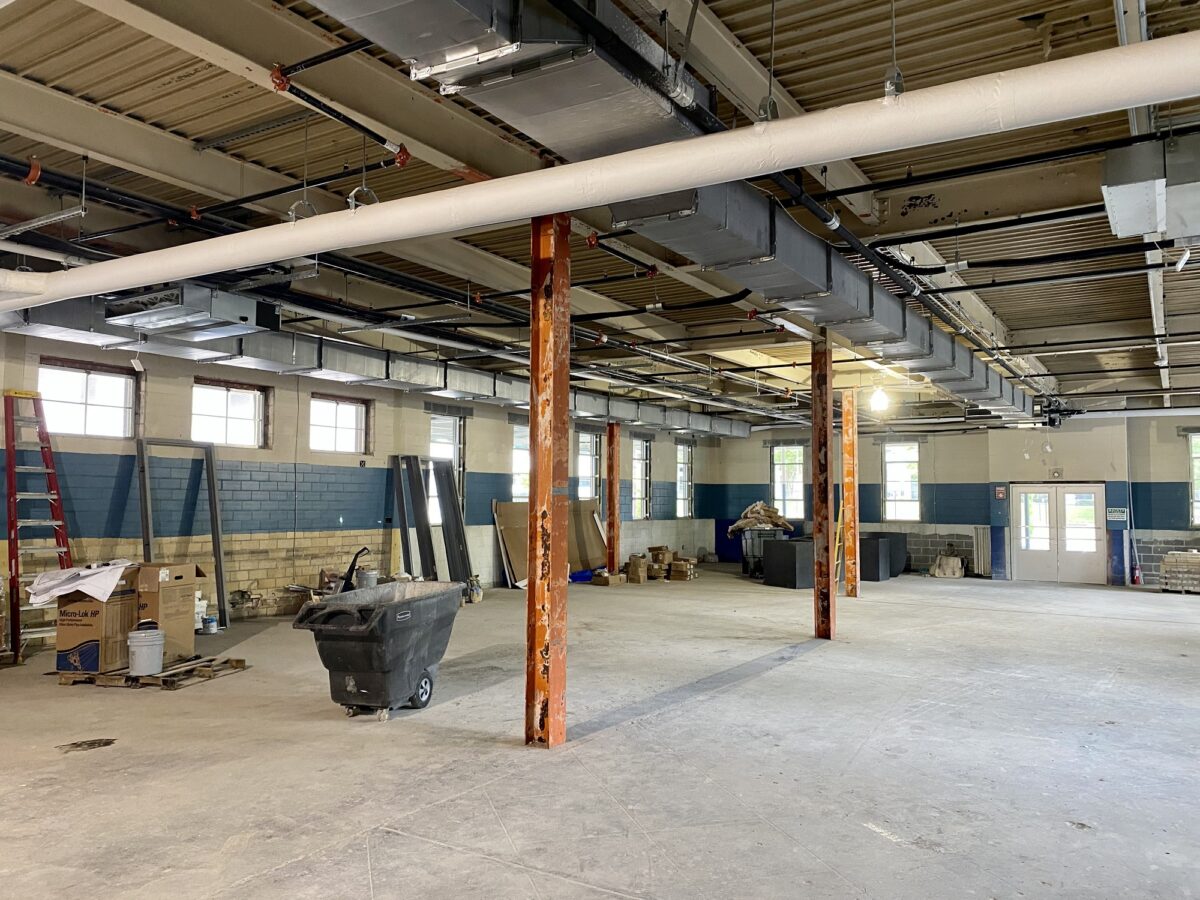 Let the Sunshine In
Another win from having the original plans was that the team learned about the windows that had been covered up in the baggage handling area. They uncovered the windows to restore the building to its original form and to bring in natural light to that part of the building.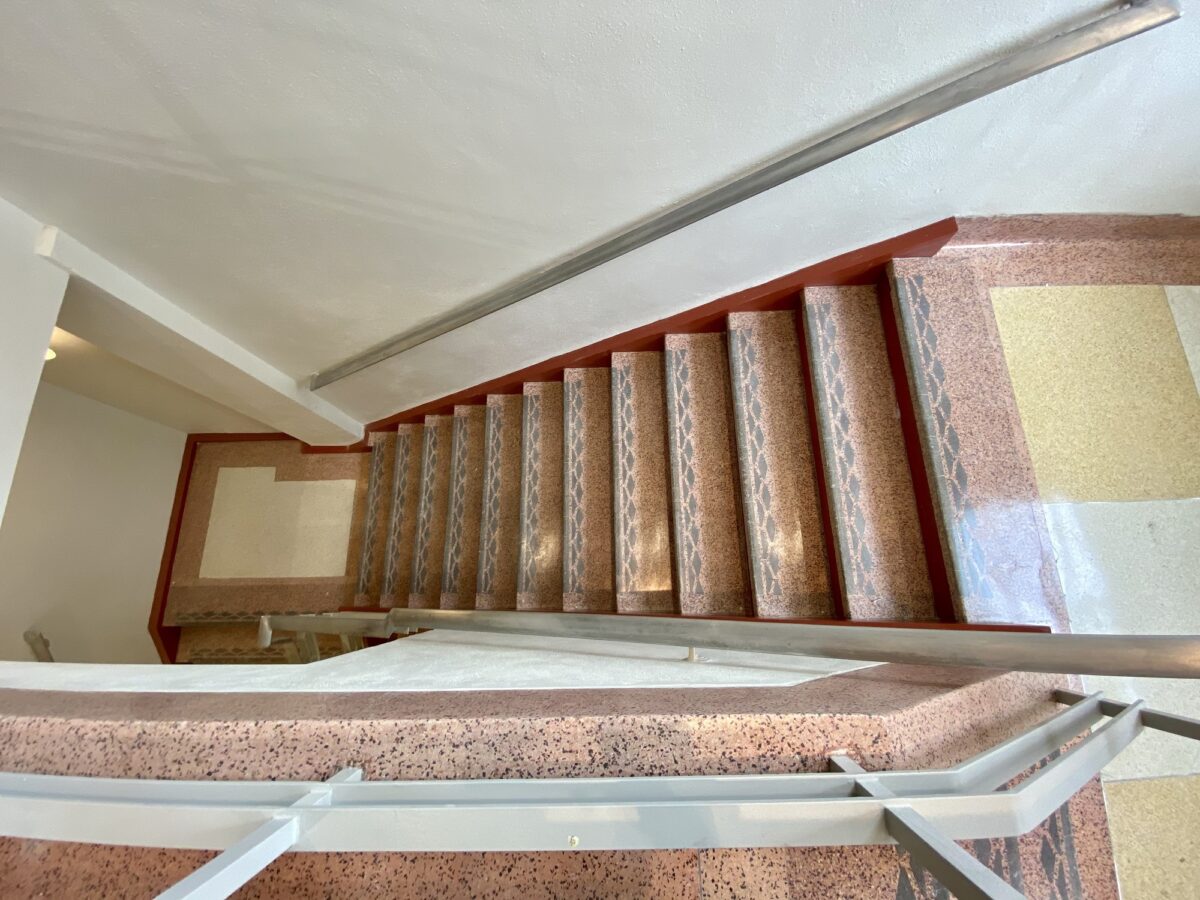 Original Handrails and Flooring
This stairwell was an original part of the building from tile to handrails. Just imagine the footsteps taken up and down this corner throughout the years! There's also a beautiful new curved staircase topped with a skylight that has been added—but even though it's new, it still feels very respectful of the space and its era (see photos of the new stairs in the gallery at the bottom of this post!).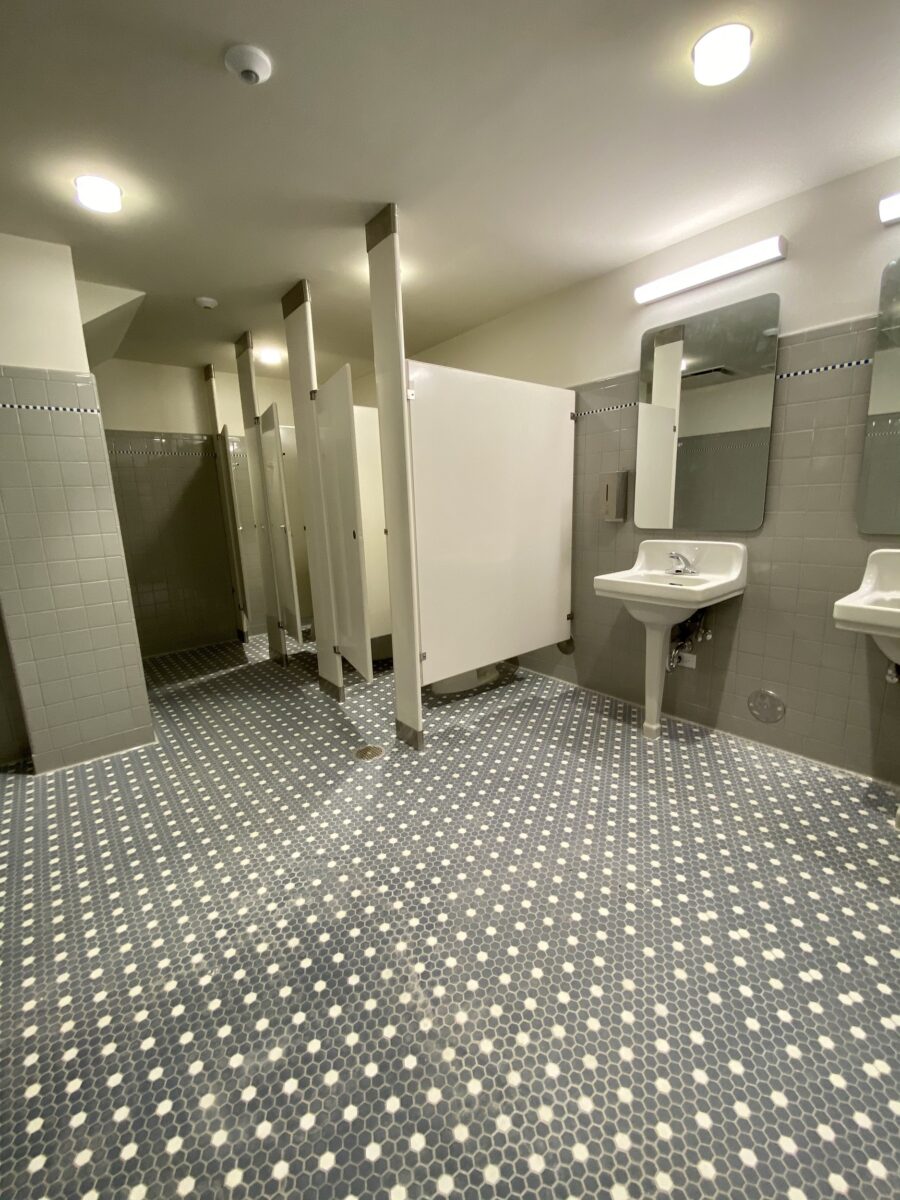 Powder Your Nose in Style
Old bathrooms may not always be worth getting excited about—but the Greyhound's original bathrooms were in good enough shape to fully restore for this project, and we're in love with those blue and white tiles!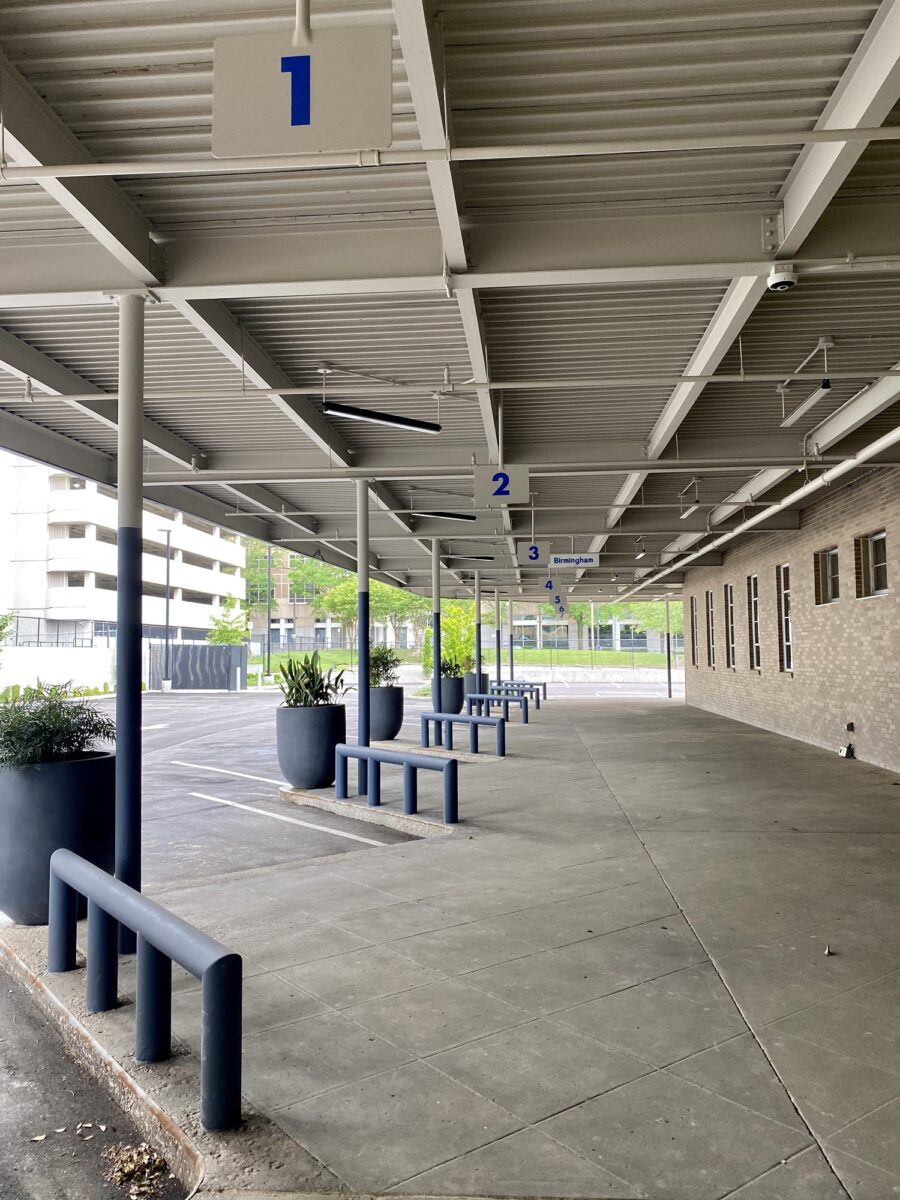 Welcome to the 'Ham!
Even the parking lot of this place is unique, because, well, it is a former bus station. The team restored the Birmingham sign that marked many an entry to the city and recreated the bus number signs underneath the outdoor covering. 
The rest of the building will be finished out depending on tenant needs. If you feel like this should be your new office home, you can reach out to Capstone Real Estate Investments, LLC at 205-215-7375. 
Related News
Filed Under: Big Pitch, Front Page, Small Business, Uncategorized

If you've been following REV for a while, you probably remember The Big Pitch Competitions we used to hold back in the day. The Big Pitch presented by PNC was essentially our own little version of Shark Tank. And a lot of your favorite local businesses that participated in this competition now have active retail storefronts that you can go check out. Let's start with some of our finalists that are based in the City of Birmingham and see what they've been up to!

Filed Under: Developer, Downtown Birmingham, Filling Vacant Spaces, Front Page, Potential-Proving, Uncategorized

Have you been to Downtown Birmingham's newest development located on 25th Street? If not, you need to head down there ASAP and check it out! This new single story development is a product of a collaboration between David Baker Architects (DBA) and Locke General Contractors, led by DBA's very own Amanda Loper. It is intended to be a "collaborative commercial space in a catalyst development area of Birmingham." Both DBA and Locke General Contractors will be tenants of the space, along with June Coffee Roasters, Zephyr Barber, and Last Call Baking Cooperative!

Filed Under: Downtown Birmingham, Events, Front Page, Uncategorized

One of Birmingham's many hidden treasures is the music scene downtown. The sheer volume of concert venues we have in downtown Birmingham is something most people aren't even aware of – but it really is remarkable! There is truly something for everyone, whether you're into the smaller, more intimate venues or the large-scale venues for those big name artists. Keep reading to check out some of the cool venues downtown Birmingham has to offer.