We have BIG news to share! The City Center District Management Corporation (CCDMC), a self-help Business Improvement District (BID) funded by downtown property owners that also brings you the CAP clean and safe program, is partnering with the City of Birmingham and REV Birmingham to undertake a bold refresh of Birmingham Green—downtown's signature street.
Construction starts Monday, Oct. 11
We'll be keeping this page updated with street closing and construction information!
You're probably wondering what exactly that means – well let us tell you! The project will be implemented on 20th Street North from the railroad tracks to Linn Park and will include new native and drought-resistant landscaping (like the plants you see in Railroad Park and Rotary Trail), plus cafe-style seating and an expansion of the bike and flex lanes installed on a portion of the street in 2020.  Basically, 20th Street is getting a huge make-over that's been a long time coming! 
As you might imagine, projects of this magnitude don't happen overnight. Let's recap all the hard work that has gone into downtown's beloved main street!
1970s
In the 1970s, corporate and civic leaders executed a major community-driven project to redesign 20th Street, which became known as the Birmingham Green.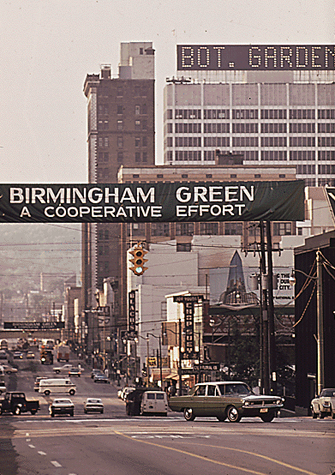 The renovation included new sidewalks, landscaping, lighting and street furniture – and converted the former streetcar space into the lush green medians we all recognize. 
2018
The Birmingham Green project gave 20th Street the makeover it desperately needed at the time, but the streetscape was not revisioned again until 2018. In January 2018, The Regional Planning Commission of Greater Birmingham (RPCGB) released an APPLE study exploring the opportunity to redesign the corridor with enhanced transit and pedestrian amenities. The concepts were informed by stakeholder input, generating excitement around 20th Street's potential.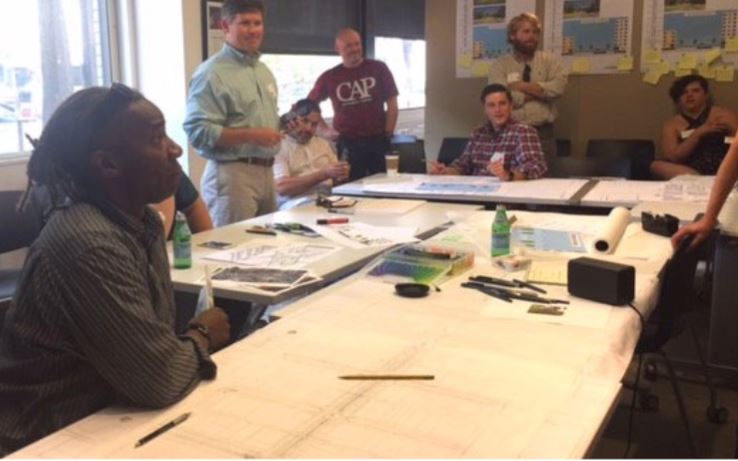 Although there was not enough funding to push it forward at the time, there was a lot of public input on how the public wanted to see this street. Feedback showed that they wanted it to be less car–centric and more human–centric, with more room for people to live, work and play on 20th Street. 
2019
In Fall 2019, REV Birmingham realized that there was an increasing demand for something on 20th Street. We pitched the idea to the mayor—that the World Games are coming and years of planning that say we need to invest in 20th Street. We demonstrated our plan to the mayor's team—we could execute the entire plan at an affordable price and make it work—and we were able to get the plan approved! 
REV began working with staff from City departments and organized six professional landscape architecture firms—Dix Hite + Partners, Golightly Landscape Architecture, Goodwin Mills Cawood, Macknally Land Design, Renta Urban Land Design and Studio A Design—to provide pro bono designs for the street. We're grateful for the world-class work donated by community partners!
2021
The CCDMC partnered with REV Birmingham and collaborated with community partners to fund further planning and design for the project. PNC also supported pre-development work. 
In Spring 2021, we expanded the flex lanes' footprint to test them on a larger section of 20th Street as we continued to work to make the full project a reality.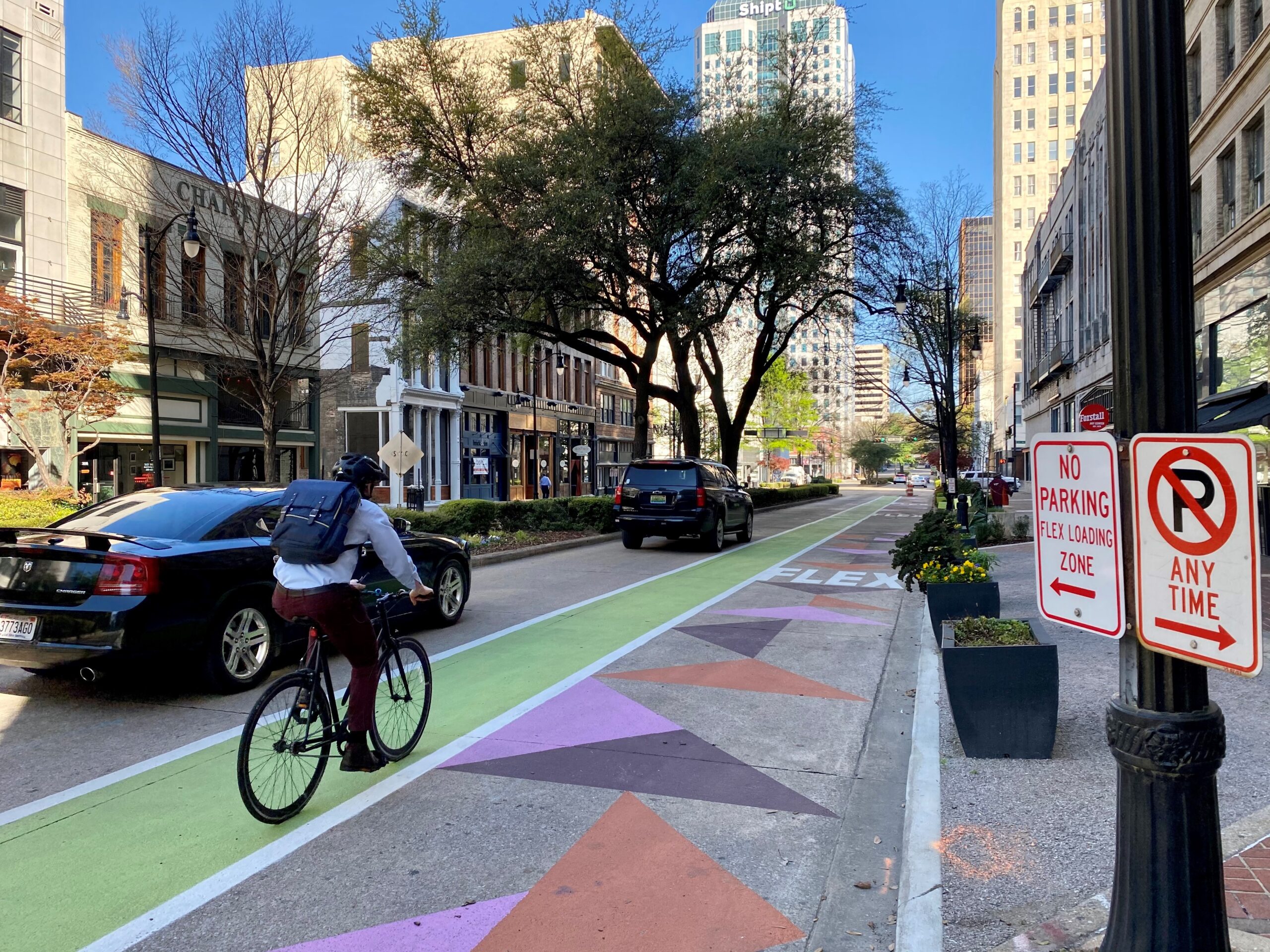 Later in the year, the Mayor's office, with support from District 5 Councilor Darrell O'Quinn (and eventually unanimous support from the City Council), helped identify and secure funding for the project from a fund specifically set aside for downtown capital projects like this. 
So there you have it! That's the story of how we got to where we are today. We are so excited to announce that construction officially begins on Monday, October 11, and it's set to be complete in time for Birmingham to welcome international visitors for the World Games 2022!  All businesses on 20th Street North plan to remain open throughout construction, which is scheduled in four 50-day phases: 
Phase 1: Northbound lane of 20th Street from 3rd Avenue North to Linn Park
Phase 2: Southbound lane of 20th Street from Linn Park to 3rd Avenue North
Phase 3: Southbound lane of 20th Street from 3rd Avenue North to Morris Avenue
Phase 4: Northbound lane of 20th Street from Morris Avenue to 3rd Avenue North
Signage will be installed on 20th Street to point to revbirmingham.org/20thstreet, which will be updated with construction information throughout the project. Frequent users of 20th Street are also encouraged to sign up for email updates on the page. Stay tuned to see results of this epic makeover! 
Related News
Filed Under: Front Page, Get Involved, Historic Preservation, Residential

President and CEO of REV Birmingham David Fleming writes about the importance of historic preservation and highlights the advocacy efforts that saved the French Quarter in New Orleans and the Forest Park neighborhood in Birmingham. The article concludes with a call to action, urging for new leaders and the implementation of various strategies to protect and celebrate Birmingham's historic buildings and places.

Filed Under: Filling Vacant Spaces, Front Page, Small Business, Woodlawn, Yaysayers

Lights, Camera, Action! The rebirth of the Woodlawn Theater is happening this weekend in the heart of Woodlawn. The theater is opening its doors to the public with two extraordinary opening events that are FREE to the public. The 1400 square foot venue has a wide range of amenities and even has a full-service bar. Because of the Mason Music Foundation, this venue is filling a much needed resource for local musicians to perform. Keep reading to discover how the theater came back to life and its impact on the community.

Filed Under: Downtown Birmingham, Events, Front Page, Yaysayers

Brian Allen, a talented cornerback, has made the remarkable transition from a small town in Texas to the vibrant city of Birmingham. Choosing Birmingham for his football career for two consecutive seasons, Brian's unwavering dedication and exceptional skills have made him a standout figure in the world of football. To dive deeper into Brian's journey and discover his genuine appreciation for the city, watch this video with the link below!