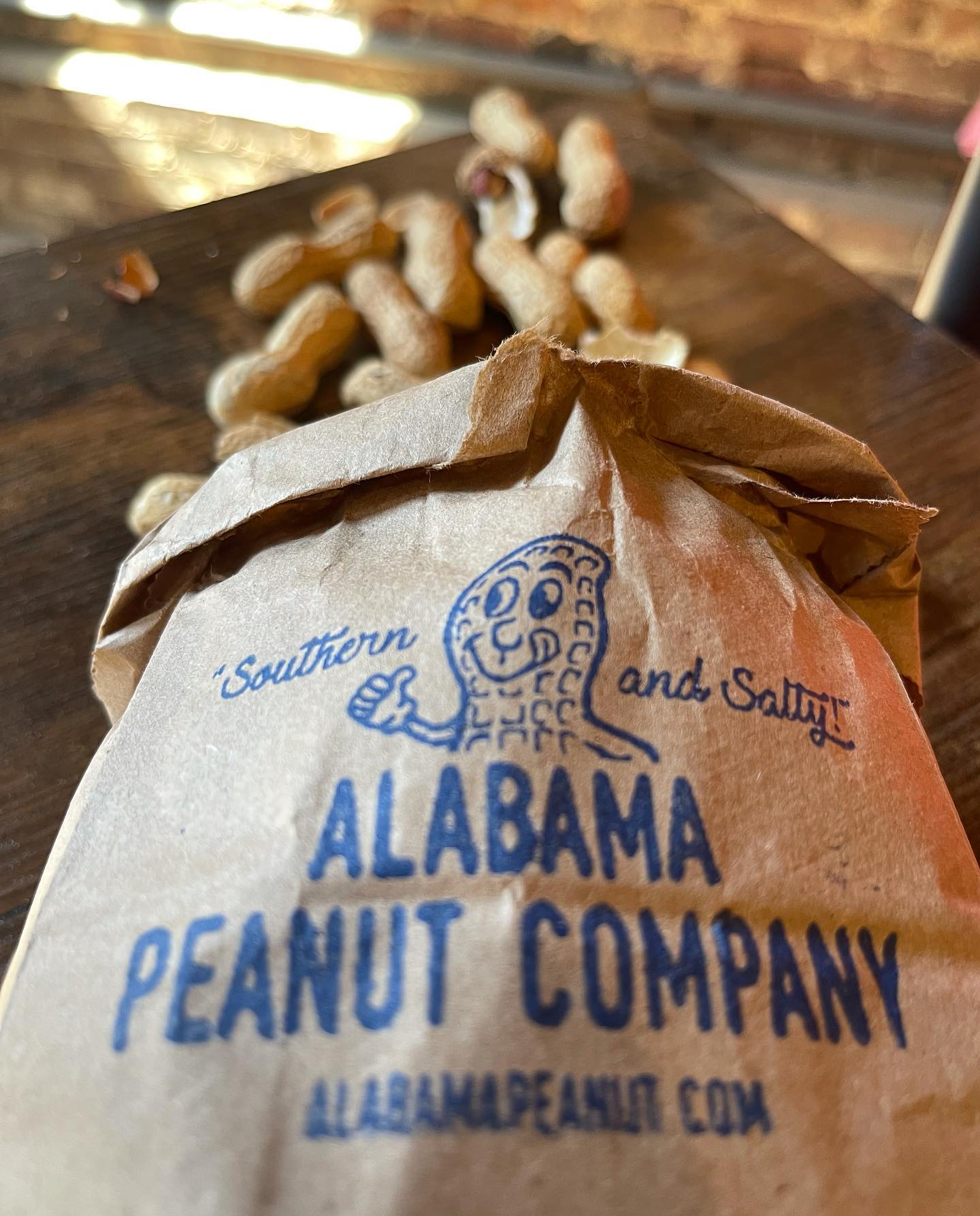 The Alabama Peanut Company has been around for ages and is a Downtown Birmingham staple. Not only do they serve delicious peanuts (both boiled and roasted) but the storefront serves as a reminder of people's childhoods. The same folks that went there as kids are now all grown up bringing their own kids in – you don't get to see those types of full circle moments very often! The storefront is located on Morris Ave. in Downtown Birmingham, but chances are you've seen these peanuts being sold at markets all over the Ham. They offer up a variety of unique flavors and if you haven't tried them yet you're missing out! Next time you pass by their store or spot them at a market we highly recommend you make a stop and get some peanuts to go – you won't regret it.
The History
The building that the Alabama Peanut Co. currently resides in has been around since the 1870s. It started out as a printing company called Caldwell Printing, until 1907 when it became a peanut business, better known as the Peanut Depot. To this day it is still a peanut business, making it the oldest peanut merchant in the country!
The Alabama Peanut Co. moved into the building located along Morris Avenue around 2018, but they've managed to preserve the historic charm from the original space. Everything from the brick walls to the peanut roasters (despite a few minor upgrades) have been around for decades – and they're still kickin! The original founder of the Peanut Depot, D.J. Cassimus, specialized in roasted peanuts and they were the sole providers of peanuts for most of the Southeast stadiums from Texas all the way to Virginia. Boiled peanuts have been a more recent addition to the space, as the current owner Jamie Thursby noticed a shortage for them here in Birmingham, AL. He began selling them with his brother-in-law at markets outisde of his parents' business in Bluff Park, saw that there was a real desire for them, and thus the Alabama Peanut Company was born!
The Birth of APCo.
At the age of 40 Jamie Thursby made the bold decision to quit his job in Atlanta, GA, where he worked for the New Balance Shoe Company, in order to find his true passion. He was attracted to the idea of working for himself. After three years of exploring different career paths (and plowing through all his savings) he ended up back home in Birmingham. He began helping his parents out with their antique store, On A Shoestring, in Bluff Park. Jamie began holding maker's markets outside of the shop every Sunday and was on the hunt for a boiled peanut vendor. When he couldn't find one, he joined forces with his brother-in-law, and they began boiling their own peanuts. The peanuts turned out to be a hit and soon enough they created a brand and began doing pop-ups at various breweries. They brought an accountant on board, who conveniently worked with John Cassimus, who just so happened to be the grandson of D.J. Cassimus (the founder of the Peanut Depot) and discovered that he was looking to sell the building located on Morris Avenue. In 2018, Jamie bought the space and the rest is history!
Where can you find APCo.?
The Alabama Peanut Company's main storefront is located at 2016 Morris Ave, Birmingham, AL. In addition to their staple flavors that are offered daily, they have about 75 specialty flavors that they rotate through each day, with flavors like Buffalo Ranch, Wickles Pickles, Siracha Lime that you have to try!  You can also find them at a variety of markets around town (they do about ten stands a week!). And if you want to give these peanuts a try from the comfort of your own home, they have an online store where they ship roasted peanuts nationwide. They're also going to start shipping their boiled peanuts in the state of Alabama pretty soon, so keep an eye out for that. Plus, they just purchased a peanut truck, so get ready to see them all over the city!
Related News
Filed Under: Front Page, Get Involved, Historic Preservation, Residential

President and CEO of REV Birmingham David Fleming writes about the importance of historic preservation and highlights the advocacy efforts that saved the French Quarter in New Orleans and the Forest Park neighborhood in Birmingham. The article concludes with a call to action, urging for new leaders and the implementation of various strategies to protect and celebrate Birmingham's historic buildings and places.

Filed Under: Filling Vacant Spaces, Front Page, Small Business, Woodlawn, Yaysayers

Lights, Camera, Action! The rebirth of the Woodlawn Theater is happening this weekend in the heart of Woodlawn. The theater is opening its doors to the public with two extraordinary opening events that are FREE to the public. The 1400 square foot venue has a wide range of amenities and even has a full-service bar. Because of the Mason Music Foundation, this venue is filling a much needed resource for local musicians to perform. Keep reading to discover how the theater came back to life and its impact on the community.

Filed Under: Downtown Birmingham, Events, Front Page, Yaysayers

Brian Allen, a talented cornerback, has made the remarkable transition from a small town in Texas to the vibrant city of Birmingham. Choosing Birmingham for his football career for two consecutive seasons, Brian's unwavering dedication and exceptional skills have made him a standout figure in the world of football. To dive deeper into Brian's journey and discover his genuine appreciation for the city, watch this video with the link below!