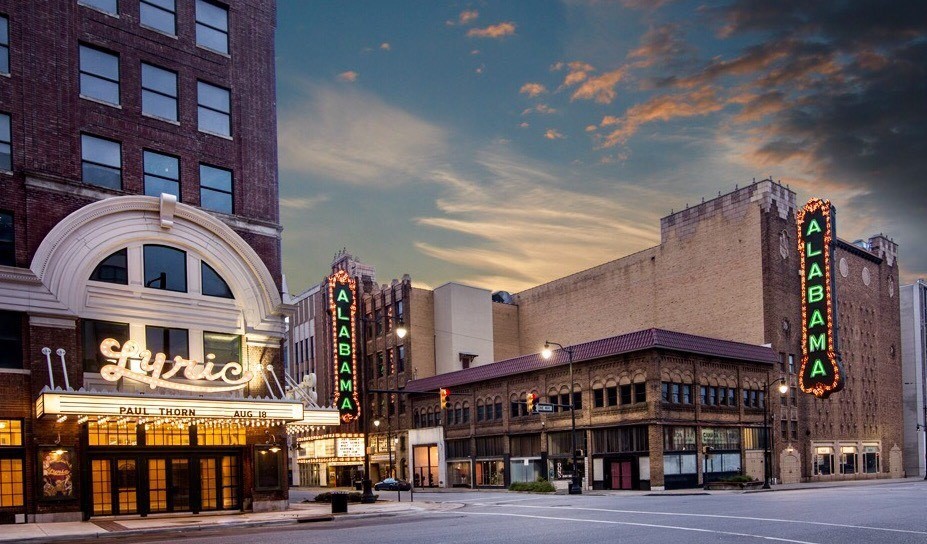 The Alabama Theatre is one of 25 finalists across the U.S. vying for grant money in the Partners in Preservation: Main Streets campaign. The competition's winners will be decided through public voting, which is open today through October 31. Alabama Theatre supporters can vote for the Birmingham project at www.BigAlabamaSign.com.   
Update: Alabama Theatre won the grant!
Many Birmingham area residents are already familiar with the majestic 1927 theater on 3rd Avenue North that underwent major restorations in 1996. Its 60-foot sign is an icon of both the city and the state. What some may not know is that, from 1927 to 1957, a twin Alabama sign lit 18th Street from just above the double doors that lead to the stage. By 1957, both signs needed work — so in the spring of that year, the sign on 3rd Avenue was partially dismantled and the one on 18th Street was taken down to be refurbished. By 1960, the 3rd Avenue sign had been completely refurbished. The brand-new marquee beneath it featured neon tubes instead of old-fashioned screw-in lightbulbs. But the 18th Street sign disappeared and was most likely scrapped.  
Birmingham donors have already begun pledging funds to help light up 18th Street with the Alabama sign once again, with lead gifts for the sign's replacement by Alabama Power, Regions and the Alabama Theatre Junior Board. REV Birmingham nominated the Alabama Theatre for Partners in Preservation's 2017 Main Street competition as an opportunity to combine national dollars with local commitments for the historic sign preservation project. Thanks in part to the already healthy local interest, the Alabama Theatre was selected as a Partners in Preservation finalist.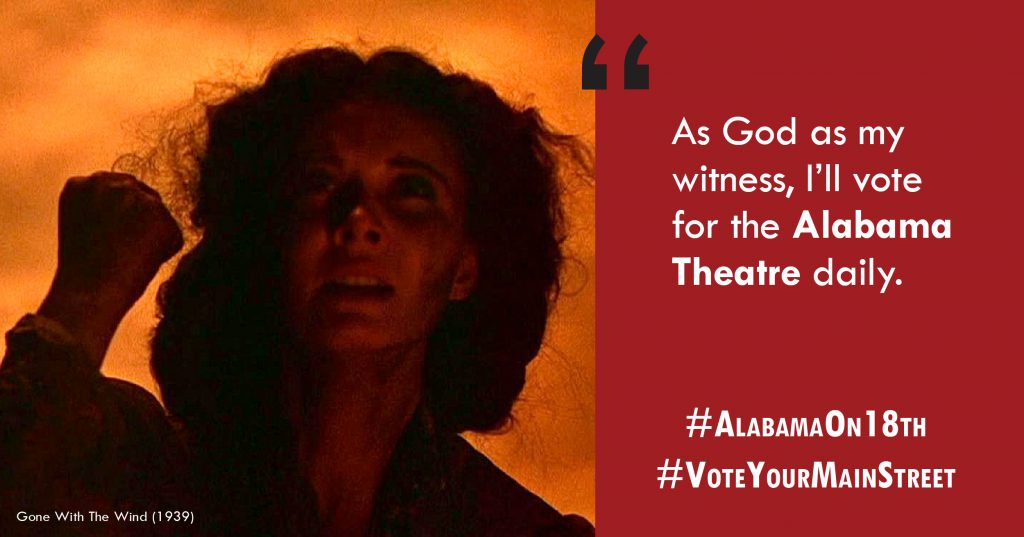 What is Partners in Preservation: Main Streets? 
Partners in Preservation is a community-based partnership, created by the National Trust for Historic Preservation and American Express, to raise awareness of the importance of preserving historic places and their role in sustaining local communities. Partners in Preservation: Main Streets will award a combined $2 million in grant funding from American Express to Main Street districts in need of preservation support across America. The public will determine which sites will receive funding by voting online for their favorite main streets through October 31. Voting is hosted by National Geographic Travel, and the Alabama Theatre has a local portal at www.BigAlabamaSign.com. Voters can submit 5 votes at once per email address per day.
Partners in Preservation: Main Streets Open House Weekend  
The Alabama Theatre will host a social media contest for Open House Weekend the first weekend of October. Any time between Friday, October 6 and Sunday, October 8, the public is invited to visit the theatre district and post a picture on social media of them with the sign in the background. Everyone using the hashtags #AlabamaOn18th and #VoteYourMainStreet on a publicly shared photo that includes the Alabama sign and marquee displaying the weekend's message will be entered into a drawing for multiple Alabama Theatre ticket packages. One winner will receive two tickets to a 2018 concert of their choosing at the Alabama Theatre; three winners will receive two tickets each to a 2017 holiday movie of their choosing. Delta Air Lines is the sponsor of the Partners in Preservation: Main Streets Open House Weekend. Open House Weekend activities in Birmingham are one of many local events taking place nationwide between October 6 and 9.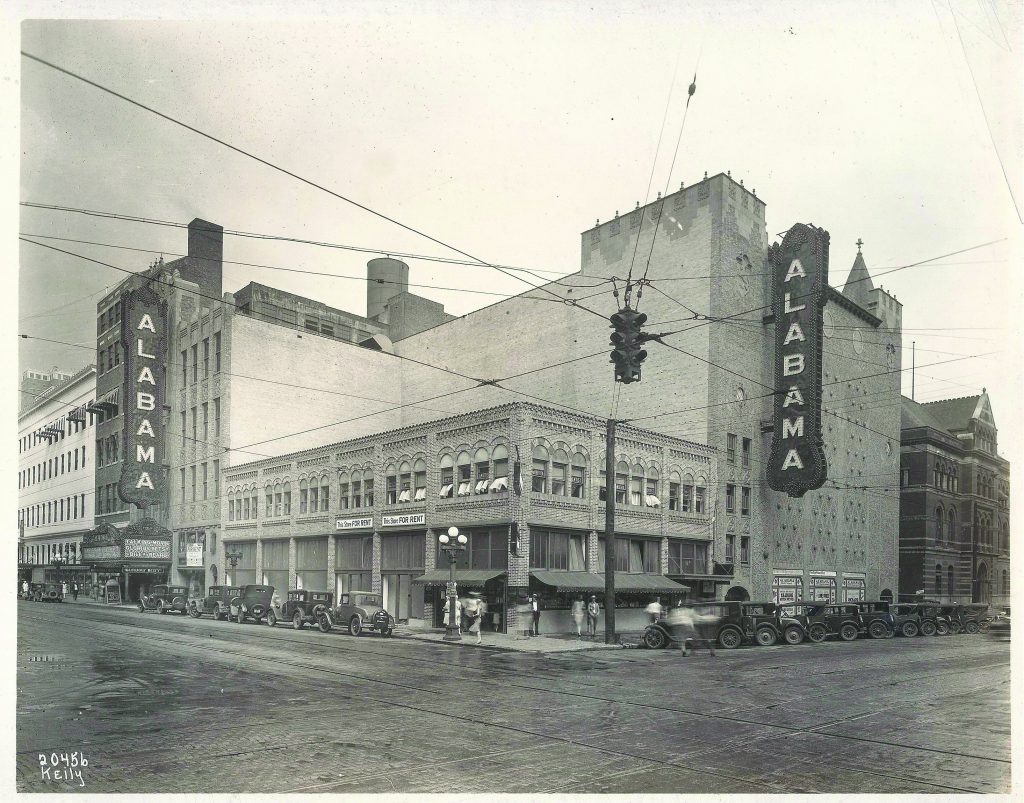 Alabama Theatre history 
Built in 1927, the historic Alabama Theatre is a movie palace built in Birmingham by Paramount as its flagship theater for the Southeast. Seating 2,500 people, it was the largest in the Birmingham theater district, which was once home to a myriad of large theaters that featured vaudeville, performing arts, nickelodeons and large, first-run movie palaces. The Alabama still features its original Wurlitzer theater organ to accompany silent films. Both the Alabama and the nearby 1914 Lyric Theatre, the only vaudeville theater still standing in the district, were restored and are operated by the nonprofit organization Birmingham Landmarks, Inc. 
The Alabama and Lyric were added to the Alabama Register of Landmarks and Heritage on February 15, 1977 and to the National Register of Historic Places on November 13, 1979. 
For more information and to vote daily for the Alabama Theatre through October 31, visit www.BigAlabamaSign.com and share the love via social media using #AlabamaOn18th and #VoteYourMainStreet. 
Related News
Filed Under: Birmingham Food & Drink, Downtown Birmingham, Front Page, Small Business, Yaysayers

Birmingham is home to many unique and fun coffee destinations. With over 15 coffee shops in the Birmingham Metro area, we created a coffee trail to help you navigate the best spots in town for a delicious cup of joe. This extensive trail extends across Birmingham and can take several trips to complete it.

Filed Under: Downtown Birmingham, Events, Front Page, Yaysayers

Did you know Birmingham is home to 5 pro sports teams? Within the past 10 years, the Magic City has welcomed a professional basketball, soccer, baseball, football, and even a hockey team! With Legion Soccer Club, USFL Stallions, and Minor League Barons seasons about to begin, here's what you need to know for the best season of pro-sports yet!

Filed Under: Downtown Birmingham, Front Page

Why should you CHECK OUT the Linn Henley Research Library? From its neoclassical look on the outside to the intricate murals in the reading room, the Linn Henley Research Library is a great place to spend your quiet time or deep dive into some research. Find out more information about the artist who painted the murals, history, and even where to find parking here!