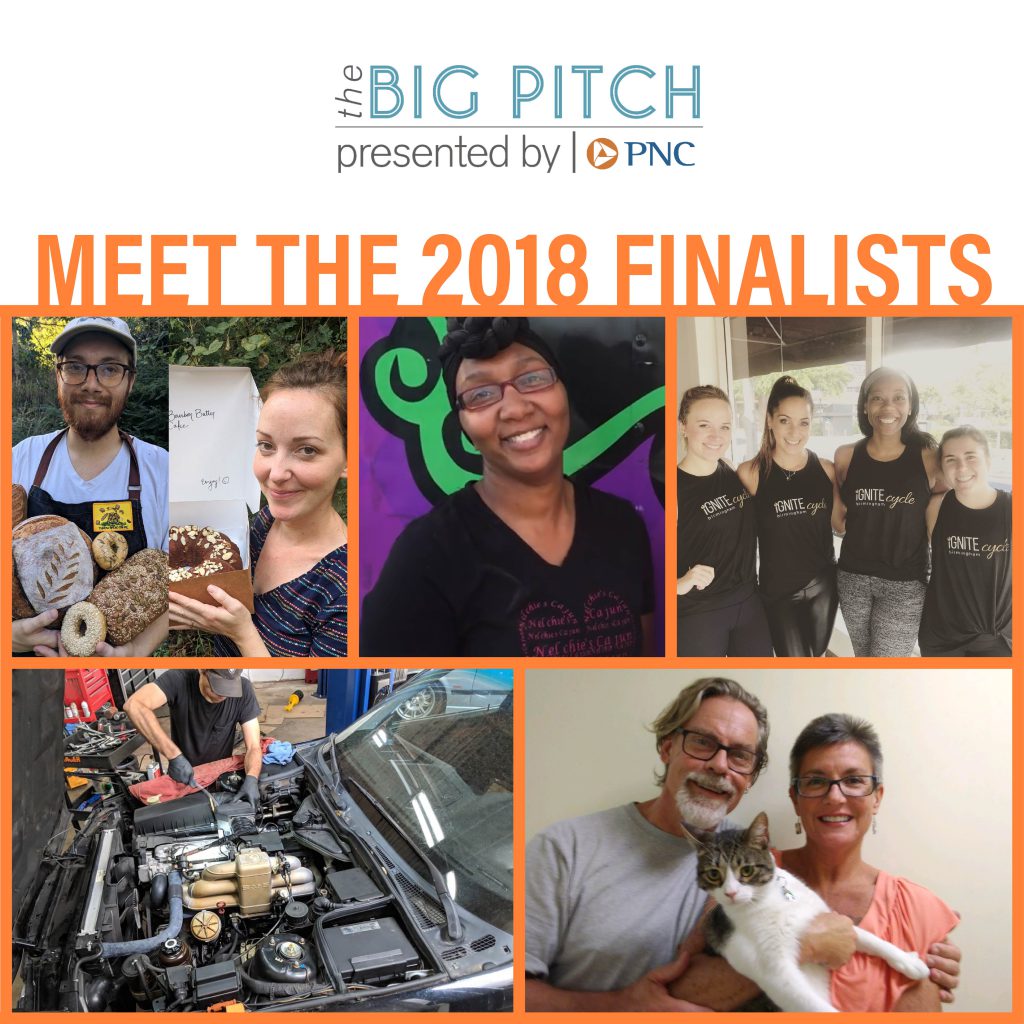 It's almost time for the world to meet the entrepreneurs behind some of Birmingham's next BIG things. The Big Pitch presented by PNC is this Saturday, November 17. [Buy your tickets now!]
But The Big Pitch is much more than just an event. In the six weeks between finalist selection and the actual competition, a community of service providers, mentors, sponsors and, of course, the REV team, all pitch in to help prepare the finalists for the big day and success beyond The Big Pitch.
"We started The Big Pitch along with our sponsor PNC because we saw a need for a program that not just potentially rewarded entrepreneurs for dollars and resources but was a way to train them to be better at their business," said REV Birmingham CEO David Fleming. "People don't only compete for capital investment, but they get entrepreneurial training, guidance, mentorship out of it."
Each finalist business concept is assigned a mentor to coach them through pitch preparation and is introduced to service providers like lawyers, accountants and branding experts. Finalists also attended REV's three technical assistance workshops that covered telling a brand story, understanding commercial real estate and finding funding.
"Mentorship is very important as an entrepreneur,"said Tony Bales, owner of Bayles Catering and 2018 Big Pitch mentor. "Guidance from someone to help answer questions, lead you in the right direction, gives you options, choices, and insight with what you're actually doing."
REV's Big Pitch organizers carefully construct the mentor-mentee teams, matching finalists with mentors who have experience and strengths that would be helpful to the specific finalist they are guiding. Here are the 2018 pairings:
Finalist: Sarah Schlund & Caden Oliver – Beehive Baking: delivering the joy of fresh, handcrafted and seasonal baked goods straight to your doorstep.
Mentor: Trevor Newberry, owner of Newberry Consulting. Prior to embarking on his own entrepreneurial journey, Trevor was the general manager leading the uber-friendly team at Urban Standard. Trevor knows about coffee, baking and how to crunch numbers for small business success.
Finalist: Kelli & Stephen Steward – Gatos & Beans: This couple is creating a cat café that combines a relaxed social atmosphere and a community service that finds foster cats their forever homes.
Mentor: Danny Winter, the founder of Crestwood Coffee, a coffee roasting company, and Brennan's Irish Pub. Danny Winter understands how to successfully gain traction in the coffee business, which is a perfect match for Stephen and Kelli.
Finalist: Tiffany Martin – Ignite Cycling: she is passionate about building a community to help people become their best selves, one pedal stroke at a time, at Birmingham's only boutique cycling studio.
 Mentor: Abra Barnes, the owner of Barnes & Associates, the Birmingham-based Barnes & Associates, Realtors. Abra has a "community first" guiding principle and deep experience in community building.
Finalist: Lexis Ginsburg & Manny Mota – Mota Autohaus: Leading the way for the future of auto repair in Birmingham, providing reliable service at a fair price in a space that adds to the community.
Mentor: Scott Pierce, founder of Two Ravens. As the founder of multiple technology companies and a facilitator for Create Birmingham's 10-week CO.STARTERS business development program since its inception, Scott has much to offer the Moto Autohaus team.
Finalist: Kevon Lewis – Nelchie's Cajun Cuisine/Food Truck Park: her popular Cajun food truck in Leeds is designing a food truck park in Birmingham's City Center.
Mentor: Tony Bayles, owner of Bayles Catering. Tony has more than 20 years of experience and knows how to grow a small business, having recently expanded from a small counter-service spot in Woodlawn to a full-service sit-down restaurant.
2018 is the fifth year PNC Bank has sponsored the Big Pitch. In addition to offering capital to the top competitors, PNC employees provide coaching and other support for all finalists. Other sponsors include BIG Communications, CSpire, Poole & Company Architects, Bham Now, Daniel Corporation, Barfield Murphy Shank & Smith, and Orchestra Partners. In addition to sponsors who provided services, Gatehouse Law, LiftFund, TruFund, Rebecca Dobrinski of TedxBirmingham, David Gibson of Bell Media, and Kate Hardy of Square One Goods also supported the entrepreneurs with one-on-one consultations.
"PNC is the presenting sponsor for The Big Pitch because we believe in Birmingham," said PNC Bank Vice President Michele Jenkins-Utomi. "You see these people walk across the stage, put their energy and time and talent into explaining the vision to Birmingham, and then you're able to drive the streets sometime later and you actually see that business on a corner. And this has become a validation of this competition," Jenkins-Utomi said.
Since the first Big Pitch in 2014…
$145,000 in startup capital has been awarded
45 finalists have competed
26 Big Pitch finalists are in business
18 are in brick-and-mortar locations
Big Pitch winners have experienced the difference that the cash prizes can make in moving their businesses to the next level – such as 2017 winner Kate Hardy, who opened Square One Goods Co. in Founder's Station downtown a little less than a year after winning the 2nd place prize. But the Big Pitch experience gives all finalists, even those who don't win the cash prizes, tools for success – case in point, 2015 finalist Zebbie Carney, who has built a hot chicken empire in Birmingham with Eugene's Hot Chicken.
A BIG thanks goes out to the community of yaysayers who surround and support all of these entrepreneurs on their journeys to be Birmingham's next BIG things.
The 2018 Big Pitch is November 17, from 1- 3:30 p.m., at the Studio Arts Building – 1034 20th Street South – Birmingham, AL 35205. See more details on The Big Pitch and buy tickets at bigpitchbham.com.
Follow @revbham on Facebook, Twitter and Instagram to see updates on #REVBigPitch and more of REV's vibrancy-driving work in Birmingham.
Related News
Filed Under: Front Page, Small Business, Woodlawn

We are so excited to announce that the Woodlawn Street Market is here to stay in 2023! The tenth season will kick off April 1st on 55th place, featuring over 60 vendors. The WSM has been a staple for the Woodlawn Community for years and has helped stimulate entrepreneurship in The Magic City.

Filed Under: Birmingham Food & Drink, Front Page, Small Business, Woodlawn, Yaysayers

Have you tried Naughty But Nice Kettle Corn, located right outside of downtown? With over eight different flavors to choose from, NBNKC is the perfect snack to satisfy your sweet OR salty tooth. However, NBNKC is more than just popcorn; Tanesha Sims-Summers, owner and founder, believes "We make Birmingham sweeter one kernel at a time.

Filed Under: Downtown Birmingham, Front Page, Residential, Yaysayers

Meet Lauren and Marina Moore! These sisters have lived at The Watts residents for the past two years. Learn why the Moores choose to live downtown rather than stay in the suburbs.