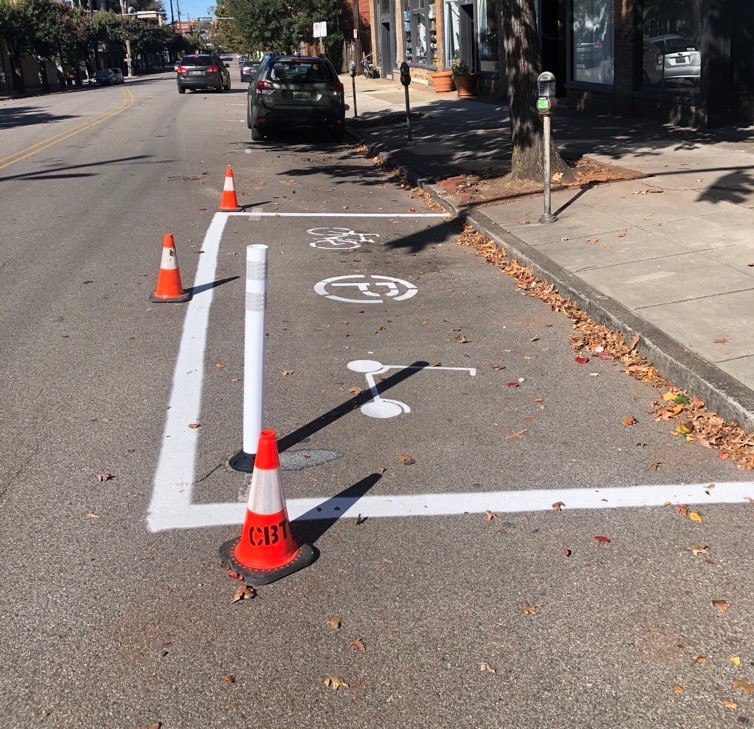 Micromobility is on its way back to Birmingham in 2021!
The City of Birmingham has approved the applications for two micromobility vendors— Gotcha and Veo— to operate shared bikes and scooters in a wide service area that includes downtown and many neighborhoods that will begin in early 2021.
Individuals may download the vendors' respective apps to find available bikes and scooters and pay for rentals. The city's Department of Transportation will establish 94 corrals throughout the service area. Each vendor will deploy 500 devices each in the first 90 days of operations. Both the number of devices and service area may expand based on an assessment by the Department of Transportation.
Users may pay for their ride on the vendors' apps by credit/debit card or with a prepaid debit card. Also, Gotcha plans to offer RFID cards at libraries and other locations. RFID cards can be used to unlock bikes and scooters by people who may not have a smartphone.
All users must be 19 years old to operate scooters and have a government-issued drivers' license. An 18-year-old may ride a bike or scooter that has been rented by a parent or legal guardian.
Bikes will be available at any time. Scooters will be unavailable from 11 p.m. to 6 a.m. Scooters will have a maximum speed of 15 m.p.h.
Under the city ordinance and in keeping with current traffic laws, bikes and scooters will not be allowed on sidewalks. Police officers can write citations for those who ride on the sidewalk.
Bikes and scooters should be parked in corrals established by the city and identified with signage. Users who do not park in corrals will be charged a $2 convenience fee by the vendors. Both Gotcha and Veo will be responsible for removing bikes or scooters that have not been left in appropriate locations.
While users are not required to wear helmets, they are strongly encouraged.
The return of micromobility options in the city follows approval earlier this year of a new ordinance allowing the operation of motorized scooters in the city.
It also marks the first time a bike-sharing program has operated since REV's Zyp Bikeshare program ended in December 2019.
Zyp logged 43,690 users, 218,795 rides and 253,203 miles during its five-year commitment to sponsors. It also proved that micromobility could be embraced by the city or Birmingham. Watch the video below for more:
Birmingham's Zyp changed bike-share programs across North America from Alabama NewsCenter on Vimeo.
Related News
Filed Under: Big Pitch, Front Page, Small Business, Uncategorized

If you've been following REV for a while, you probably remember The Big Pitch Competitions we used to hold back in the day. The Big Pitch presented by PNC was essentially our own little version of Shark Tank. And a lot of your favorite local businesses that participated in this competition now have active retail storefronts that you can go check out. Let's start with some of our finalists that are based in the City of Birmingham and see what they've been up to!

Filed Under: Developer, Downtown Birmingham, Filling Vacant Spaces, Front Page, Potential-Proving, Uncategorized

Have you been to Downtown Birmingham's newest development located on 25th Street? If not, you need to head down there ASAP and check it out! This new single story development is a product of a collaboration between David Baker Architects (DBA) and Locke General Contractors, led by DBA's very own Amanda Loper. It is intended to be a "collaborative commercial space in a catalyst development area of Birmingham." Both DBA and Locke General Contractors will be tenants of the space, along with June Coffee Roasters, Zephyr Barber, and Last Call Baking Cooperative!

Filed Under: Downtown Birmingham, Events, Front Page, Uncategorized

One of Birmingham's many hidden treasures is the music scene downtown. The sheer volume of concert venues we have in downtown Birmingham is something most people aren't even aware of – but it really is remarkable! There is truly something for everyone, whether you're into the smaller, more intimate venues or the large-scale venues for those big name artists. Keep reading to check out some of the cool venues downtown Birmingham has to offer.