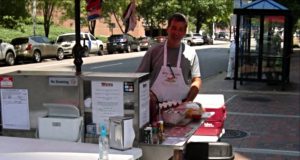 A fond farewell to our buddy Greg Nuckolls, owner of Greg's Hotdogs, who has been serving up gourmet hot dogs downtown for several years now. Greg started with one cart, grew his business to three and recently sold it to Big Daddy's BBQ from Warrior, AL. Now, he's headed back out west to Salt Lake City to pursue the next chapter in his life. We'll miss Greg's big smile, high energy and positive attitude, but we're glad Big Daddy will still be serving up those 100% beef dogs with amazing toppings.
Related News
Filed Under: Downtown Birmingham, Front Page

Sept. 15, 56 years to the day that a bomb killed four little girls— Addie Mae Collins, Denise McNair, Cynthia Wesley and Carole Robertson— a new interactive museum will open honoring the girls and the chain of events their murders set off in the Civil Rights Movement.