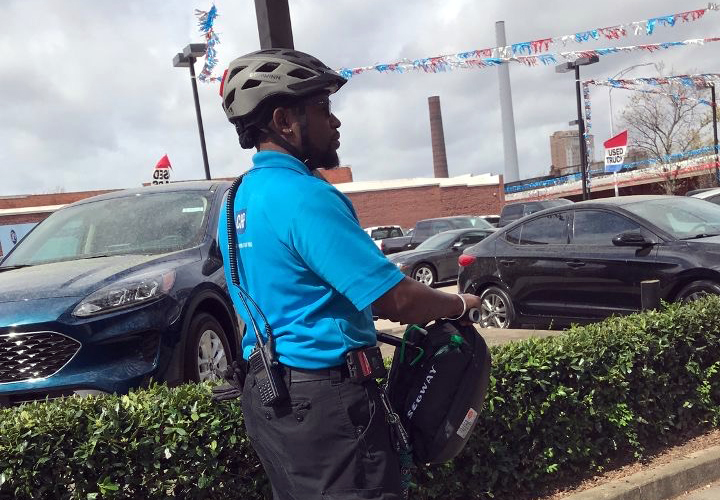 CAP Ambassadors will continue patrols of downtown Birmingham's Business Improvement District during the curfew imposed by the Shelter in Place ordinance proposed by Mayor Randall Woodfin and approved by City Council Tuesday.
CAP, the clean and safe patrol program funded by downtown property owners, is coordinating directly with leadership of Birmingham Police North Precinct and will continue to operate a full schedule as long as staffing and ambassador safety allows.
"We know many downtown property and business owners are working remotely, and others have suspended security services for cost savings," said CAP Operations Director Glen Robinson. "We want you to know CAP is still operating with full staffing and hours with the goal of deterring crimes of opportunity."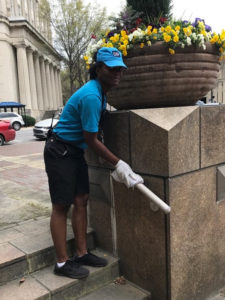 CAP is equipped with tools and data to proactively patrol the district and responds to reports and patrol requests from property owners.
CAP is also partnering with One Roof to coordinate education and sanitation services for people who are unsheltered, and is manning handwashing stations in areas where unsheltered citizens frequent.
Additionally, CAP Ambassadors are focusing on disinfecting high-touch surfaces in the business district, including door handles to businesses, bike-locking stations, bus stops, crosswalk buttons, trashcan tops and railings around restaurant sidewalk patio areas.
CAP, whose services are overseen by REV Birmingham, is coordinating with Block By Block, a national provider of clean and safe services in 112 business improvement districts across the country. Block by Block is directing response in cities that, to date, have had earlier and more intensive exposure to Coronavirus-related issues.
"We want you to know CAP is still operating with full staffing and hours with the goal of deterring crimes of opportunity."
CAP is suspending motorist assistance and in-vehicle safety escort services until further notice. This action is being taken because:
The demand for these services is lower due to the reduced number of downtown workers and visitors.
This action will reduce the Ambassadors' exposure to potential Coronavirus carriers since every CAP motorist assistance client is required to sign a waiver and is often in close contact with Ambassadors. Safety Escort clients typically receive a ride in a CAP vehicle.
Suspension of motorist assistance and in-vehicle safety escorts allows CAP Ambassadors to focus on patrolling hot spots, responding to additional patrol requests, and focusing on sanitizing and cleaning the district.
To request extra patrols or report issues within Birmingham's City Center Business Improvement District, call CAP at 205-251-0111.
Related News
Filed Under: Big Pitch, Front Page, Small Business, Uncategorized

If you've been following REV for a while, you probably remember The Big Pitch Competitions we used to hold back in the day. The Big Pitch presented by PNC was essentially our own little version of Shark Tank. And a lot of your favorite local businesses that participated in this competition now have active retail storefronts that you can go check out. Let's start with some of our finalists that are based in the City of Birmingham and see what they've been up to!

Filed Under: Developer, Downtown Birmingham, Filling Vacant Spaces, Front Page, Potential-Proving, Uncategorized

Have you been to Downtown Birmingham's newest development located on 25th Street? If not, you need to head down there ASAP and check it out! This new single story development is a product of a collaboration between David Baker Architects (DBA) and Locke General Contractors, led by DBA's very own Amanda Loper. It is intended to be a "collaborative commercial space in a catalyst development area of Birmingham." Both DBA and Locke General Contractors will be tenants of the space, along with June Coffee Roasters, Zephyr Barber, and Last Call Baking Cooperative!

Filed Under: Downtown Birmingham, Events, Front Page, Uncategorized

One of Birmingham's many hidden treasures is the music scene downtown. The sheer volume of concert venues we have in downtown Birmingham is something most people aren't even aware of – but it really is remarkable! There is truly something for everyone, whether you're into the smaller, more intimate venues or the large-scale venues for those big name artists. Keep reading to check out some of the cool venues downtown Birmingham has to offer.