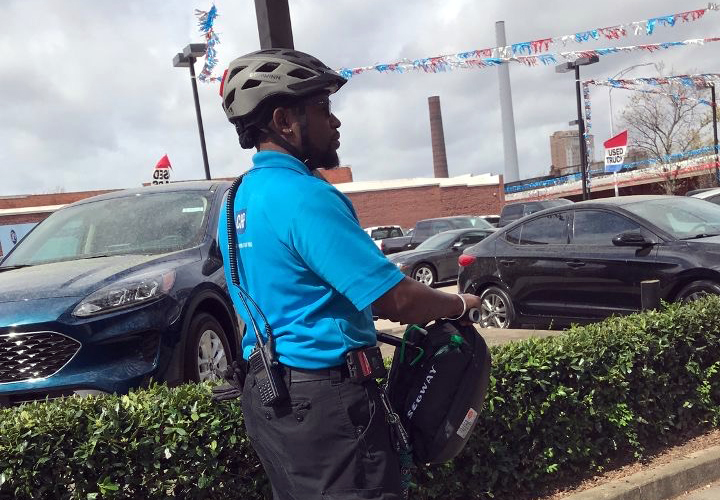 CAP Ambassadors will continue patrols of downtown Birmingham's Business Improvement District during the curfew imposed by the Shelter in Place ordinance proposed by Mayor Randall Woodfin and approved by City Council Tuesday.
CAP, the clean and safe patrol program funded by downtown property owners, is coordinating directly with leadership of Birmingham Police North Precinct and will continue to operate a full schedule as long as staffing and ambassador safety allows.
"We know many downtown property and business owners are working remotely, and others have suspended security services for cost savings," said CAP Operations Director Glen Robinson. "We want you to know CAP is still operating with full staffing and hours with the goal of deterring crimes of opportunity."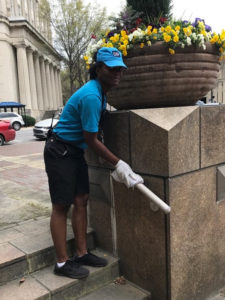 CAP is equipped with tools and data to proactively patrol the district and responds to reports and patrol requests from property owners.
CAP is also partnering with One Roof to coordinate education and sanitation services for people who are unsheltered, and is manning handwashing stations in areas where unsheltered citizens frequent.
Additionally, CAP Ambassadors are focusing on disinfecting high-touch surfaces in the business district, including door handles to businesses, bike-locking stations, bus stops, crosswalk buttons, trashcan tops and railings around restaurant sidewalk patio areas.
CAP, whose services are overseen by REV Birmingham, is coordinating with Block By Block, a national provider of clean and safe services in 112 business improvement districts across the country. Block by Block is directing response in cities that, to date, have had earlier and more intensive exposure to Coronavirus-related issues.
"We want you to know CAP is still operating with full staffing and hours with the goal of deterring crimes of opportunity."
CAP is suspending motorist assistance and in-vehicle safety escort services until further notice. This action is being taken because:
The demand for these services is lower due to the reduced number of downtown workers and visitors.
This action will reduce the Ambassadors' exposure to potential Coronavirus carriers since every CAP motorist assistance client is required to sign a waiver and is often in close contact with Ambassadors. Safety Escort clients typically receive a ride in a CAP vehicle.
Suspension of motorist assistance and in-vehicle safety escorts allows CAP Ambassadors to focus on patrolling hot spots, responding to additional patrol requests, and focusing on sanitizing and cleaning the district.
To request extra patrols or report issues within Birmingham's City Center Business Improvement District, call CAP at 205-251-0111.
Related News
Filed Under: Events, Front Page

It's officially spooky season and the Innovation Depot is wasting no time getting into the Halloween spirit! They are hosting their first ever "Tech or Treat" event on Thursday, October 28 from 3:30 to 6:00 p.m. The event is free and open to the public – what better way to kick off Hallo-weekend?!

Filed Under: Downtown Birmingham, Front Page, Yaysayers

Downtown Birmingham is full of beautiful buildings, both new and old! A good portion of those buildings consist of churches, and while many of them are beautiful to look at, they also have a rich history that often gets overlooked.