By Elijah Davis
Strategic Growth Manager
Urban Impact Birmingham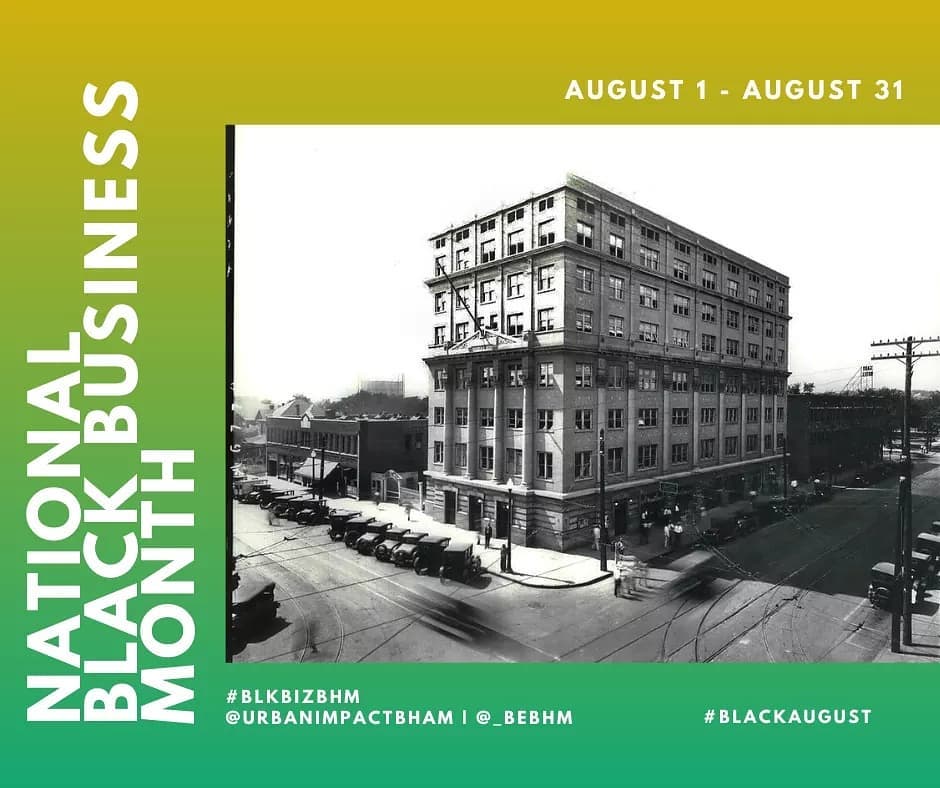 Happy National Black Business Month!
Birmingham has a rich history and present of Black-owned businesses. This month, we celebrate Black-owned businesses through patronage and advocacy. National Black Business Month was founded by Historian John William Templeton and engineer Frederick E. Jordan Sr founded National Black Business Month in August 2004 to "drive the policy agenda affecting the 2.6 million African-American businesses," which also references a larger tradition of "Black August" – a month that observes the historical Black resistance of the Diaspora. The Black August tradition was brought back in to focus locally by social impact firm Elevators in recent years.
From the Alabama Penny Savings Bank to Windham Brothers Construction Co. to James Armstrong's barbershop to Green Acres to Yo' Mama's Restaurant, Birmingham's Black businesses have always contributed to its vibrancy and has always been foundational to its economy.
We believe that Birmingham can only reach its potential when its current Black residents have fair, equitable and reciprocal access to the economy.
We serve one of the most famous hubs of Black-owned businesses, the Historic 4th Ave. Business District (Birmingham's Black Business District), one of last remaining and one of the best-preserved "Black Wall Streets" with 55+ Black-owned businesses, 20+ Black property owners and a host of legacy businesses like the Etheridge Brothers Barbershop, which is celebrating 50 years in business.
This month, with the mainstream more aware than ever of the plight of Black-owned businesses, we focus on the promise of what Birmingham can be. We must urgently, holistically and unequivocally support Black lives and Black livelihoods.
We believe that Birmingham can only reach its potential when its current Black residents have fair, equitable and reciprocal access to the economy.  We believe Birmingham is better when its businesses look like the city it serves, employs the city it serves and invests in the city it serves.
We invite you to join us in celebrating and advocating for Birmingham's Black-owned businesses this month, and year-round! Here are some ways REV Birmingham and Urban Impact Birmingham are inviting you to get involved
Participate in "Black Business Fridays" with the Great Receipt Race.
LEARN MORE ABOUT THE GREAT RECEIPT RACE
Use blkLSTed to find, list and support Black-owned businesses in the City of Birmingham.
Learn about and support one of the most important places in Birmingham's city center, the Historic 4th Ave. Business District and Birmingham Civil Rights National Monument District.
Hashtags
#blkbizbhm
#NationalBlackBusinessMonth
#SupportBlackBusiness
#4thavebham
Over the course of the month, we'll invite key voices in community and economic development to speak on aspects of the plight and promise of Black-owned businesses in Birmingham. Together, we can build a more vibrant and just future for Birmingham.
Related News
Filed Under: Front Page, Get Involved, Historic Preservation, Residential

President and CEO of REV Birmingham David Fleming writes about the importance of historic preservation and highlights the advocacy efforts that saved the French Quarter in New Orleans and the Forest Park neighborhood in Birmingham. The article concludes with a call to action, urging for new leaders and the implementation of various strategies to protect and celebrate Birmingham's historic buildings and places.

Filed Under: Filling Vacant Spaces, Front Page, Small Business, Woodlawn, Yaysayers

Lights, Camera, Action! The rebirth of the Woodlawn Theater is happening this weekend in the heart of Woodlawn. The theater is opening its doors to the public with two extraordinary opening events that are FREE to the public. The 1400 square foot venue has a wide range of amenities and even has a full-service bar. Because of the Mason Music Foundation, this venue is filling a much needed resource for local musicians to perform. Keep reading to discover how the theater came back to life and its impact on the community.

Filed Under: Downtown Birmingham, Events, Front Page, Yaysayers

Brian Allen, a talented cornerback, has made the remarkable transition from a small town in Texas to the vibrant city of Birmingham. Choosing Birmingham for his football career for two consecutive seasons, Brian's unwavering dedication and exceptional skills have made him a standout figure in the world of football. To dive deeper into Brian's journey and discover his genuine appreciation for the city, watch this video with the link below!