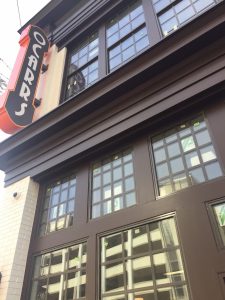 New year, new NEWS on some exciting City Center development projects! We'll keep you updated throughout 2017 as these projects move to Grand Openings.
O'CARR'S
If you've ever remodeled an older home, you know evolving plans and revised timetables are part of the process. Same thing holds true when renovating older buildings…just ask  June and Cameron Carr, who have been renovating the building they purchased at 214 20th Street North, near the Lyric and Alabama Theatres.
In the past few months, not only did they complete the ground-floor renovation of O'Carr's Restaurant (welcome back downtown, guys! Woop-woop!), but they have also built out two rental units on the second floor and their own residential loft on the third.
Cameron Carr recently told us things are on track — the rental units are now available for lease and the downtown O'Carr's will open by the end of January.  Call 422-5100 for loft details. Trust us, these units will move fast!
Gray Construction  
Just up the street from O'Carr's, Gray Construction's Alabama office has joined the neighborhood! Gray Construction is renovating its spectacular new space at the corner of 3rd Avenue North & 18th Street. Way to go and welcome, you guys!
Related News
Filed Under: Downtown Birmingham, Filling Vacant Spaces, Front Page

Birmingham's city center is fortunate to have many of its iconic historic buildings restored and in daily use now. But where would Birmingham be without the buildings in between the landmarks? 

Filed Under: Downtown Birmingham, Front Page

Coming from a place where people did not necessarily receive the help they needed, Jessica is striving to be that person as CAP's Street Outreach Advocate in Birmingham's City Center. 

Filed Under: Downtown Birmingham, Front Page

Downtown Birmingham residents, workers and visitors will notice something new about CAP in early 2019. As part of its strategy to be more visible, approachable and helpful in the City Center, CAP is rolling out new helpful gadgets in downtown.