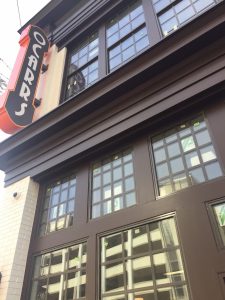 New year, new NEWS on some exciting City Center development projects! We'll keep you updated throughout 2017 as these projects move to Grand Openings.
O'CARR'S
If you've ever remodeled an older home, you know evolving plans and revised timetables are part of the process. Same thing holds true when renovating older buildings…just ask  June and Cameron Carr, who have been renovating the building they purchased at 214 20th Street North, near the Lyric and Alabama Theatres.
In the past few months, not only did they complete the ground-floor renovation of O'Carr's Restaurant (welcome back downtown, guys! Woop-woop!), but they have also built out two rental units on the second floor and their own residential loft on the third.
Cameron Carr recently told us things are on track — the rental units are now available for lease and the downtown O'Carr's will open by the end of January.  Call 422-5100 for loft details. Trust us, these units will move fast!
Gray Construction  
Just up the street from O'Carr's, Gray Construction's Alabama office has joined the neighborhood! Gray Construction is renovating its spectacular new space at the corner of 3rd Avenue North & 18th Street. Way to go and welcome, you guys!
Related News
Filed Under: Downtown Birmingham, Front Page, Uncategorized

We've talked about sports, but downtown has so much more to offer! Downtown Birmingham has so many experiences in store for you, which can also turn into life-long memories. And lucky for you, we've created a tool to make all that exploring so much easier!

Filed Under: Downtown Birmingham, Front Page, Potential-Proving

We are approaching the finish line for the 20th Street Refresh, which calls for a celebration – and you're invited! The City Center Business Improvement District (BID), funded by downtown property owners, is partnering with the City of Birmingham and REV Birmingham to celebrate a refreshed Birmingham Green. Come join the party on May 20th from 4 to 8 p.m (with a special celebration happening at 6 p.m.)!

Filed Under: Developer, Downtown Birmingham, Front Page, Potential-Proving, Uncategorized

If you've been paying close attention, you may have noticed that we've been hinting at a new Linn Park project coming soon – and we're finally ready to share it with you! A planning process to redesign and reactivate Linn Park kicked off recently when public and private organizational partners met on site with the nationally acclaimed park designers OJB Landscape Architecture (OJB) to begin an eight-month master plan development process to improve Linn Park.