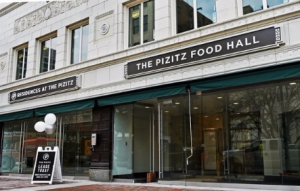 We are thrilled to announce the opening of REVeal Kitchen in the newly renovated Pizitz Food Hall! REVeal Kitchen will serve as an accelerator for Birmingham's up-and-coming restaurateurs, who will rotate every four to six months. The stall will offer culinary graduates of Create Birmingham's CO.STARTERS program (an initiative REV is proud to partner on) to improve their business models and establish early customer bases.
The first occupant of REVeal Kitchen will be Tropicaleo, a Puerto Rican-inspired "fresh casual" restaurant owned by Maria Isabel Medina and her husband, Gabriel Marrero. Maria and Gabriel are both past participants of BIZ 1.0, (REV Birmingham's business introductory workshop), alumni of the ten-week CO.STARTERS program, and recent first-place winners of The Big Pitch, presented by PNC (our live, Shark Tank-styled pitch competition).
The REVeal Kitchen accelerator will give participants a short-term opportunity in a move-in ready space to tackle everything it takes to run a restaurant.  At the same time they're perfecting their operating model and building an early client base, future tenants will also be working with REV's real estate team to identify space for their permanent brick and mortar restaurants, and identifying the resources needed to shrink the timeline between leaving REVeal and landing in a permanent location. In addition, REV team members will help startups adjust their business models based on lessons learned, while also working to secure financing and other resources needed for sustainability.
Pulling off an innovative offering like REVeal Kitchen required strong collaboration with community and corporate partnerships. Bayer Properties, developers of The Pizitz Residences and Food Hall were critical to the vision. Sponsors like Buffalo Rock, Red Diamond, Regions,Wood Fruitticher, the Ellen and Fred Elsas Fund and the Alice Meriwether Bowsher Fund, Appleseed Workshop and Maynard Cooper & Gale – among others – were instrumental in making this project a reality.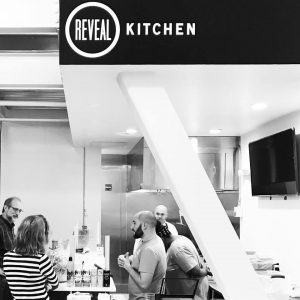 "REVeal is getting national attention," said Deon Gordon, Director of Business Growth for REV. "The great people at Bayer Properties have long been our partners. As they dreamed up the food hall idea, they offered us an opportunity to secure one of the stalls to showcase some of the new culinary talent our City has to offer. Saying 'yes' was a no-brainer."
Gordon also acknowledged the inspirational stories of these sponsors who, like our REVeal Kitchen hopefuls, started as small operations in Birmingham and grew to become major players on the national stage.
"Regions Bank, Buffalo Rock and Wood Fruitticher are great testimonies to what we can achieve here," Gordon said. "Regions is our state's only Fortune 500 company, and has proven, time and time again, to be a consistent leader in civic engagement and investment across this community. For more than a century, Buffalo Rock has built an local iconic brand into a national power. And, Wood Fruitticher started as a small family business before becoming of one of the industry's largest food- and restaurant-related product distributors."
Tropicaleo at REVeal Kitchen has kicked off with a soft opening and will celebrate, along with their other culinary neighbors, the grand opening of The Pizitz Food Hall within weeks.
Related News
Filed Under: Big Pitch, Front Page, Small Business, Uncategorized

If you've been following REV for a while, you probably remember The Big Pitch Competitions we used to hold back in the day. The Big Pitch presented by PNC was essentially our own little version of Shark Tank. And a lot of your favorite local businesses that participated in this competition now have active retail storefronts that you can go check out. Let's start with some of our finalists that are based in the City of Birmingham and see what they've been up to!

Filed Under: Front Page, Small Business, Uncategorized, Woodlawn

We're so excited to welcome yet another new business to the Woodlawn Community! Thrive Wellness Lounge is a plant-based health and wellness store in the heart of Woodlawn owned by Tish Fletcher (a veteran Woodlawn Street Market vendor – whoop whoop)! You can swing by and check out Woodlawn's newest addition on Tuesday – Saturday from 11:00 a.m. – 5:30 p.m. It's always a good time to support a female, black-owned local business! We talked to Tish a little bit more about her journey to opening her very own brick and mortar store. Keep reading to learn more!

Filed Under: Business-Proving, Front Page, Small Business, Uncategorized, Woodlawn, Woodlawn Street Market

It's our favorite time of the month again – Woodlawn Street Market time! Woohoo! This month's market will be held on August 13, 2022, from 5-9 p.m. and it's a night market – because we all know how bad that Alabama heat can get! Keep reading to check out the vendors that will be featured at this month's market.