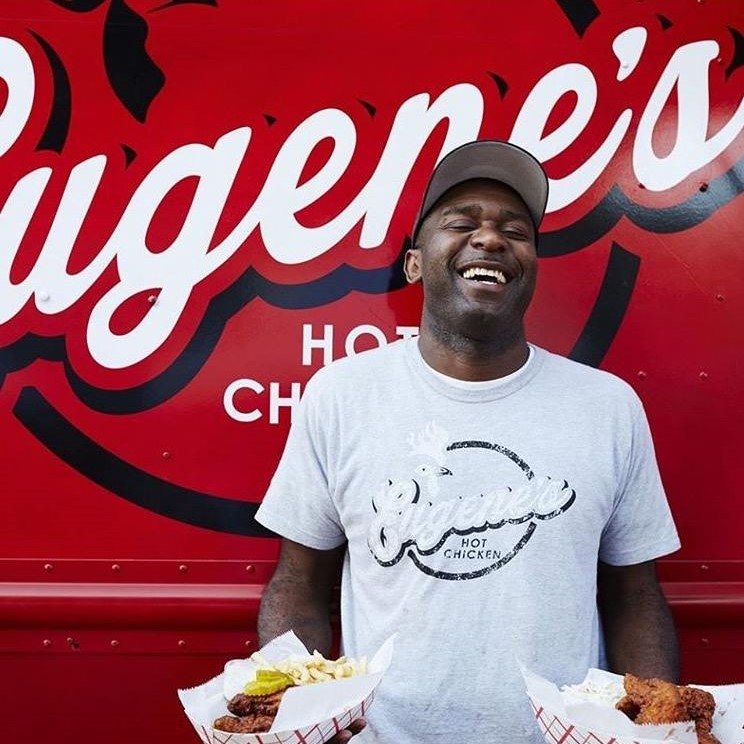 Eugene's is already the king of hot chicken in Birmingham, but the man behind the popular food truck and restaurant has even bigger plans.
Owner Zebbie Carney will pitch his plan for a North Birmingham commissary kitchen at the upcoming Rise of the Rest tour stop in Birmingham. Eight Birmingham businesses will make their pitch at the Wednesday, May 9 event. They'll be competing for a $100,000 investment from the Rise of the Rest Seed Fund, which is backed by entrepreneurs, investors and executives such as Eric Schmidt (Google/Alphabet), Jeff Bezos (Amazon), Howard Schultz (Starbucks) and Meg Whitman (Hewlett Packard/NewTV).
"To operate more trucks, we need a commissary," Carney said. "There are only a few commissaries in the area and none that really cater to food trucks. I decided to participate because a commissary is needed not only for us to grow but for other food trucks to grow as well. We plan to open it in North Birmingham in an old restaurant, which would also bring more business to that area of town."
Birmingham's other competitors are Help Lightning, Mixtroz, O3 Solution, Shine E Solar, Smart Alto, S(w)ervice and Tappas. The pitch competition will start at 5:30 p.m., after networking and a Fireside Chat with Steve Case, co-founder of AOL, and J.D. Vance, author of "Hillbilly Elegy." Event registration is free, but the event is already full. (You may join the waiting list here.)
Winning Rise of the Rest would speed Carney's timeline, but regardless of the competition's outcome, he says he will open a commissary kitchen. And Carney's history leaves little room for doubting his word.
The road to Birmingham
Carney, a Nashville native, had always wanted to own his own restaurant. An executive chef for 10 years, Carney purchased a couple of Nashville properties he thought he could develop into that dream. He polished his hot chicken restaurant concept and presented it to Nashville banks and investors. Pitch after pitch, he was turned down.
But as Nashville grew in popularity, Carney saw a new kind of opportunity. He stuck For Sale signs on his Nashville properties, which were quickly purchased, and packed his belongings. Carney used his real estate earnings to buy a home in a city with an emerging food scene and promising business potential: Birmingham.
"I'm from Nashville and hot chicken has been around there forever, but the rest of the world did not know about it. I just decided to open a hot chicken joint here in Birmingham; I felt it was needed," said Carney.

Eager to start his business on the right foot in Birmingham, Carney competed as a finalist in REV's 2015 Big Pitch, Presented by PNC, business pitch competition and then enrolled in CO.STARTERS, Create Birmingham's 10-week business development program on which REV partners.
"I didn't win The Big Pitch, but it was still an awesome experience. I met so many service providers and so many mentors that led me on the path to CO.STARTERS," Carney said. "I started with the Big Pitch and then I went to CO.STARTERS and then I got started with the business. It doesn't really matter how you go in [to the Birmingham business ecosystem] as long as you keep going with your idea. Keep going, follow your dream, and make it a reality."
Hot chicken is hot!
In the early days, a brick-and-mortar location was out of Carney's budget, but a food truck was the perfect starting point. Carney purchased his truck, lovingly called Matilda (also known as Big Red), in 2015, and Birmingham was soon lining up from parks to parking lots for a taste of Eugene's Hot Chicken.
The red truck quickly became a Birmingham favorite, and growing demand for a brick-and-mortar location pushed Carney to start touring properties. He opened his Uptown location in 2016.
A true (and fast!) Birmingham success story, Carney actively gives back to the local entrepreneurial community, mentoring business owners who are working with REV's business growth team.Follow Eugene's Hot Chicken on Facebook, Twitter and Instagram and find them online at eugeneshotchicken.com.
Related News
Filed Under: Business-Proving, Front Page

All too often we catch ourselves reading the news wanting to help, but not knowing where to begin. That's why Maria Underwood created Fundrage, a social impact platform that connects users to nonprofits they can support based on the exact news article that they're reading. Keep reading to find out more about how this app is playing a huge role in creating positive change in real time!

Filed Under: Downtown Birmingham, Front Page, Potential-Proving, Uncategorized, Yaysayers

This Friday, May 20th, we will be having a (20th) Street Party (which you can read more about here) to celebrate the end of our Birmingham Green Refresh! While this certainly calls for a celebration, the party doesn't stop there. We will still be adding some finishing touches to the street after the (20th) Street Party. These additional touches will help make Birmingham's main street more vibrant, interactive, and efficient! Additions will include smart trash cans, free libraries, street performers, and more!

Filed Under: Downtown Birmingham, Front Page, Uncategorized

We've talked about sports, but downtown has so much more to offer! Downtown Birmingham has so many experiences in store for you, which can also turn into life-long memories. And lucky for you, we've created a tool to make all that exploring so much easier!