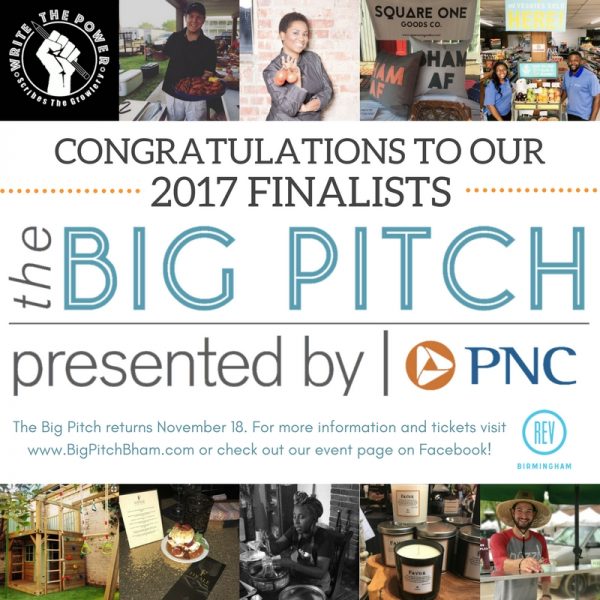 We are proud to announce the top ten finalists for THE BIG PITCH, presented by PNC. The finalists, who will be competing for their shot at start-up capital and professional services, will pitch their business models to a panel of judges, potential investors, and a live audience on Saturday, November 18 from 12 to 4 p.m. at The Negro Southern League Museum. In addition to a cash prize, the top three winners will receive a suite of professional services from our sponsors.
Here are the 2017 BIG PITCH finalists:
Bayou Bros / Haden Smith and Ben Olivier: A food truck serving tasty, traditional Cajun food in Birmingham.

Boost Kids / Shea Beshara: A therapy and yoga clinic that helps kids build the developmental skills they need to fully participate in and enjoy life.

Favor Candles / Lisa Marie McGilberry and Susan McCurry:  Inspirational candles born from two sisters' prayers for favor.

Finale / Shatysha Billingsley: A chic, late-night lounge offering fine wines and decadent desserts.

Flowers Teapot / Yolanda Flowers: A tea shop in the heart of Woodlawn serving homegrown brews.

Nuzzi Gelatto / Ian Iannuzzi: Local dessert cart using traditional Italian techniques to make creamy, flavorful, artisan gelato and sorbetto.

R&M Convenience Store / Rodriquez and Brianna Cowans:  A family owned and operated grocery promising neighbors reliable and trustworthy service.

Scribes The Growlery / Al Elliott: A coffee and signature drink shop where creatives can share, write, think, and enjoy live artistic entertainment.

Square One Goods / Kate Hardy: A cheeky shop that raises smiles through cards, stationery and gifts.

The Preservery / Andrea Craig-Foster: A fine dining soul food fusion concept that aims to move from private dinners to brick and mortar.
We couldn't quite stop at 10 finalists this year thanks to a remarkable local 17-year-old. BIG PITCH applicant Rae'Mah Henderson did not meet the age requirement to qualify as a finalist, but her ambition and work ethic impressed the selection committee so much that she has been invited to participate as a competitor-in-training. Although not eligible for prizes, Rae'Mah will receive business mentoring and will pitch her business, Yobi Salads Express, at the live event as a learning experience.
Make plans to join us at THE BIG PITCH on November 18! Get your tickets now at www.bigpitchbham.com, and follow REV Birmingham on Facebook, Twitter and Instagram to see profiles, photos and videos of the finalists.
Related News
Filed Under: Downtown Birmingham, Front Page, Yaysayers

Downtown Birmingham is full of beautiful buildings, both new and old! A good portion of those buildings consist of churches, and while many of them are beautiful to look at, they also have a rich history that often gets overlooked.