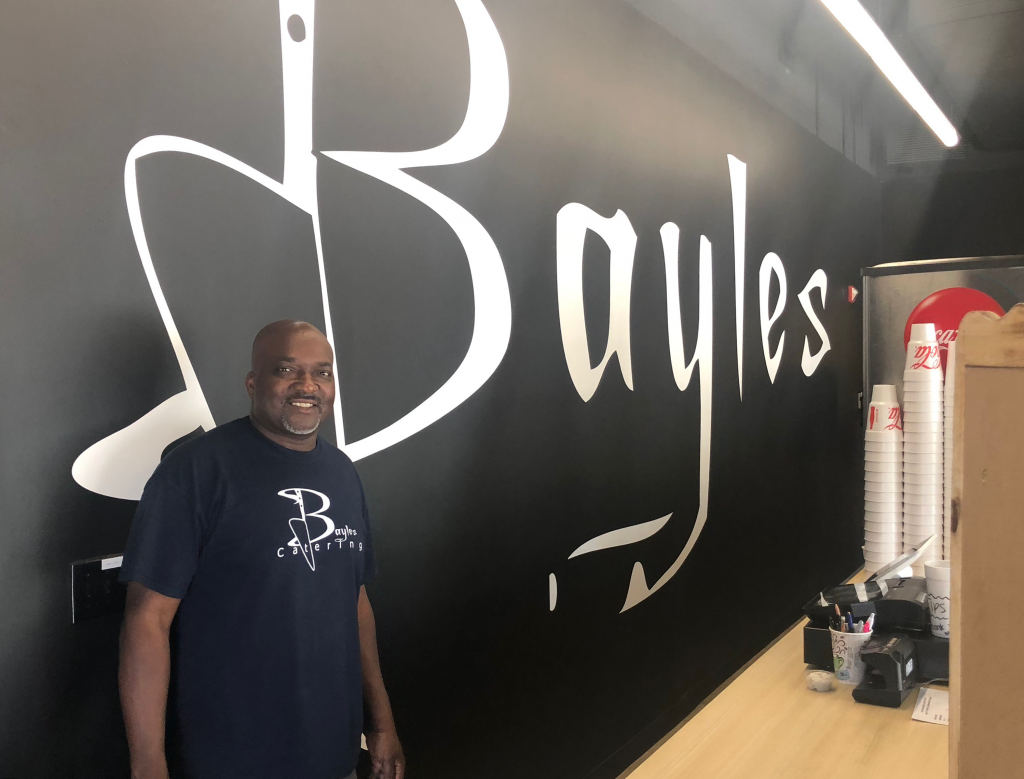 The Birmingham community of Woodlawn has recently seen economic growth through the renovation of an existing but dilapidated building that now houses a restaurant, a bakery and a fresh produce distribution center at 5829 1st Avenue North. Woodlawn Foundation, in collaboration with REV, created an opportunity for two businesses to expand their footprint to address a growing demand for their products.
Bayles Catering and Restaurant was formerly located at a small walk-up storefront along 1st Avenue North.  Business owner Tony Bayles was seeing an increase in his successful catering business and began working with REV's Business Growth team to scale his operation. He was in need of larger space as well as a proper dining room for his customers to be able to enjoy their food onsite.
Velvet Kake owner Kenya Pickens was seeking retail space to display and sell her bakery items and expand her custom cake business. She strengthened her business concept through programs like REV's BIZ 1.0 Startup Essentials workshop and Woodlawn Street Market. She also completed Create Birmingham's 10-week CO.STARTERS program.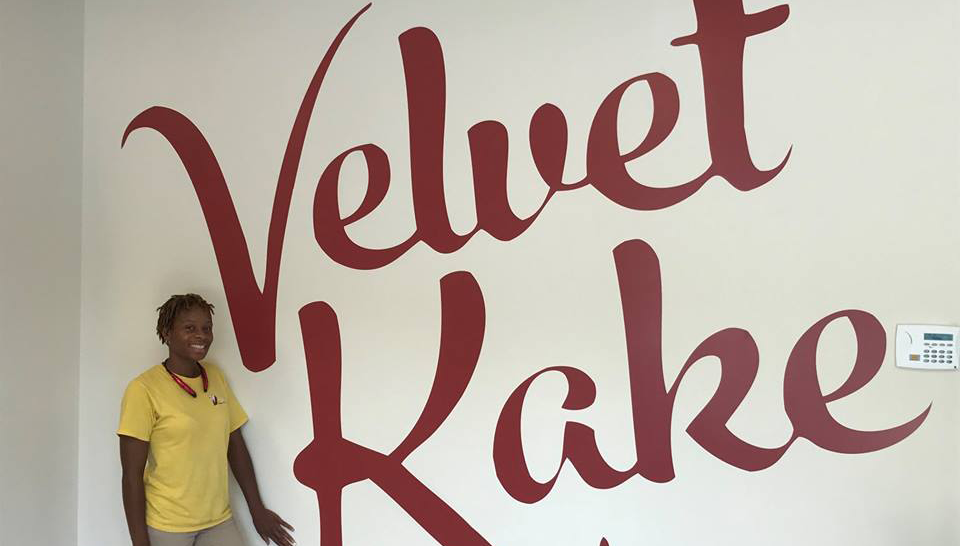 The new space was designed by Design Initiative, built by Murray Building Company and was completed in April. Bayles Catering and Restaurant now has seating for more than 40 and offers an expanded menu as well as soul food offerings each Sunday.  Velvet Kake now offers Woodlawn's first "bake-tique," a boutique bakery featuring cake by the slice, pies and other sweet treats. The store also has extra space for the Velvet Kake team to meet with customers about custom orders.
"Both Mr. Bayles and Ms. Pickens are shining examples of the economic opportunity we have to offer here in Woodlawn," says Joe Ayers, Real Estate Director for Woodlawn Foundation.  "We're excited to not only fill a need here in our community but also provide a platform upon which they can grow their respective businesses."
REV Birmingham's Urban Food Project (UFP) hub is also housed in the building's west end and is continuing to build a robust local food economy while increasing healthy food access throughout the city. Farmers bring their Alabama-grown food to this distribution hub, and the UFP team delivers the produce each week to Birmingham restaurants and corner stores located in food deserts. Originally operating out of the space that is now Woodlawn Cycle Cafe, UFP moved to its current location in 2015 prior to renovation.
"In a community visioning process, Woodlawn residents identified a sit-down dining experience as something that was missing but highly desired in the neighborhood," said David Fleming, CEO of REV Birmingham. "This project is not only an example of the community leading the way to an outcome the community wants, but also of growing small businesses and filling vacant spaces – a win-win-win for Woodlawn. Bayles' and Velvet Kake's expansion creates more foot traffic and increased vibrancy in Woodlawn."
Bayles Catering and Restaurant (www.baylescatering.com) is open for breakfast and lunch Monday – Friday with a special menu on Sunday.  Velvet Kake (www.velvetkakellc.com) is open Tuesday – Friday: 10 a.m. – 5 p.m. & Saturday: 10 a.m. – 3 p.m.
Follow Bayles on Facebook, Twitter and Instagram!
Follow Velvet Kake on Facebook and Instagram!

Related News
Filed Under: Big Pitch, Front Page, Small Business, Uncategorized

If you've been following REV for a while, you probably remember The Big Pitch Competitions we used to hold back in the day. The Big Pitch presented by PNC was essentially our own little version of Shark Tank. And a lot of your favorite local businesses that participated in this competition now have active retail storefronts that you can go check out. Let's start with some of our finalists that are based in the City of Birmingham and see what they've been up to!

Filed Under: Front Page, Small Business, Uncategorized, Woodlawn

We're so excited to welcome yet another new business to the Woodlawn Community! Thrive Wellness Lounge is a plant-based health and wellness store in the heart of Woodlawn owned by Tish Fletcher (a veteran Woodlawn Street Market vendor – whoop whoop)! You can swing by and check out Woodlawn's newest addition on Tuesday – Saturday from 11:00 a.m. – 5:30 p.m. It's always a good time to support a female, black-owned local business! We talked to Tish a little bit more about her journey to opening her very own brick and mortar store. Keep reading to learn more!

Filed Under: Business-Proving, Front Page, Small Business, Uncategorized, Woodlawn, Woodlawn Street Market

It's our favorite time of the month again – Woodlawn Street Market time! Woohoo! This month's market will be held on August 13, 2022, from 5-9 p.m. and it's a night market – because we all know how bad that Alabama heat can get! Keep reading to check out the vendors that will be featured at this month's market.