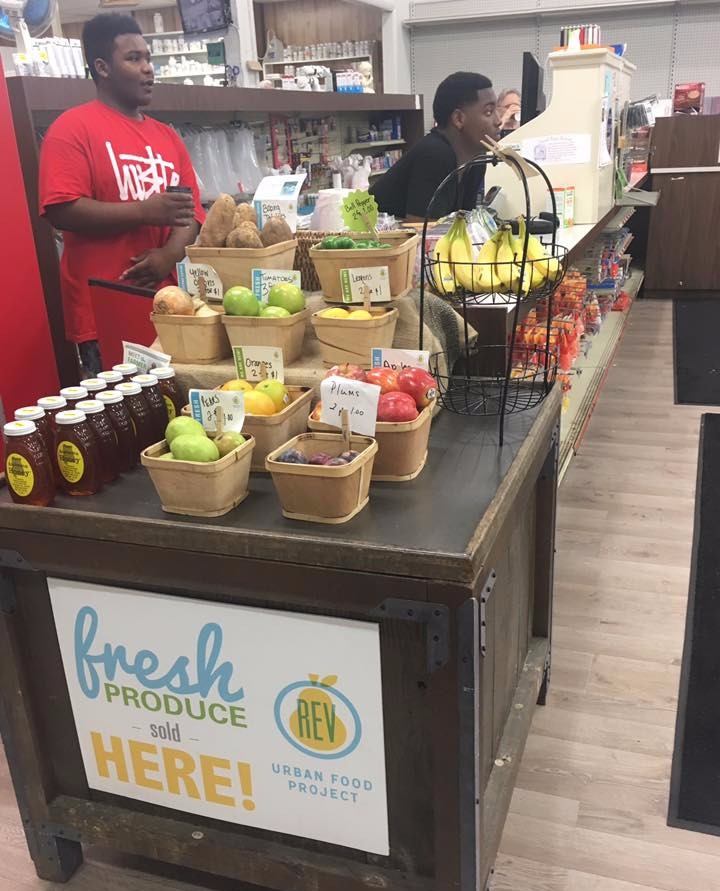 A downtown Ensley drug store is getting praise for expanding their definition of prescriptions into healthy living. Main Street Alabama presented Jimmy and Karen Crane of Gilmer Drug in Ensley with a Community Award on Wednesday, October 11 at 10 a.m. for their excellence in neighborhood place-making. With support from REV Birmingham's Urban Food Project, the Cranes are finalizing improvements to the store's physical space and diversifying products to better meet the needs of the Ensley neighborhood.
Gilmer helps reduce the barriers to accessing fresh produce that many Ensley residents encounter because of limited public transportation or access to personal vehicles.  Through the Urban Food Project's Farm to Corner Store Initiative, REV delivers fresh produce to the store weekly and supported creation of a store improvement plan that is now coming to fruition.
After a year-long store improvement process, Gilmer Drug's commitment to Ensley is visible in recent renovations made possible in-part by the Joseph S. Bruno Charitable Foundation. After gathering input through community surveys and temporary place-making, Gilmer now includes an in-store community gathering space. REV partnered with Gilmer to bring Alabama Cooperative Extension (ACES), Community Food Bank of Central Alabama, Regions Financial and other service providers to offer services to residents, making Gilmer Drug an even stronger pillar of the community. Following the award ceremony, ACES  provided the first of four wellness classes called "Champion: Let's Get Physical."
For twenty years, the family-owned-and-operated business has filled more than 150 prescriptions each day.  The business is housed in a 100+ year-old building brimming with character. The business serves as a pharmacy and small retailer for senior citizens and their families.  Gilmer is located at 413 19th Street Ensley, Birmingham, AL 35218.
See photos of the store improvements and the award presentation on REV's Facebook page.
Related News
Filed Under: Filling Vacant Spaces, Front Page, Get Involved, Small Business

In less than a year after arriving in the United States, the Vyshyvanyuk family, who recently fled from Ukraine, is now launching NiEl' Bridal Atelier, a custom wedding dress and alterations business in Forest Park. Olena and Mykola Vyshyvanyuk, along with their three children – Viktoriia Vyshyvanyuk, Eva Vyshyvanyuk, and Loanna Vyshyvanyuk – made the courageous decision to leave Ukraine on November 7, 2022. This family's inspiring story serves as a testament to the boundless opportunities that small businesses can achieve in Birmingham.

Filed Under: Business-Proving, Downtown Birmingham, Filling Vacant Spaces, Front Page, Small Business

Are you a startup looking for a foot in the door? Did you know we have an accelerator program that helps founders begin their entrepreneurial journey right here in the Switch district? TechStars is a dynamic three-month program that empowers entrepreneurs in their quest to discover product-market fit, gain traction, and access both capital and global mentorship. Operating in more than 30 cities worldwide, Techstars added Birmingham as a host for their energy-focused cohort.

Filed Under: Front Page, Small Business, Woodlawn, Woodlawn Street Market

The Woodlawn Street Market is a platform for small businesses to showcase their talents and products. From handmade jewelry to locally sourced produce, you can find a wide variety of items that highlight the creativity and craftsmanship of the Birmingham community Among the talented individuals who have found a home in this vibrant marketplace is none other than Johnathan Westbrook, fondly known as Jon Jon, and the majority owner of the Broncho Food Truck. This new food truck made its debut back in August and will be back again for this week's market.