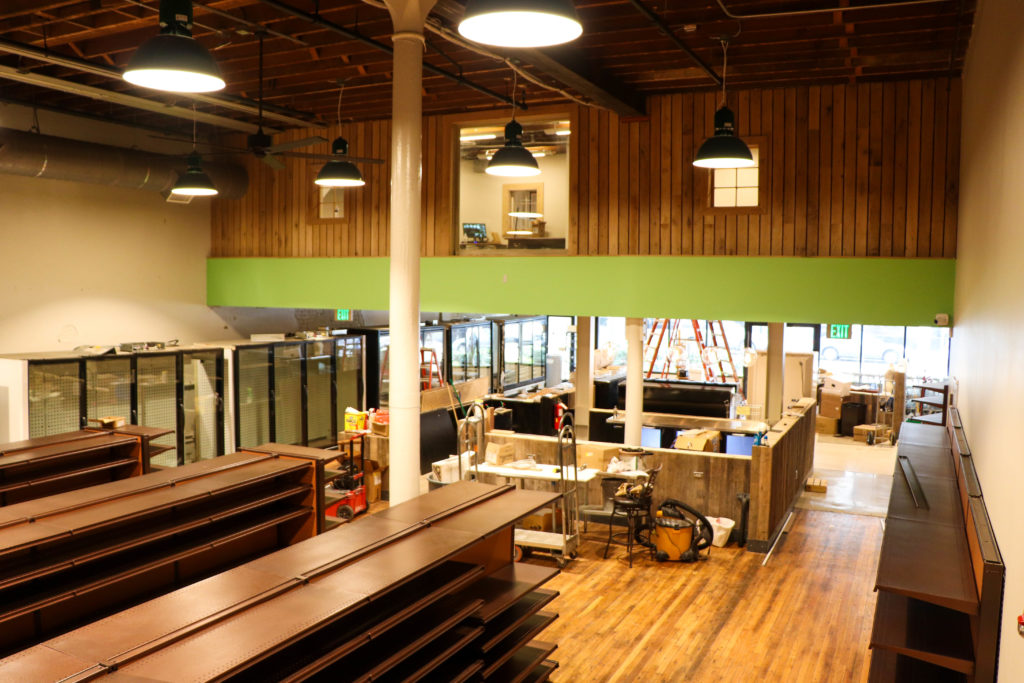 Health food options are among the greatest demands in growing urban business districts. Harvest Market (formerly known as Organic Harvest) is opening a location to meet that demand in downtown Birmingham in May 2019. The store will provide locally-sourced food – from groceries to lunch to juices and coffee – in a convenient location for those who live or work in the heart of the city. 
Three thousand new residents in the City Center have driven demand for diverse health food options in the urban core. With about 10,000 individuals working within a one-block radius of the new store at 1924 2nd Avenue North, Jeff Gentry, one of the operators, hopes he has found the perfect location for his new store.  
"We are trying to carry different products you cannot get at Publix," said Gentry. "We have some really good relationships with farmers and people you see at Pepper Place sourcing as many local products as we can." 
The vision for Harvest Market was formed through a collaboration of partners with knowledge of retail and Gentry's experience in grocery distribution. As they prepared for their downtown build out and opening, they worked with REV on communications and navigating the City of Birmingham financial incentives and licensing processes. 
"Fresh, healthy food is integral to a vibrant community," said REV Director of Recruitment & Growth Taylor Clark Jacobson. "Harvest Market's decision to locate downtown creates access for residents, employees and bus commuters to healthy options. While Publix was an enormous win for downtown, a second grocer with a strong community focus is, in some ways, an even bigger win. This development will improve quality of life while catalyzing further development on the block. That cross-section is an awesome case study of what the REV team is advocating for daily."
Walking through the door, patrons will be greeted with an array of grocery items displayed on wooden shelves and counters. Customers will have several places to relax and enjoy products available for purchase at one of several bars: coffee, salad, juice or grab-n-go meals. With complementary Wi-Fi, the team at Harvest Market is creating more than just a transactional experience; they envision Harvest Market as a downtown destination. 
"Eating right should not be a privilege, and we want to change that."
Partnering with Southern Organics in Shelby County and other local farmers, the salad bar will be predominately stocked with local lettuces and produce based on seasonal availability. Across the store at the meat department, the in-house butcher will hand cut steaks. The adjoining grab-n-go station will be stocked with pre-made café-style meals and sandwiches. 
The stairs at the back of the store lead to a mezzanine with couches, chairs, tables, televisions and  counter space, where customers can enjoy their coffee and snacks. The mezzanine and a conference room are also available for rental.  
At the downtown Harvest Market, customers will also find: 
Wine 
Supplements 
Pet food 
Small selection of hardware 
Harvest Market owners say they welcome anyone willing to work and will prioritize hiring from within the community. "If people want to work, we are trying to give them the opportunity to do so," Jeff said. 
The store also hopes to provide educational resources on wellness and healthy eating through classes and additional platforms. The on-staff wellness and supplement team, along with vendors, will host events and classes that will often involve free food. 
"Eating right should not be a privilege, and we want to change that," Jeff said.
Related News
Filed Under: Big Pitch, Front Page, Small Business, Uncategorized

If you've been following REV for a while, you probably remember The Big Pitch Competitions we used to hold back in the day. The Big Pitch presented by PNC was essentially our own little version of Shark Tank. And a lot of your favorite local businesses that participated in this competition now have active retail storefronts that you can go check out. Let's start with some of our finalists that are based in the City of Birmingham and see what they've been up to!

Filed Under: Developer, Downtown Birmingham, Filling Vacant Spaces, Front Page, Potential-Proving, Uncategorized

Have you been to Downtown Birmingham's newest development located on 25th Street? If not, you need to head down there ASAP and check it out! This new single story development is a product of a collaboration between David Baker Architects (DBA) and Locke General Contractors, led by DBA's very own Amanda Loper. It is intended to be a "collaborative commercial space in a catalyst development area of Birmingham." Both DBA and Locke General Contractors will be tenants of the space, along with June Coffee Roasters, Zephyr Barber, and Last Call Baking Cooperative!

Filed Under: Downtown Birmingham, Events, Front Page, Uncategorized

One of Birmingham's many hidden treasures is the music scene downtown. The sheer volume of concert venues we have in downtown Birmingham is something most people aren't even aware of – but it really is remarkable! There is truly something for everyone, whether you're into the smaller, more intimate venues or the large-scale venues for those big name artists. Keep reading to check out some of the cool venues downtown Birmingham has to offer.