There's no doubt that things will look different as Birmingham's eateries and bars open their doors to welcome back patrons. Customer and employee safety will definitely be top of mind for the city's bustling culinary scene, so things may look a little different as they adhere to new safety rules. Here are some examples of what restaurants in other cities and states are doing to promote social distancing:  
Tampa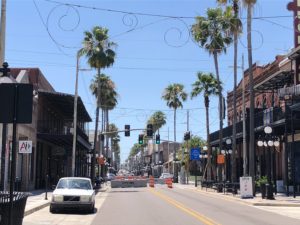 As a part of the city's Lift Up Local Recovery Plan, both restaurants and retailers are allowed to extend their footprint out into city streets and into privately-owned parking lots. All seating —both indoors and outdoors—must be spaced 6-feet apart. And, indoor seating is capped at 25-percent occupancy. Restaurants are also encouraged to give out paper menus and use contactless ordering and payment methods. More info here.  
Cincinnati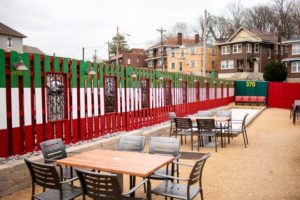 Starting Friday, May 15, 25 streets will close to allow for more outdoor seating for restaurants downtown and in the Over-The-Rhine area, according to The Cincinnati Enquirer. "Restaurants are critical to the vibrancy in our urban core," Cincinnati Mayor John Cranley told the outlet. "Shutting down streets and lanes to expand dining so people can come back downtown and get delicious meals will be great." According to the news outlet, the plan will also extend to neighborhood bars and restaurants.  
California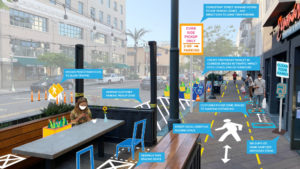 Studio One Eleven suggests that cities in California use proven methods such as parklets and flex zones to expand outdoor seating options. Parklets, used in Long Beach in 2011, involve converting some curbside parking spaces into dining areas. Flex zones temporary pop-up dining areas marked off using colorful spray chalk designs. See more of their suggestions here.  
Vilnius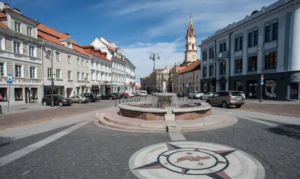 Other countries are also tackling the outdoor seating conundrum. Vilnius, the capital of Lithuania, will turn most of the city into an outdoor café in hopes of helping out its bar and restaurant industry.  So far, 18 public spaces have opened up, with more expected soon. Read more from The Guardian.  
Related News
Filed Under: Business-Proving, Front Page

All too often we catch ourselves reading the news wanting to help, but not knowing where to begin. That's why Maria Underwood created Fundrage, a social impact platform that connects users to nonprofits they can support based on the exact news article that they're reading. Keep reading to find out more about how this app is playing a huge role in creating positive change in real time!

Filed Under: Downtown Birmingham, Front Page, Potential-Proving, Uncategorized, Yaysayers

This Friday, May 20th, we will be having a (20th) Street Party (which you can read more about here) to celebrate the end of our Birmingham Green Refresh! While this certainly calls for a celebration, the party doesn't stop there. We will still be adding some finishing touches to the street after the (20th) Street Party. These additional touches will help make Birmingham's main street more vibrant, interactive, and efficient! Additions will include smart trash cans, free libraries, street performers, and more!

Filed Under: Downtown Birmingham, Front Page, Uncategorized

We've talked about sports, but downtown has so much more to offer! Downtown Birmingham has so many experiences in store for you, which can also turn into life-long memories. And lucky for you, we've created a tool to make all that exploring so much easier!