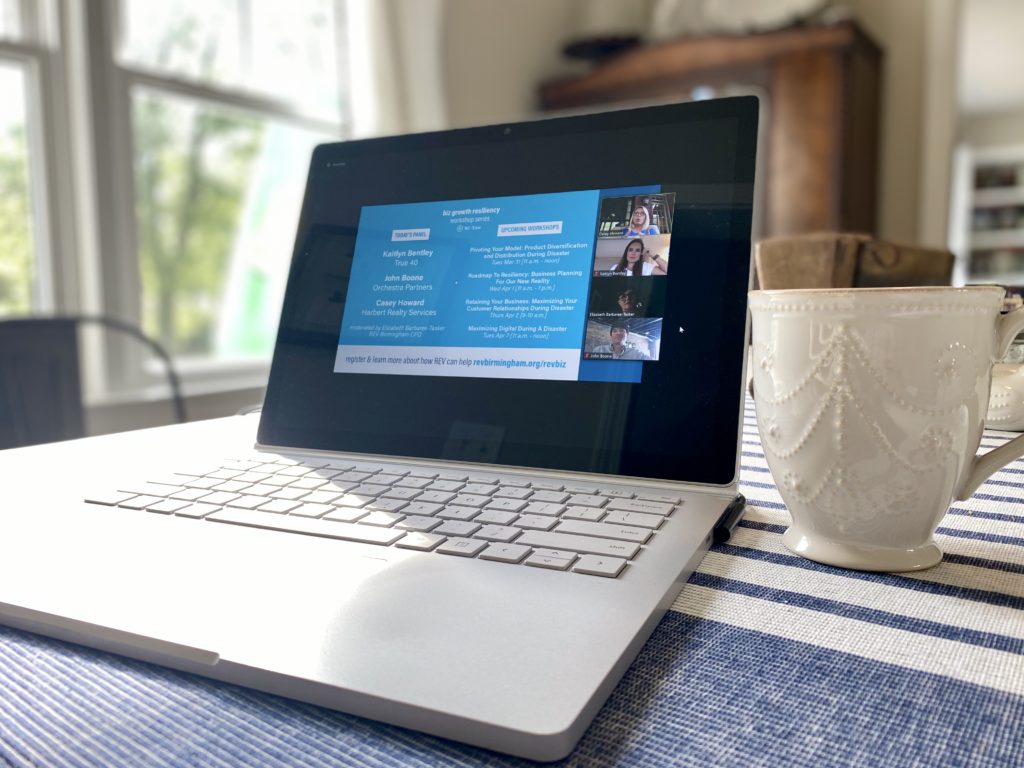 By Elizabeth Barbaree-Tasker
REV Birmingham CFO
The first first-of-the-month since COVID-19 entered our state is approaching. If you're a small business owner wondering what to do about your upcoming rent, you're not alone.
The economy has been upended for both landlords and tenants, and now is the time to take stock of what your lease agreement says and prepare to talk to your landlord about your needs. 
Here are some tips from the REV Biz Team to make your conversation as productive as possible. Plus, make sure to watch REV's full virutal panel discussion from March 27 and register for upcoming workshops! Tips continue below.
FREE WEBINAR VIDEO
Navigating Your Commercial Lease in a Disaster
Led by Elizabeth Barbaree-Tasker, REV's Chief Operating & Finance Officer 
In this facilitated discussion from March 27, you'll gain perspective from property owners, brokers and small businesses about how Covid-19 is impacting their leases, lending and the future of businesses and properties. Watch this webinar video to gain a better understanding of how tenant and property owner relationships can be navigated during a time of economic strain.  
Panelists:
John Boone, Orchestra Partners
Casey Howard, Harbert Realty
Kaitlyn Bentley, True 40 
1. Understand your relationship.
The drastic shifts in the economy as a result of COVID-19 are testing a fundamental aspect of commercial real estate—the relationship between landlord and tenant. 
Remember: it's a two-way street. While a small business owner depends on the landlord to provide a space to do business, the landlord depends on their tenant to provide rent payments that allow them to meet their financial obligations. When there are disruptions to these arrangements on either side, there are actions defined in the lease. 
Take a look at your current relationship. Do you have regular discussions with your landlord, outside of an emergency like we are currently in? Have you spoken with your landlord recently and do you have a plan in place? Often, landlord-tenant relationships can become more "mailbox–oriented" (where you are simply dropping a rent check in the mail). If that's the case, now is a great time to schedule a meeting.
2. Know your lease.
Review your current lease. Yes, you need to refresh your understanding of the timeframe, rent payment and late charges. But it's time to pay special attention to any special clauses that reference "acts of God" or other unavoidable acts. You should also review the default section to understand when unmet conditions or issues will cause a default, and read the landlord's potential options as spelled out in the lease. Many times, if you do not communicate and follow the lease provisions for doing so, a skipped payment may force or allow the landlord to use this act of default to reclaim the space. 
Following the "rules" of communication outlined in the lease is the best approach to take (more about that in #6). If you do not understand the lease terms, this is another good time to seek input from an attorney or at least a service provider like REV to help you understand specific sections and how they are interrelated. 
3. Know your numbers.
The next important task is to look back at your accounting and to be prepared to answer questions about your past cash flow, current and expected income, and necessary expenses to keep your business running. Remember, the landlord is looking for a tenant who will be a strong, successful business operator over the length of the lease, maybe even longer. Having a tenant that is a cooperative partner who pays the rent and operates a successful business makes the landlord's job easier. Good landlords want to discuss your business operations so they better understand your needs and support you in meeting your business goals. There may be simple adjustments that would be mutually beneficial, but you need to be prepared to discuss the state of your business openly and honestly to reach this level of partnership.  
4. Prepare for the call.
Start with a rough agenda to make sure you know what questions you want to ask and what would reasonably help you more forward. Develop multiple scenarios for what your business operations could look like in the coming weeks and months—a best case, a worst case, and a few options in the middle—and use that to better understand what you really want and feel comfortable with. Think through possible responses from the landlord, so that you're prepared for those potential answers. And be prepared to hear what matters to your landlord as well. You can't prepare for everything, but you can make sure that you think through several possible situations and what they mean for your business, and prioritize the questions most pressing to you. 
Realize that yours may not be the only conversation like this the landlord is having. Recognize that they, too, are sorting out how to move forward and still meet their financial obligations. It is easy in times of stress to want answers immediately, but not all questions can be answered quickly, and sometimes it may take both parties time to provide answers. This is especially true in a time of crisis when resources are being developed at local, state, and federal levels to provide stability in relationships like yours. 
If you're a small business owner wondering what to do about your upcoming rent, you're not alone.
5. Lean into the conversation.
Now comes the hard part: the conversation. Talk openly and honestly about your current capacity to meet the terms of the lease. Share the scenarios you developed as you prepared for the conversation. Be prepared to listen and to provide answers when possible. Remain objective, even in the face of high stress! 
If the discussion starts to become contentious, take a breath and calmly restate your needs. Since lease language can be confusing and not something you use frequently, misunderstandings can happen easily.  Don't be afraid to ask your questions differently, repeat your needs and clarify what you hear.
Under stress, feelings can weigh heavily on us and influence how we answer. Ensuring that your tone and attitude convey your desire to work toward a solution will help. Work to find common ground, and be prepared to compromise or negotiate—whichever is more likely to get you to a solution you can live with. 
There's always the option, too, to ask for more time to respond to questions and schedule time for follow-up calls, especially if you are pursuing other resources that would help you with your lease obligations or if the landlord has relieving options in the works. 
Make plans to keep the conversation going, and schedule your next check-in before saying goodbye.
6. Document
Last but not least, remember that leases are legal documents. One of the smartest steps you can take in this time is to follow the notice requirements in the lease and document all of your conversations with your landlord. Make a written record of when the conversation happened, who was present, and any specific actions that were decided upon, along with the person responsible and timeframes agreed to. 
Your documentation should be shared with the landlord, likely via email first, but also in the method required in the lease. This step is important for protecting you and your business, because all parties must agree on decisions in writing to be honored in a court of law. But before that, though time-consuming, this approach will help you and the landlord come to a firm agreement on how to move forward. It provides clarity by defining your responsibilities, the landlord's responsibilities, and the time and manner in which the issues will be handled.    
This level of preparation, engagement and documentation is smart as a business practice because it protects you, the business owner, in worst-case scenarios. In the best landlord-tenant relationships, this approach builds a foundation that can help you both work together with transparency, mutual respect, and clarity for many years to come.  
Related News
Filed Under: Filling Vacant Spaces, Front Page, Get Involved, Small Business

In less than a year after arriving in the United States, the Vyshyvanyuk family, who recently fled from Ukraine, is now launching NiEl' Bridal Atelier, a custom wedding dress and alterations business in Forest Park. Olena and Mykola Vyshyvanyuk, along with their three children – Viktoriia Vyshyvanyuk, Eva Vyshyvanyuk, and Loanna Vyshyvanyuk – made the courageous decision to leave Ukraine on November 7, 2022. This family's inspiring story serves as a testament to the boundless opportunities that small businesses can achieve in Birmingham.

Filed Under: Business-Proving, Downtown Birmingham, Filling Vacant Spaces, Front Page, Small Business

Are you a startup looking for a foot in the door? Did you know we have an accelerator program that helps founders begin their entrepreneurial journey right here in the Switch district? TechStars is a dynamic three-month program that empowers entrepreneurs in their quest to discover product-market fit, gain traction, and access both capital and global mentorship. Operating in more than 30 cities worldwide, Techstars added Birmingham as a host for their energy-focused cohort.